Throwback Thursday: Contested USAC elections of yesteryear triggered racially charged protests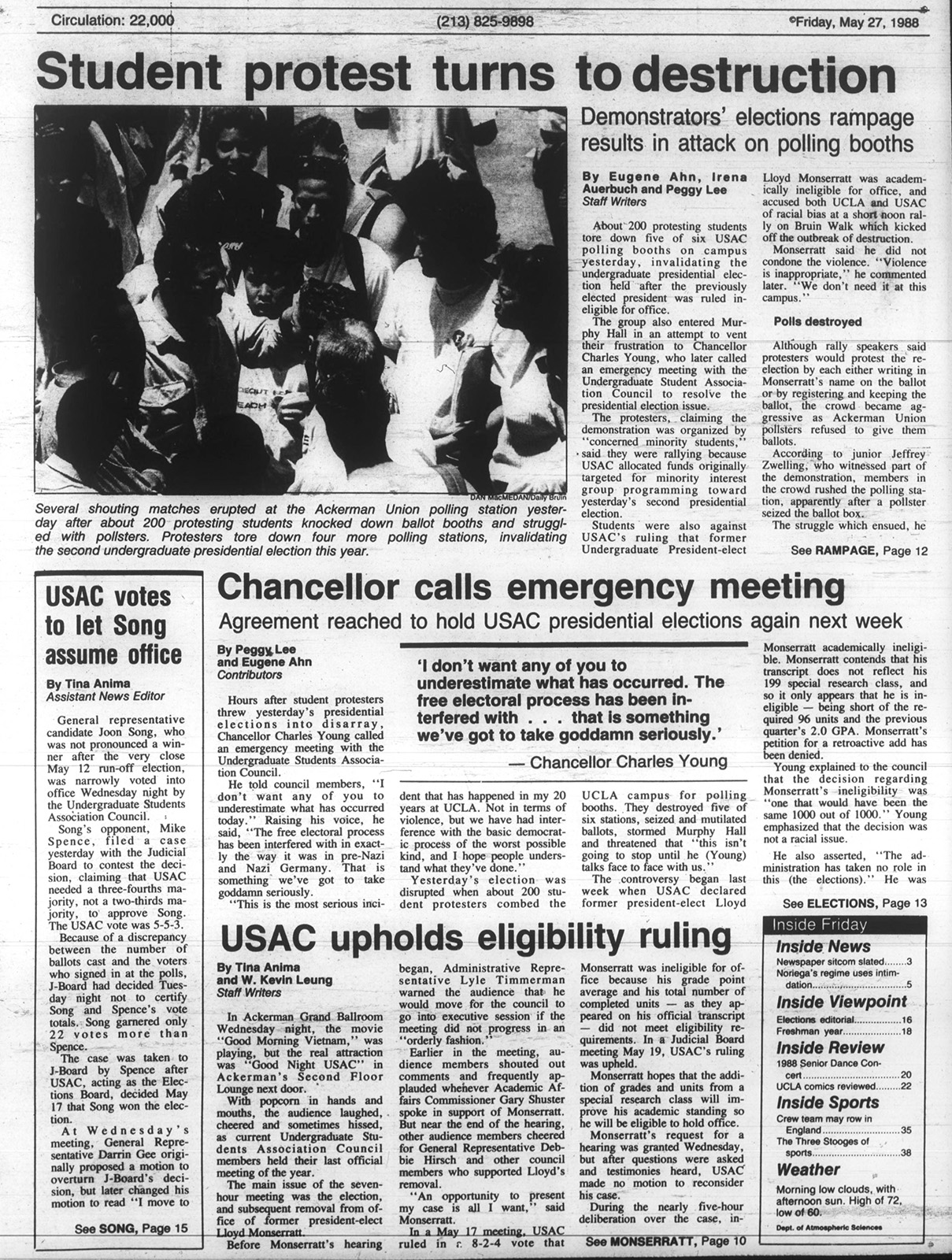 Throwback Thursdays are our chance to reflect on past events on or near campus and relate them to the present day. Each week, we showcase and analyze an old article from the Daily Bruin archives in an effort to chronicle the campus' history.
Between subtweeting with Facebook statuses and accusations of physical intimidation, it's easy to think that modern undergraduate student government elections are the most toxic and dramatic of all time.
But that would be wrong. Thirty years ago, the Undergraduate Students Association Council elections took a much more violent turn.
Back in 1988, USAC elections consisted of a primary followed by a runoff between the top two candidates. One candidate for the runoff to become the next president was Mike Meehan, who was backed by Greek life organizations. The other was Lloyd Monserratt, a candidate backed by the Third World Coalition, a group made of the Asian Coalition, the Black Student Alliance and MEChA de UCLA. On May 13, 1988, the Daily Bruin reported that Monserratt had won the runoff with 52 percent of the vote and would be the next USAC president.
But there was a twist. The following week, Tuesday, May 17, the Daily Bruin reported that Jeff Rosen, Student Welfare commissioner and Meehan supporter, filed a complaint with the USAC Election Board, asking for a review of Monserratt's academic record, because he had heard rumors in Kerckhoff Hall about Monserratt's ineligibility for office.
Election board rules at the time required candidates for president to have a minimum GPA of 2.0 and have completed 96 units. They also had to have achieved at least a GPA of 2.0 for the previous quarter. Monserratt said that his transcript showed him having an overall GPA of 2.49, a winter quarter GPA of 1.0 and a total of 90 units, but the transcript was inaccurate. He claimed due to an administrative mistake, a research class he had taken during the fall and winter quarters was not included, otherwise he would have met the requirements. An eligibility check by the dean of students had found that he had completed 96 units.
USAC Election Board Chair Dan Dyer ruled that the USAC Constitution, which did not have a winter quarter GPA requirement, superseded the election code and invalidated Rosen's claim that Monserratt was ineligible for office.
But the controversy blew up from there. On Tuesday night, USAC questioned Dyer's handling of eligibility verifications. He admitted the process for verifying candidates was flawed and there was confusion between whether the Dean of Students Office or the election board had to verify eligibility. The council voted 11-0-3 to independently examine candidates' reports of academic eligibility. An angry Dyer promptly resigned.
Then, Thursday, May 19, the Daily Bruin reported that the council had, during a seven-hour long meeting Tuesday, voted 8-2-4 to declare Monserratt ineligible for office. Most of the votes in favor of ineligibility came from Meehan's supporters on the council, while the two objections came from Monserratt's supporters. USAC also voted to hold a runoff the next week between Meehan and another candidate.
Monserratt and President David Hoffman contested the decision with the USAC Judicial Board, but the board upheld USAC's vote 5-0 on Saturday, saying that the council could assume the election board's duties in the absence of an election board chair.
The campus reached its tipping point on the day of the election. On Thursday, May 26, 1988, full-blown riots broke out on campus. About 200 students went around campus tearing down five of the six polling stations meant for USAC voting, effectively invalidating the runoff election. Protesters said the demonstration was held by "concerned minority students" because USAC had allocated funds meant for minority interest group programming toward the new election.
The events began with a rally on Bruin Walk in the afternoon, where students expressed their anger at the university, claiming it was oppressing minority students.
"I was screwed by the university, and now I'm going to screw with them in court," Monserratt declared at the rally.
After the rally, protesters headed to Ackerman Union and demanded ballots to write Monserratt's name upon. The pollsters there refused and, according to a witness, protesters attempted to seize a ballot box, destroyed polling booths and grabbed the poll workers.
The crowd went on to destroy polling stations in Dickson Plaza, the Court of Sciences and North Campus, while chanting anti-university epithets. The crowd also chanted "This whole thing is bullshit. Bullshit," in reference to a statement Hoffman made about Monserratt's disqualification earlier in the week.
At Dickson Plaza, tables were knocked over, a ballot box broken open and ballots scattered across the plaza.
After destroying the polling station in North Campus, the demonstrators made their way to Murphy Hall to confront Chancellor Charles E. Young, but UCPD officers had locked his doors. When the group left to go to Campbell Hall, Young emerged from behind his doors and examined the hall alongside police officers.
While UCPD made no arrests, several students had filed assault charges. Monserratt later disapproved of the violence.
"I could do nothing except tell (ralliers) I don't condone it," Monserratt said. "I am a leader … not a dictator."
The riots became national news and were even covered by The New York Times. State Sen. Art Torres later called for action on UCLA's racial issues.
In the aftermath of the chaos, Chancellor Young held an emergency meeting with USAC. And he made this story even crazier, comparing the protesters to Nazis.
"The free electoral process has been interfered with in exactly the way it was in pre-Nazi and Nazi Germany," Young said in a raised voice. "That is something we've got to take goddamn seriously."
He called it the worst incident in his 20 years at UCLA. "We've got to have an election, or I'm going to have to take over the student government and appoint a dictator," he added.
Problematically, USAC had no more funds for a third presidential election. Even Associated Students UCLA's Board of Control denied funding to USAC. The UCLA administration eventually funded the elections held on Thursday, June 2, with UCPD officers monitoring the polling stations during voting.
About 200 students held a sit-in near the Inverted Fountain, and some protesters went to polling stations only to burn their ballots. But voting generally proceeded normally and Meehan won with 51 percent of the vote, bringing about a month of USAC election voting to an end.
Two years later, USAC certified Monserratt's victory, making him one of few Chicano USAC Presidents and perhaps the only one to have not served a term.
30 years later, USAC elections often remain divided along the lines of Greek life-backed candidates and minority student group-backed candidates.
And with USAC election voting being online now, the only way you can damage ballots in anger at the list of candidates is by destroying your own computer – which is not exactly all that productive.
Shetty is a senior staffer in the Opinion section and a staff representative on the Daily Bruin Editorial Board. He was an assistant Opinion editor in the 2017-2018 school year and previously contributed as an opinion columnist. He writes about topics including the undergraduate student government and the UCLA administration.
Shetty is a senior staffer in the Opinion section and a staff representative on the Daily Bruin Editorial Board. He was an assistant Opinion editor in the 2017-2018 school year and previously contributed as an opinion columnist. He writes about topics including the undergraduate student government and the UCLA administration.