Michael Goi of 'Glee' fame appointed 2018 TFT cinematographer-in-residence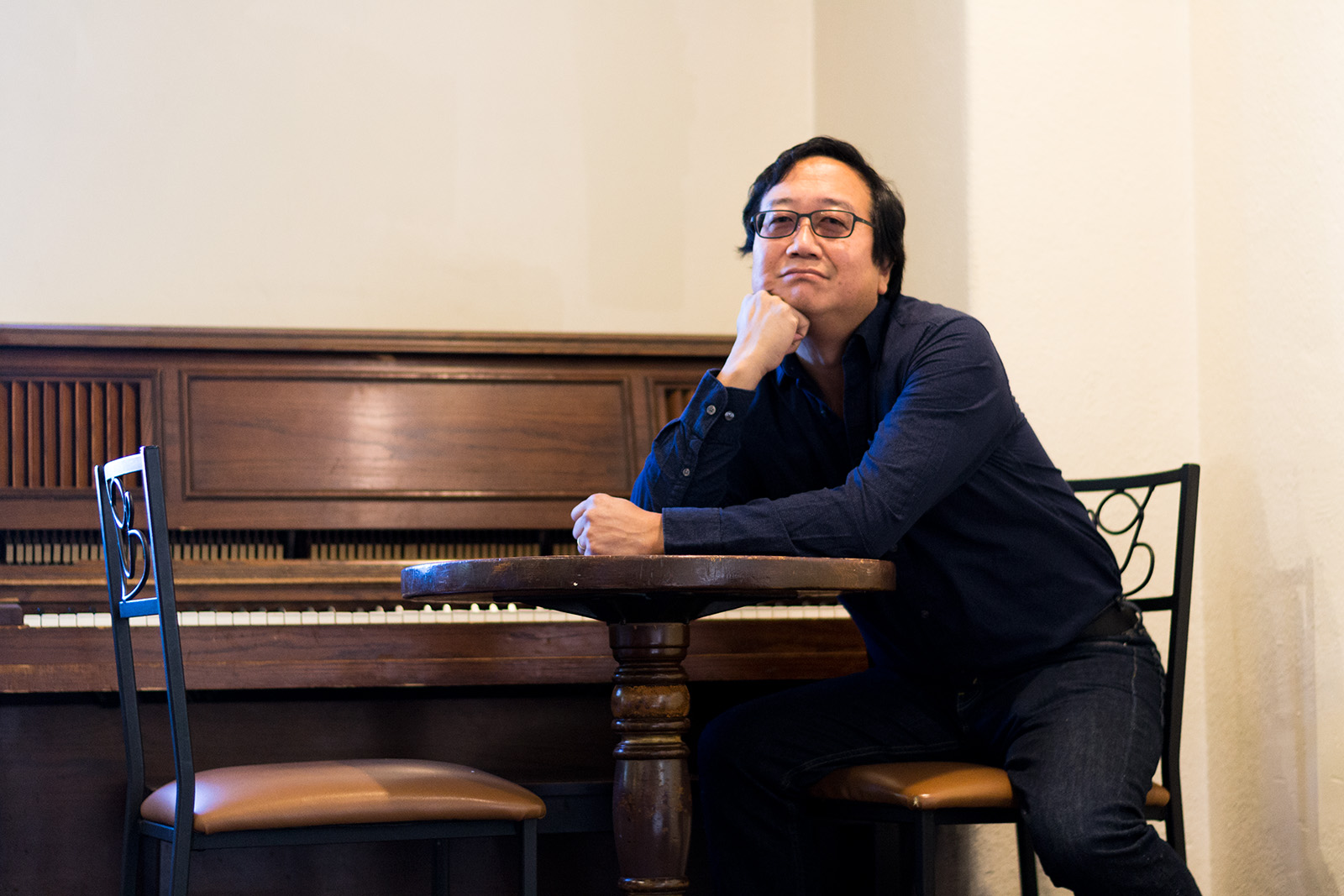 Cinematographer Michael Goi was recently appointed as the 2018 Cinematographer-in-Residence at the UCLA School of Theater, Film and Television. Goi has worked on television shows including "American Horror Story" and "Glee." (Bilal Ismail Ahmed/Daily Bruin senior staff)
April 23, 2018 11:05 p.m.
Michael Goi used the same filming strategy for "American Horror Story" as he did for "Glee."
The cinematographer said he focused on using varied lighting tactics and camera angles in both television shows to highlight moments of tension and character development.
"A musical comedy number is exactly the same thing as a throat-slitting bloody murder to me," he said. "My approach is, and has always been, to not visually depict just an attractive image, but … to climb inside the head of the character and visually depict the world as they see it or feel it."
Goi, who was recently appointed as the 2018 Kodak Cinematographer-in-Residence at the UCLA School of Theater, Film and Television, will take part in a Q&A on Thursday at the James Bridges Theater's screening of "Glee" and "American Horror Story."
One of the principle ways he displays different moods is through on-screen lighting. Goi said he likes to play with shadows and hard light, or high-contrast lighting with clear boundaries between lit and dark areas. He used the hard-light method in "American Horror Story," which he said was inspired by high-contrast visuals in silent cinema before the first sound movie was released in 1927.
In an episode of "Asylum," the second season of "American Horror Story," Goi made use of a device called the cello cucoloris – a metal sheet with cutouts that can project shadows onto a surface. The cello cucoloris projected ripples onto the walls of a tent in one scene, making them appear as if they were moving. The technique was intended to give the audience a subtle sense of unease and tension, Goi said.
"It turned the inside of the tent into this moving mass, almost like protoplasm," he said. "Even though none of the characters are moving, the walls are alive."
Graduate cinematography student Marcus Patterson said Goi's use of shadows is reminiscent of the baroque painting technique, chiaroscuro, which often features well-lit areas surrounded by shadows. Patterson said some cinematographers often over-light areas and lose shadows, but Goi uses heavy, black contrasts of hard light to create a dynamic image.
Goi used hard lighting in some aspects of "Glee" as well: His lighting techniques emphasized the characters' emotions in several of the musical performances. In the episode "Asian F," Amber Riley's character Mercedes feels like she is being overlooked for theater roles in the club. During her musical scene in the episode, she performs on a dark stage under a spotlight in a way that mirrors her intense emotional state, Goi said.
Once a cinematographer establishes a signature concept, such as highly contrasted lighting, suddenly shifting to a new style can be very powerful, Patterson said. In an intentionally shocking scene of "American Horror Story," Goi said he juxtaposed gruesome actions with pleasant lighting to hint at the mental state of a character, who engages in necrophilic acts with a woman's body after murdering her. The warm, soft light reflects the character's psychotic belief that his actions were preparation for a potential date in the future, which Goi said intensifies the terror of his actions in the eyes of viewers.
Understanding the visuals from the angle of the camera is another important aspect of being a cinematographer, Goi said. William McDonald, a professor of cinematography at UCLA, said Goi's camerawork in "Glee" is notable for its quick-paced movements, which he said captured the passion of the young actors in the show.
"There's an energy to the camera movement that supports the story, characters and musical numbers (that is) important to what Glee is all about," McDonald said.
Some scenes from "American Horror Story" also use uncommon angles and shots, Patterson said. Techniques such as filming actors at aerial, 45-degree angles and using 360-degree turns help make viewers feel like observers and also aid in conveying the characters' feelings, Patterson said. A spin, for example, takes place after a character's identity is revealed, thus reflecting the shock value of the discovery.
"(Goi) is not afraid to put the viewer in the emotional turmoil of the character using the camera," he said. "No matter what the sets are, he has goals for how he wants to make the viewer feel."
As the cinematographer-in-residence, Goi said he wants to teach UCLA's film students the political infrastructure of the entertainment industry while also encouraging them to experiment with the medium. Cinematography requires learning from mistakes and adapting to changes that may arise along the course of filming, so he said he hopes to instill a desire for asking questions in each student.
"There have been an incredible array of cinematographers who have occupied this position before me," Goi said. "I see this as a great opportunity to extend that outreach."
Countryman is the 2018-2019 Music | Arts editor. He was previously an A&E reporter. He is a second-year communication student.
Countryman is the 2018-2019 Music | Arts editor. He was previously an A&E reporter. He is a second-year communication student.