Social media influencer Ka5sh to speak on the power of memes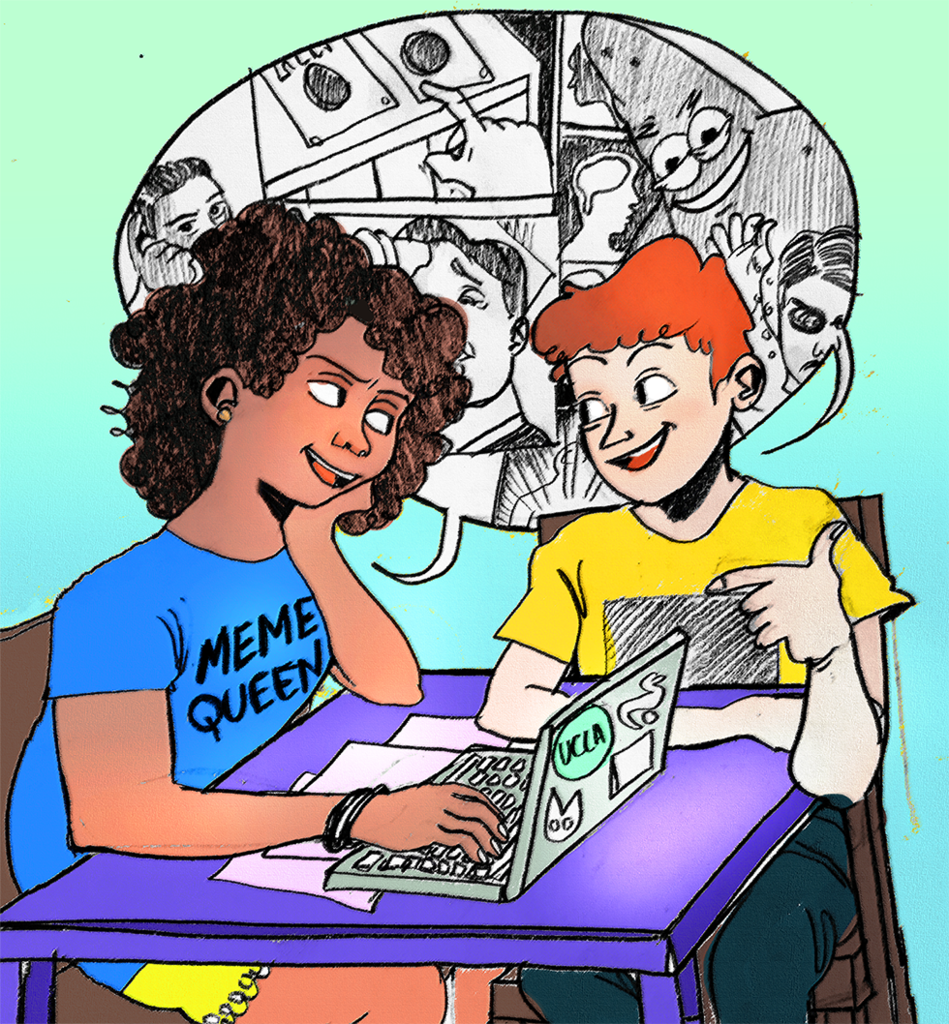 (Juliette Le Saint/Daily Bruin)
Professors don't usually appreciate students checking their social media during lecture, but Ka5sh will encourage it during his upcoming lecture.
The UCLA design media arts department will host internet influencer, meme artist and rapper Ka5sh at a meme-making workshop Friday at the Broad Art Center. Ka5sh will also deliver a lecture on internet culture and building up a social media platform. The lecture will include a brief history of the evolution of memes and descriptions of various types of memes, Ka5sh said.
"There're lots of different ways you can build up an account. … What I did may not work for everyone, but what someone else does may work," Ka5sh said. "But I think the biggest part is just being involved in the community."
Much of the meme and internet culture originated in Facebook groups before quickly spreading to other social media platforms, such as Twitter and Instagram, Ka5sh said. The accessibility of memes to massive audiences has continued to act as a catalyst for their growing acclaim, said Lena Weissbrot, a first-year MFA student in design media arts.
Ka5sh began looking at and making memes on Facebook in a subcommunity known as Weird Facebook, where he discovered internet artist and musician Alfred English, whose memes inspired him to try making his own. He began posting them on his own Facebook page and eventually started to receive feedback for them.
I told a girl I was 5'7 and she stopped texting me

— lil jody jetski (@ka5sh) September 20, 2017
He then decided to move to Los Angeles to grow his following and participate in art shows centered around memes to receive more exposure. Individuals began reaching out to Ka5sh asking him to create and publicize memes of them in order to grow their own popularity. Ka5sh's memes have helped him garner a following of 59,000 on Instagram.
At the workshop, Ka5sh will teach strategies for making effective memes people can relate to and will want to share. Ka5sh said understanding the format of different types of memes and knowing which audiences they appeal to is important in reaching a larger following. For example, Ka5sh said the recent popularity of SpongeBob memes shows how relatable content, such as content derived from common childhood experiences and interests, can serve as a successful foundation for memes.
I love when thanksgiving is finally over because that means Toyotathon is right around the corner

— lil jody jetski (@ka5sh) November 27, 2017
Weissbrot organized the event with Ka5sh because she said she believes many UCLA students, and especially design media arts students, will benefit from learning how to distribute their art in a digital context. Ka5sh is particularly well-suited to deliver such a lecture because his experience and practice in making memes give him a special insight into meme-making, she said.
Producers of memes and internet content go further than becoming famous or gaining verified account status on social media, Ka5sh said. The relatable nature of memes and the widely inclusive online community allow for a large spectrum of people to enjoy memes, making it a powerful unifying tool in modern society, Ka5sh said.
Hot Leather, another popular figure in internet culture who collaborates regularly with Ka5sh, said becoming part of an online, meme-based community provides the same benefits, such as interactions with like-minded people in varying geographical locations, as joining any other sort of community. Like Ka5sh, Hot Leather posts memes on Twitter and Instagram. Through relationships and a community-based support system, Hot Leather said people can find a platform for their work and an audience to share it with.
"If you really immerse yourself in a community, then you're going to be able to work with people and give them feedback and get feedback from other people in order to grow," Hot Leather said.
Hot Leather said events that teach internet and social media skills are beneficial because they give young people, whose thoughts are often discounted in favor of more established artists, the skills and resources to promote their art and ideas.
"(They) give a voice to people that wouldn't otherwise have one, like giving a platform to people that would generally be silenced by most other people," Hot Leather said.
Meme culture has allowed people of different cultures and backgrounds to come together and showcase their ideas, Ka5sh said.
"Memes are so powerful and allow for someone who doesn't really have a voice to share ideas that resonate with so many people across nations," Ka5sh said.