Theater review: 'Significant Other'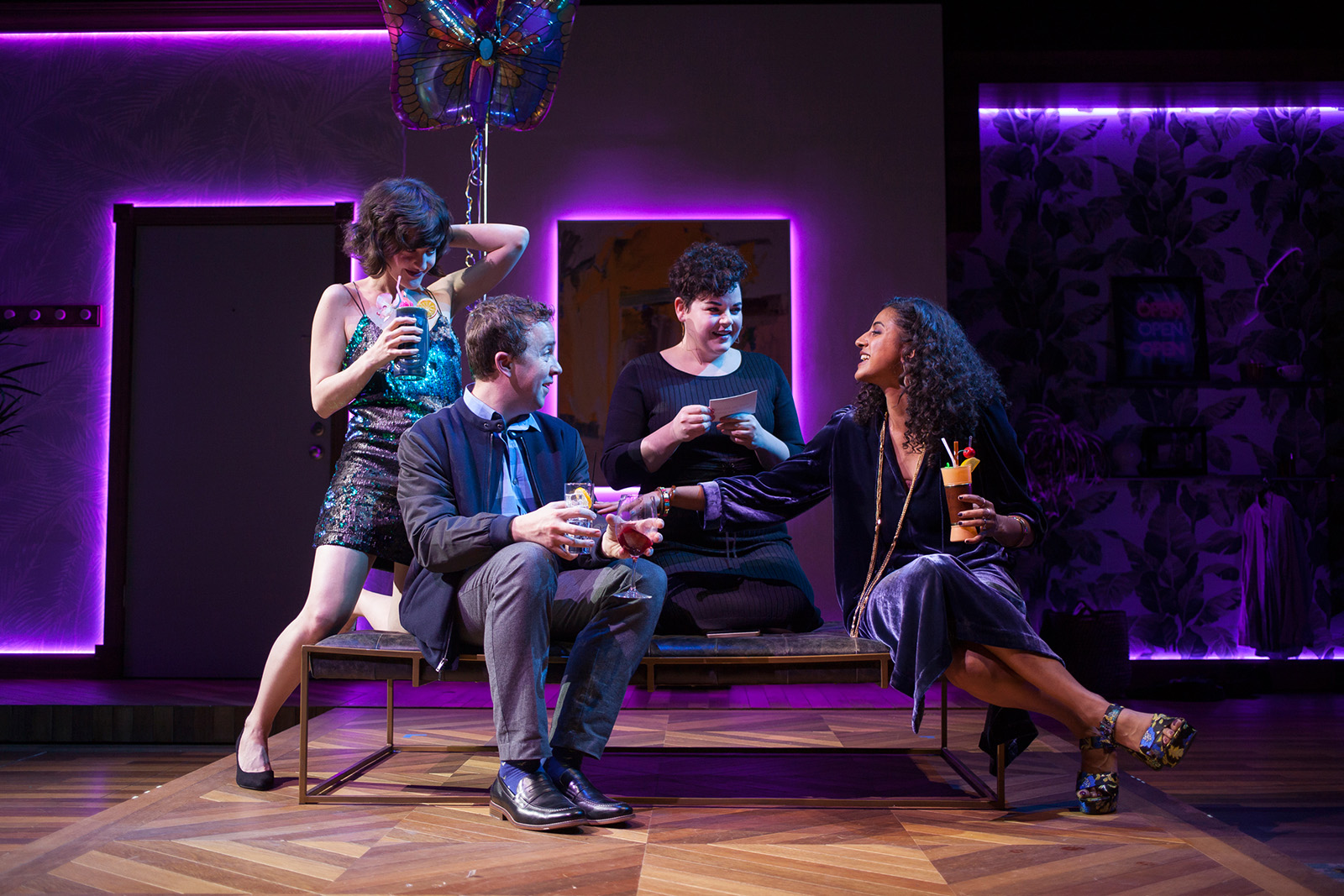 (Courtesy of Chris Whitaker)
"Significant Other" Directed by Stephen Brackett Geffen Playhouse Ticket prices vary
"Significant Other" blasts Céline Dion's cheesiest hits to highlight uncomfortable truths about romance.
Running April 3 through May 6 at the Geffen Playhouse, "Significant Other" depicts the loneliness that follows as the prime of youth is left behind and replaced by the expectations of maturity. Jordan (Will Von Vogt), a young professional in his late 20s, experiences the transition from young idealism to seasoned adulthood as his closest friends find their perfect matches, leaving him to ponder each of his failed romantic attempts.
The audience examines the worst of his relationships with Will (John Garet Stoker), an aloof coworker who Jordan begins to develop feelings for. Structured around the three weddings of his best friends, the play shows how Jordan's increasing isolation begins to take a toll on him, as even the comically inept grooms find suitable partners. Although "Significant Other" had jokes that fell flat, it was ultimately humorous and provided often relatable glimpse into the confusion of romance.
"Significant Other" opens with the bachelorette party of Kiki (Keilly McQuail), Jordan's carefree friend who drunkenly stumbles onto stage screeching sexually overt jokes. Luminous orbs decorate the ceiling while the stage itself is lined with neon lights, creating a club-like atmosphere. Kiki, alongside providing comic relief, serves as a comparison point for Jordan. She most explicitly symbolizes the wildness of youth and is the first to make the transition to later adulthood, leaving Jordan behind in the process.
At Kiki's wedding, the three unhitched friends stand shoulder to shoulder, leaning on each other during the couple's first dance. Together they mock Kiki's saccharine song choice – Lee Ann Womack's "I Hope You Dance" – and carouse around the stage dramatically lip-syncing the sappy lyrics. Their theatrics culminate in Vanessa (Vella Lovell) enthusiastically doing the worm dance in her tight, pink bridesmaid dress, only to look up and see Roger (Preston Martin), the man she would eventually marry. Vanessa leaves the stage, giving Jordan and Laura (Melanie Field) time to contemplate together. The scene reveals Jordan's ability to cope with romantic loneliness when supported by his similarly uninvolved friends. But as the play progresses and his friends leave for their husbands one by one, Jordan's loneliness is enhanced by the perceived abandonment by his friends.
As the two most serious characters in the friend group, Jordan and Laura share a special bond and act as each other's dates for functions like Kiki's wedding. They jokingly plan their own wedding, going through their mental repertoire of cheesy songs to play, finally settling on Celine Dion's "Because You Loved Me." The motif of love songs operates in the play's favor, highlighting the irony of the characters' scathing mockery. Each of the songs presented depicts the idealistic relationship Jordan seeks throughout the course of the play, but the songs represent such a distant reality that Jordan has no choice but to repudiate them lest he be forced to face his own romantic inadequacy.
Periodically throughout the wedding scenes, Jordan tries to woo his coworker Will, who remains unenthused during their first date and awkward drinks after. Stumbling through attempts to relate to Will with a documentary on the Franco-Prussian War and other tidbits of small talk, Jordan eventually cannot resist and sends him an email professing his feelings for him. He receives no response, emphasizing the play's gritty and hard-hitting portrayal of the reality of romance. While he finds better luck in a later fling, Jordan is crushed to realize his new man is hung up on his ex.
"Significant Other," while not necessarily plot-driven, is very much dependent upon the lively personalities of its characters. Jordan has hilariously obsessive tendencies, memorizing every minute feature on Will's body. Vanessa is consumed by the idea of death, symbolizing its uncomfortable closeness the farther the characters stray from youth, and sarcastically spinning her morbid fixation into humor. Kiki, meanwhile, is the wild party girl untamed by marriage, and Laura is logical and always at her phone to listen to her friends, no matter what time the clock strikes. The range of personalities allows the tone of the play to oscillate without being jarring, utilizing Kiki for lighter moments and Laura for more solemn ones.
The play's most prominent strengths lies in the cores of its characters, exploring the contrasting themes of romantic love versus love between close friends. In one of "Significant Other's" most poignant scenes, Laura breaks down and tells Jordan she loves him. He hugs her and tells her the same, after which she runs off joyfully to her fiance Tony (John Garet Stoker). The juxtaposition of the two men and the role they play in Laura's life emphasizes the importance of both, a lesson that Jordan often forgets in his search for Mr. Right.
"Significant Other," to its credit, never compromises its overall message of the unattainable ideal of romance. Illuminated by a single white light, Jordan stands in the middle of the stage, solidified in his individuality.