Global Melodies: Students explore new sounds, find home in Music of Bali Ensemble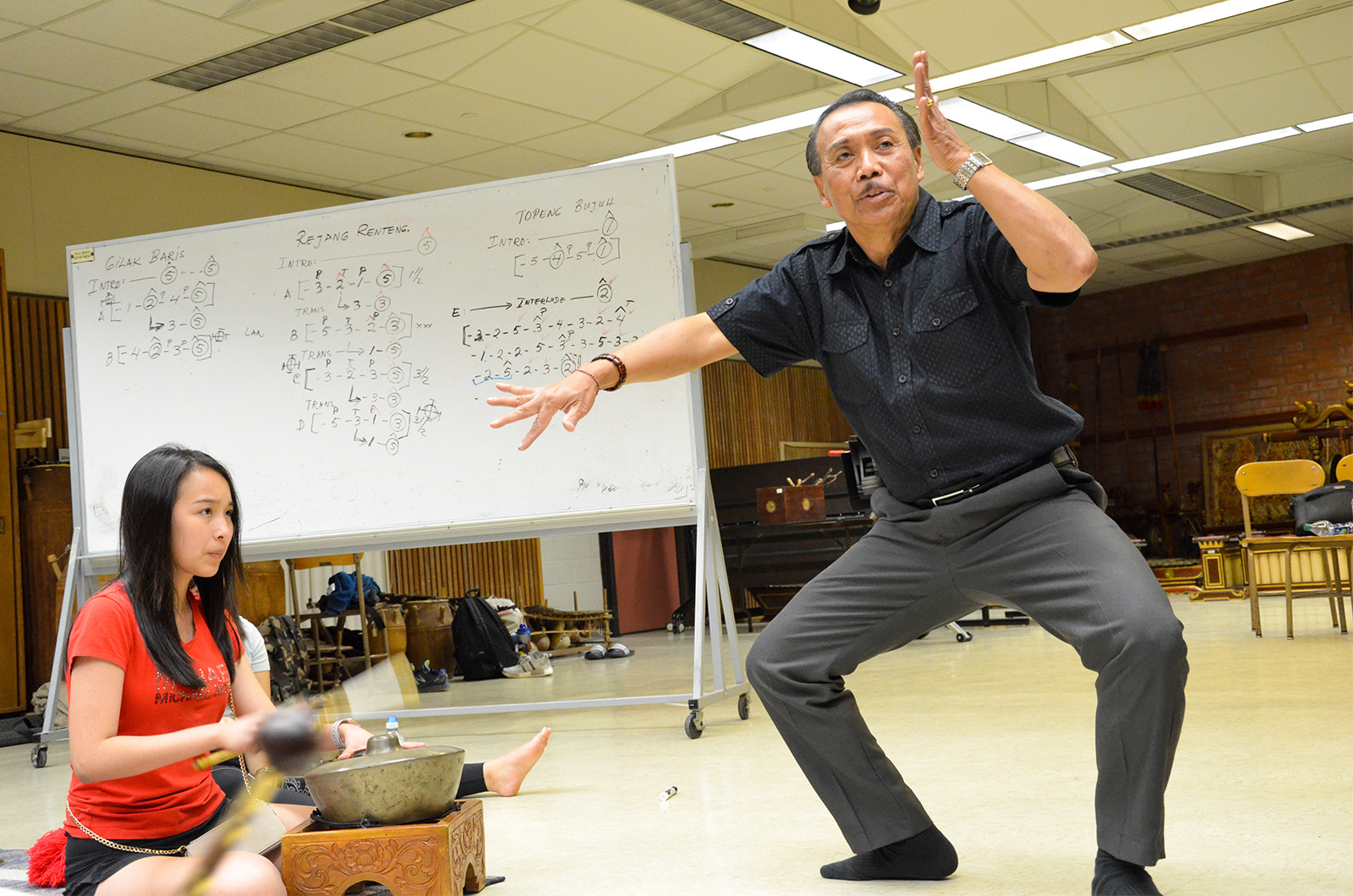 Ethnomusicology professor I Nyoman Wenten dances as the students of his advanced Music of Bali Ensemble class play their various percussion instruments. Students in the ensemble play cycles of energetic tunes to strong drum beats. (Alex Del Rosario/Daily Bruin)
April 12, 2018 10:15 p.m.
A sequence of repeating numbers written on a whiteboard guides percussionists through a swelling, fast-paced musical performance.
The song "Siwanata," complete with hefty drumbeats overlain with reverberating chimes, was just one of the few numbers that the members of the Music of Bali Ensemble rehearsed during their weekly Tuesday class. The group's participants tapped their wood mallets on xylophonelike instruments and softly clapped miniature cymbals under the direction of I Nyoman Wenten, adjunct associate professor of ethnomusicology.
The department of ethnomusicology introduced courses that revolve around Balinese music in the 1960s. Wenten said the ensemble allows students to experience unfamiliar styles of music while also permitting some to incorporate their own culture.
"It's important to (take) this class because I think it's good for your own musicality," he said. "You (should) learn about music beyond your own – beyond what you're playing, (practicing) or even composing."
The members of the ensemble comprise the gamelan – an Indonesian orchestra that uses specific metal percussion instruments. A majority of the group members play the xylophone-like jegogan, which produces the repeating, chiming melodies of the ensemble's music. Other musicians play miniature cymbals, gongs and drums. The instruments work together to orchestrate and perform music that typically tells the stories of the two Hindu epic poems called the "Mahabharata" and "Ramayana," Wenten said.
Upon joining the ensemble, however, Wenten said most of his students are not familiar with the instruments of the gamelan. He begins their training by teaching them proper mallet technique, followed by simple songs.
Wern Yeong, a fourth-year mathematics student, said she had no prior experience playing in a Balinese gamelan before attending UCLA. She now performs in the advanced ensemble, playing the reyong, a Balinese percussion instrument that resembles a line of bronze pots. Yeong said she initially joined the group because she had heard about gamelan instruments while living in Malaysia but never tried playing any.
"I'm from Malaysia … so when I came to UCLA I wanted to find something close to home," she said.
Yeong said coming to the weekly class allows her to experience new sounds that she would not have learned from her classical piano training – Western piano music differs from the gamelan songs in that it is not played in cycles like Balinese music is. She said the gamelan's long cycles of fast-paced rhythms give the numbers a mysterious sound.
During the class, fourth-year economics student Kyu Park followed the fast-paced rhythms with the ceng-ceng. Park's instrument consists of a wooden tortoise with miniature cymbals on its back – two of which have red yarn pompoms that are looped on his fingers. Unlike Yeong, Park had prior experience with Balinese music before attending UCLA: He played the ceng-ceng while he was attending elementary school in Indonesia.
"Playing it now brings me back memories from elementary school and a sense of home," he said.
Though being part of the class allows Park to feel at home, he recognizes the academic diversity of the students who are part of the ensemble, he said. Along with ethnomusicology students, Park also plays next to students studying math and computer science.
"As an economics major, you would not have expected me to take this class," he said. "But it's very important to find a place at UCLA where you can find people who share and embrace the same culture."
Though a majority of Wenten's students have personal connections to Balinese music, he said he's proud to help broaden other students' musical horizons. After students learn how to play the gamelan music at UCLA, they can use their experience outside of the Westwood area, Wenten said.
"Some of them become very good. It makes me proud to see them become good musicians," he said. "Most haven't played Bali music before, but now, they're able to go and perform beyond UCLA."
Del Rosario is the 2018-2019 prime content editor. She was previously an A&E staff reporter.
Del Rosario is the 2018-2019 prime content editor. She was previously an A&E staff reporter.