HOOLIGAN's "Sister Act" changes up show's musical, design conventions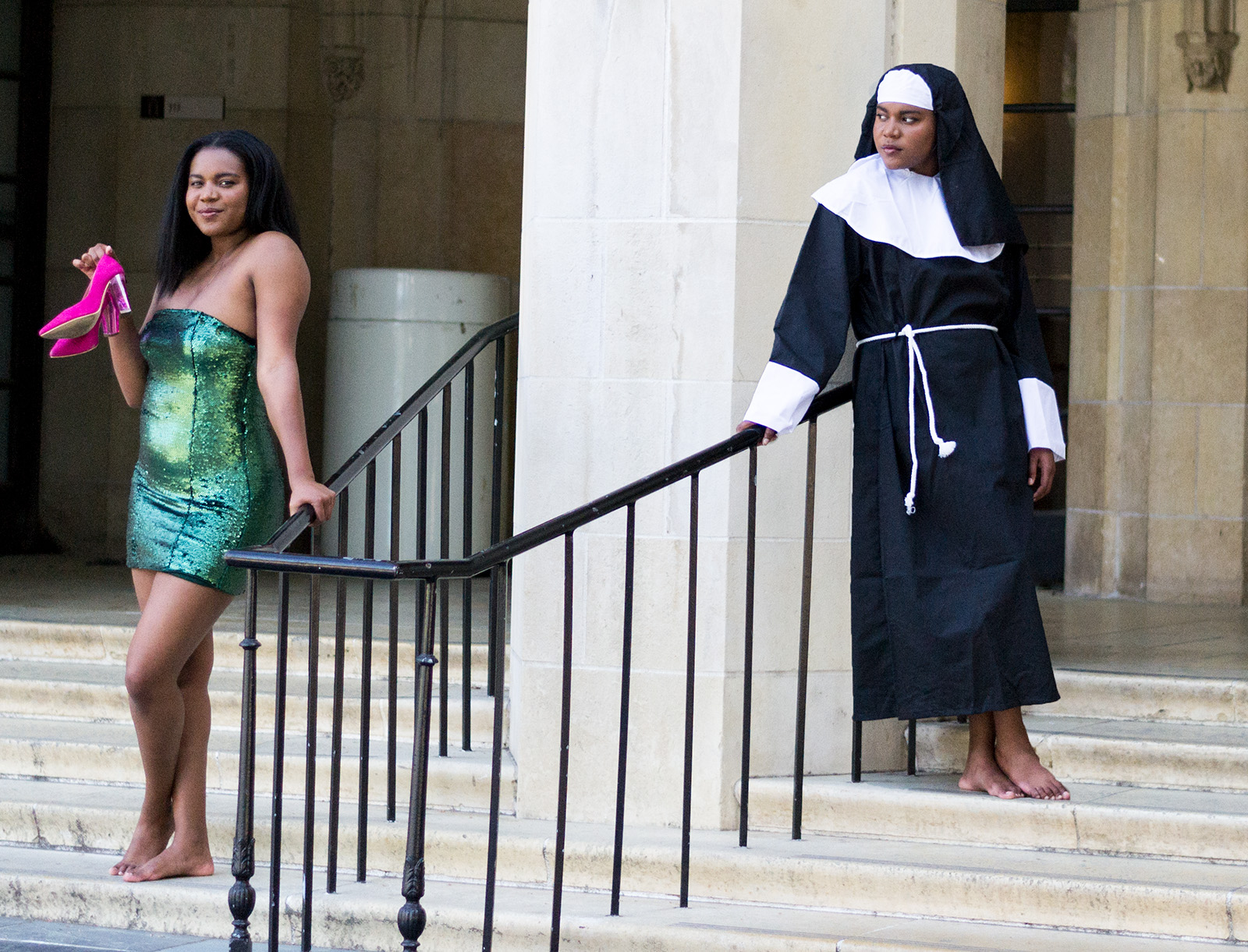 Erin Harris, a fourth-year economics student, will play Deloris Van Cartier in the Hooligan Theater Company's upcoming production of "Sister Act." Her character is a nightclub dancer who is forced into a nunnery after witnessing her gangster boyfriend commit murder. (Photo: Bilal Ismail Ahmed/Daily Bruin senior staff, Illustration: Hannah Burnett/Assistant photo editor)
"Sister Act
Hooligan Theater Company
Schoenberg Hall
April 13-15
Free for UCLA students
Erin Harris will trade a sequined dancing dress for a nun's habit in HOOLIGAN Theatre Company's production of "Sister Act."
Harris, a fourth-year economics student, plays Deloris Van Cartier, a nightclub dancer who is forced to abandon her love for performing and embrace life as a nun after witnessing her gangster boyfriend commit murder. While Deloris initially struggles to accept the conservative rules set by the Mother Superior, she eventually finds a way to bring her old flair for performance into the convent by becoming the choir director. HOOLIGAN's production, which will run Friday through Sunday at Schoenberg Hall, follows the national tour rendition of "Sister Act" but adapts design and musical elements along the way.
"I think HOOLIGAN does a really good job of sticking to the original concept because first and foremost we're an educational theater company. It's always great for people to learn more about theater while they're involved," Harris said. "But also because the story is just so well-written (we) didn't need to make any changes along the way."
Scenic designer Katherine Strawn, a second-year psychology student, said she tried to make the set appear as realistic as possible so the actors and audience can feel immersed in the story. As a result, audience members can focus on the ridiculous plot line of a promiscuous performer-turned-nun without becoming distracted by the compulsion to suspend their disbelief. Strawn said the set involves pieces that are easily moved on and offstage in order to ensure quick scene changes.
"We're in a convent, so you can't have such elaborate ideas, because it's a poor convent that is struggling to get money – but that's also part of the design," Strawn said.
The set features pews, a pulpit, beds and faux stained-glass windows to convey the feeling of a bare, financially struggling convent. Strawn said she searched Pinterest for inspiration, particularly for creating faux stained-glass windows, which are made out of plywood and thin colored paper. The nightclub set, on the other hand, includes a stage, chairs, a bar, a handmade dart board and a disco ball to communicate the groovy aesthetic of a 1970s nightclub.
Deloris acts as a bridge between the two seemingly disparate settings of the convent and the nightclub, said Becca Kefer, a third-year communication student who plays a nun in the ensemble. While other productions typically choose to feature a handful of ensemble members, Kefer said each member of HOOLIGAN's ensemble has a moment to showcase their strengths, either through a spoken line, a solo vocal opportunity or a moment of featured dancing.
"The ensemble is constantly coming on and offstage, singing in the wings and singing onstage," Kefer said. "It's a super great experience to be in the ensemble because you're still in most of the show, and you get to be in almost every song."
The ensemble members also have to learn to express emotion with only their faces, Kefer said. The habit costume hides the performers' limbs and torsos, limiting their ability to rely on body language to react to a scene. Harris said the costuming stays authentic to 1970s attire like most versions of the show, emphasizing the flashy, disco style and creating a stark contrast between the nuns' plain habits.
"Sister Act" provides a range not only in set design and costuming, but in music as well; the show includes the disparate styles of gospel, hip-hop and disco music to serve as a musical representation of the split between Deloris' two worlds before eventually bringing them together. When Deloris takes over as choir director, she galvanizes dull hymnals by increasing the tempo and adding modern vernacular to traditional choir music. Kefer said the music director stuck to the directives of the score very closely by not changing any notes provided by the libretto, but occasionally altering the dynamics or the sound quality to fit the cast's comfort level.
The layering of multiple music styles creates a technically difficult yet engaging score, Kefer said. The ensemble participates in more than 10 musical numbers throughout the production, so the vocal director worked extensively to accommodate everyone's ability, allowing them to switch harmonies as needed from song to song.
Much of the humor of the show is a result of Deloris' interactions with the sisters, who are unaware of her past identity and know her only as Sister Mary Clarence, Kefer said.
To prepare for her comedic interactions, Harris said she worked individually with the director to emphasize the vulnerability behind her occasionally rude lines. Harris said that while the life experiences of Deloris and the nuns are very different, they are ultimately brought together through their shared moral beliefs.
"Everybody's very strong-willed in the show, especially Deloris and Mother Superior," Harris said. "Both of them think that their walks of life are different, but really it all comes down to what they really believe in, which is love, being kind to one another."