Global Melodies: UCLA Klezmer Music Ensemble aims to revive culture through performances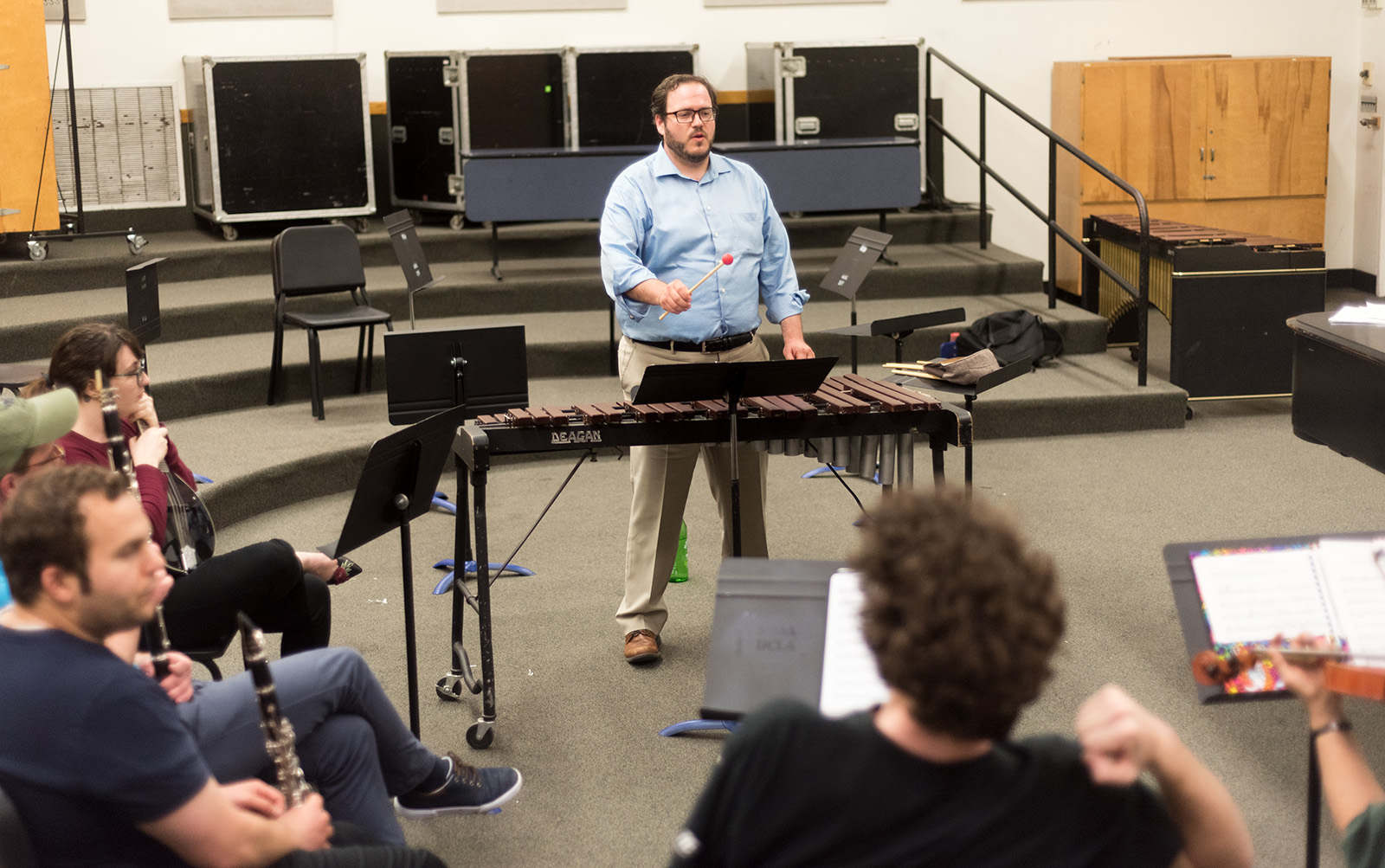 Students in the UCLA Klezmer Music Ensemble play a traditional form of Eastern European Jewish folk music. Klezmer became a part of American-Jewish life in the 1970s and 1980s as a way for baby boomers to find their own form of folk music. (Edward Figueroa/Daily Bruin)
The UCLA Herb Alpert School of Music's Department of Ethnomusicology offers a range of different ensembles spanning multiple regions throughout the world, each with a rich musical dynamic and sound. In "Global Melodies" the Daily Bruin will feature various world music ensembles within the department in an effort to showcase the diversity of music within the school.
Lorry Black was 12 years old when an elderly man sat next to him and began playing klezmer music on a mandolin.
Black, co-director of the UCLA Klezmer Music Ensemble, now teaches a group ranging from eight to 14 members how to play klezmer music, a traditional form of Eastern European Jewish folk music. The students in the UCLA klezmer ensemble perform using the instruments they already know how to play, which include the violin, flute, clarinet, trumpet and accordion. Black said the group aims to recreate the historical culture surrounding klezmer music and contribute to a worldwide revival of the traditional music of rural Jewish life that was popular in the early 20th century.
"That life doesn't exist anymore, so for many current generations diving into this, music is a chance to dive into a moment in history," Black said.
Mark Kligman, the director of the ensemble, said his first exposure to klezmer music came when his father took him to a Giora Feidman concert in the 1980s.
"He told me that I may not know this, but this music is in my soul, it's in my blood and it's really a part of being Jewish," he said.
Klezmer music's distinctive timbre comes from its imitation of the human voice, called the kretz in Yiddish, using instruments such as the violin, clarinet, cello or hammer dulcimer. The simple gesture of moving a finger on a violin or shifting the lips on the mouthpiece of a trumpet allows the instrumentalist to achieve the kretz. The note is not manipulated arbitrarily, but rather at particular moments to increase the expressiveness of the sound, Kligman said.
Klezmer's sound is also characterized by its heterophonic aspect, in which all the instrumentalists play the same melody concurrently while embellishing and changing it in different ways, Black said. At times, the notes will clash and create a composite melody based on how the independent notes come together.
The term klezmer originated in the Pale of Settlement, a western region in imperial Russia. The term klezmer, however, is a portmanteau of the Hebrew words for vessel and song, and can be translated literally as "vessel of song," Kligman said.
The music shares similarities with other types of music in regions throughout Eastern Europe, such as Bulgaria, Hungary and Russia, and was typically performed for major life events like weddings or bar mitzvahs, said Michel Klein, a graduate student in composition at UCLA.
"Once people came over to America from Europe, klezmer became a slight earmark of nostalgia," Klein said. "After the Holocaust, there was a disassociation with Eastern European life until the revival of klezmer and Jewish life in the 1970s."
The younger generations became involved in the fading genres brought by their ancestors, then revived and recreated them in their own way. In the 1970s, baby-boomer American-born Jews wanted to find their own type of folk music, and consequently turned to klezmer, Kligman said. As a result, klezmer became a part of American-Jewish life in the 1970s and 1980s and became a formative aspect for members of the younger generation like Kligman.
"There's an interesting give-and-take between this traditional music and the innovation," Kligman said. "I think once klezmer came to America it became secularized because it got separated from its context, but at its core, it's very much a part of Jewish life."
Kligman said the UCLA Klezmer Music Ensemble operates in the spirit of the klezmer revival in the same way other ensembles have revived music such as bluegrass or Irish Celtic music: by learning both the history of the music and performance skills. He said the students learn the history of the klezmer revival and listen to 1920s and 1930s recordings in an attempt to fully understand the style.
In this way, klezmer has returned to its origins in Europe by way of American klezmer musicians concertizing in Europe at various music festivals, said Kligman. Conversely, European musicians flood to America to learn and perform klezmer, culminating in festivals like KlezKamp in New York that aim to teach people about klezmer, Kligman said.
"Seeing people of all ages all celebrating together through klezmer is an amazing way to see how Jewish culture brought to America can be celebrated by being both traditional and innovative," Kligman said.