Dance group plans interactive J-pop performance for Geek Week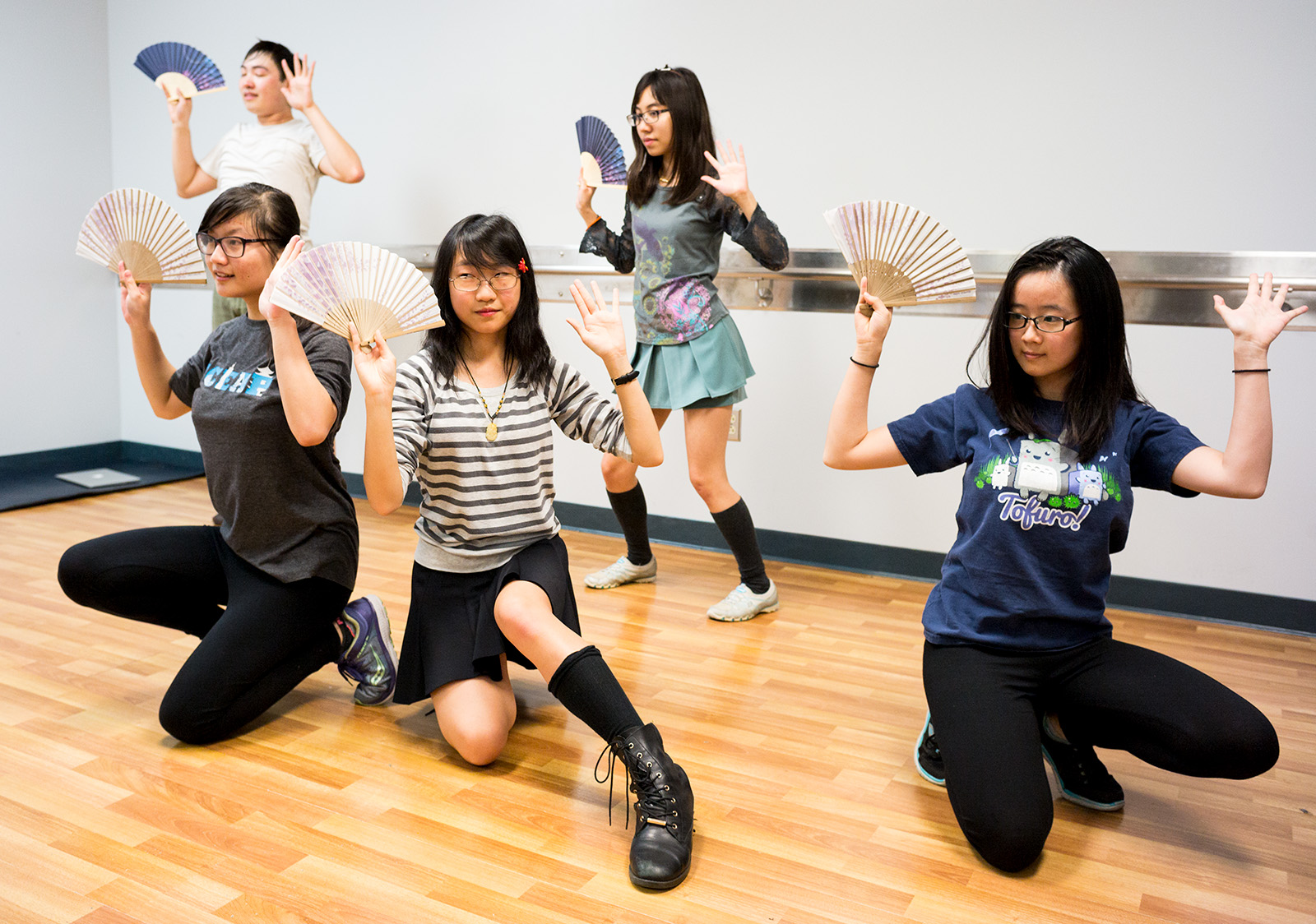 Kirigami, a recreational dance group from UCLA, aims to give members a sense of community through Japanese pop songs and cosplay. A subgroup of UCLA's Japanese Animation Club, Kirigami will dance to a variety of Japanese pop and vocaloid songs Friday for Geek Week at Carnesale Commons. (Ken Shin/Daily Bruin staff)
Two pairs of dancers will tell a story of jealousy and redemption when "Revolver" by Megurine Luka plays.
Dressed in cosplay, a recreational dance group from UCLA will dance to a variety of Japanese pop and vocaloid songs Friday for Geek Week at Carnesale Commons. Kirigami, a subgroup of UCLA's Japanese Animation Club, is not a demanding dance group and aims to give people a sense of home and community, said Angela Li, a second-year cognitive science student and member of Kirigami.
Kirigami was founded about two years ago, focusing mainly on Japanese idol music and cosplay, said Julie Vuong, a fourth-year biochemistry student and a co-lead and organizer for Kirigami. After watching an anime that involved Japanese idols called "Love Live! School Idol Project," the members turned their attention almost exclusively to idol performances and music, cosplaying characters from the show and dancing to the songs, she said.
To some members, the idol aspect was off-putting, Li said. Idol performances usually involve the singers wearing extremely feminine outfits, such as pleated skirts and tops with frills or bows, Li added.
Linda Chitayatuntagul, a graduate student in materials science engineering and a co-lead and organizer for Kirigami, said the goal of idol dance is to provide interaction between idols and their fans, whereas other dance forms, such as hip-hop, aim to exhibit smooth and coordinated choreography.
As a result, idol dance movements tend to be slower and simpler, Li said. For example, if a dance involved the extension of the right arm and pulling it back down, an idol would perform the movement in four beats and accompany it with a simple side step, whereas a hip-hop dancer may perform the movement in two beats, accompanying it with the same movement in the left arm, a leg turn and a body roll.
Although Li was interested in Kirigami when she initially joined, she said she was hesitant to perform an idol dance because of its cutesy aesthetic. Instead, she said she suggested her own dance to "Solitary Hide and Seek Envy" by Denpol-P, which has more of a narrative, telling a story of a girl who was abandoned by her family. In one part of the dance, one dancer collapses to the floor while another puppeteers them, Li said.
"I feel like telling that kind of story and then having a happy ending was what really drew me to the song," Li said.
For some other members came a newfound appreciation for idol dance and music, Chitayatuntagul said. Many people join Kirigami with the preconceived notion that Japanese idols are attention-seeking, crafted by businesses and essentially sold as a product, she said.
"(Idols) just want to be confident and bring fun to people," Chitayatuntagul said. "And that's why I really like Kirigami and the idol aspect of it, but I know a lot of people don't see it that way because I didn't see it that way either."
Recently, Kirigami has transitioned more into Japanese pop music and vocaloid music – songs that primarily use voice synthesizers – such as "As the Gods Say" by GUMI Power, Kagamine Rin and Hatsune Miku, or "Heaven" by GARNiDELiA, which they will perform Friday. Every winter and spring quarter members input songs they are interested in dancing to, and dance groups then form based on similar interests, Chitayatuntagul said.
"I think that's really what Kirigami is: If you like Japanese music, if you like dancing, or if you want to try dancing, and you want to meet new people to dance with, or have fun with, then just come on down and meet everyone, find someone," Chitayatuntagul said.
In the spirit of Japanese idols, Chitayatuntagul said she hopes audience members will have fun seeing the performances and feel encouraged to dance themselves. Li said she wants the audience to also feel at home when watching Kirigami.
"What I most want is for Kiragami to bring a sense of community to students at UCLA," Li said. "Since we all have an interest in anime or J-pop in common, I hope that all of our members can feel united in this one thing and become friends with each other."