AFSCME protests, claims UC perpetuates racial, gender hiring bias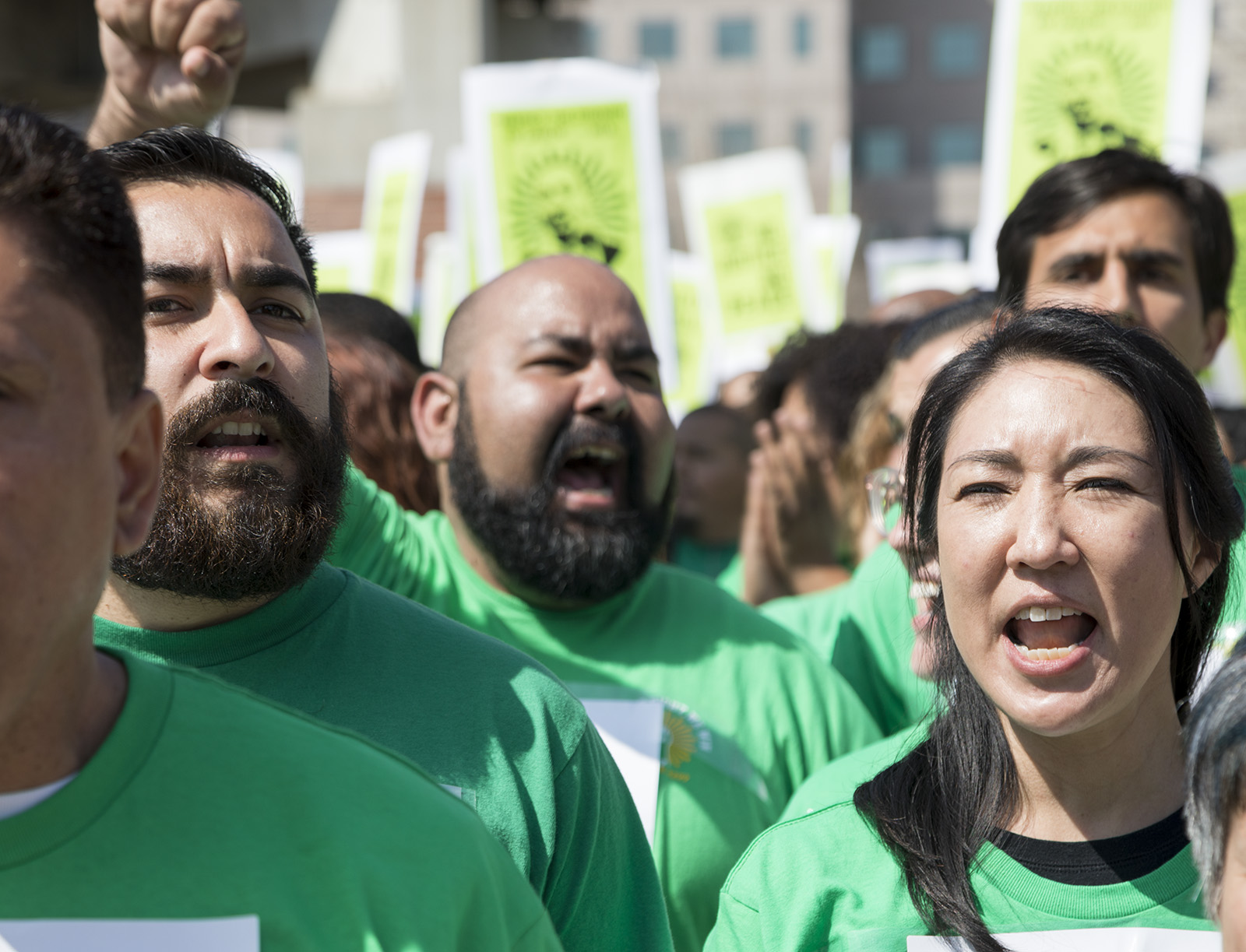 Union workers and students protested what they claimed was a bias towards female employees and employees of color at the University of California. The protest coincided with the anniversary of Martin Luther King Jr.'s assassination. (Daniel Miller/Daily Bruin)
The University of California unions and students claimed the UC has widened the gap between its highest and lowest earners and has shown bias against female employees and employees of color at a protest Wednesday.
American Federation of State, County and Municipal Employees Local 3299 published a report Monday criticizing rising income inequality among UC employees, the University's hiring practices regarding people of color and women, and declining rates of African-American employment.
Protesters gathered at the intersection of Le Conte Avenue and Westwood Boulevard on Wednesday holding signs stating "Equality For All!" and "End Inequality At UC!" and chanting "No justice no peace," and "If we don't get it, shut it down."
They marched together toward Wilshire Boulevard, with some sitting in a circle in the middle of the road and refusing to get up.
Alexia Hatun, a second-year history student and member of the Student Labor Advocacy Project, said the rally was organized on the anniversary of Martin Luther King Jr.'s assassination in order to honor him and symbolize what she thinks is the continuation of racism within the UC system.
"The rally … represents the continuity of our struggle and anti-blackness and how that continues at UCLA," she said.
John de los Angeles, the communications director for AFSCME Local 3299, said the workers were protesting because they are upset with racial and gender disparities in the UC system.
"UC is getting the message but not starting the action," he said. "We do not have another choice but to protest."
AFSCME's report states that in 1996, 19 percent of all UC service and patient care workers were African-American, but by 2015, they comprised 12 percent.
UC spokesperson Claire Doan said the University cannot confirm the accuracy of the conclusions made in AFSCME's report because they do not know how the union arrived at its information.
"We take issues of fairness and equitable treatment seriously, have mechanisms in place to respond to these types of issues and follow appropriate Equal Employment Opportunity policies," she said, "We encourage any employee who believes he or she is being treated unfairly to bring their concerns to the attention of the proper UC office so that they may be addressed quickly."
Lakeisha Collins, a cook at UCLA Medical Center in Santa Monica for 12 years and the recording secretary at AFSCME Local 3299 for four years, said she is concerned that the UC is increasingly outsourcing jobs because outsourced workers receive less pay and lower benefits.
She added she thinks the UC is cutting corners by outsourcing employees instead of hiring them.
"I look at it as the UC keeping the rich rich and the poor poor," she said.
The AFSCME report claims the UC outsources more than 7,000 contract workers and pays them as much as $8.50 less per hour. The report also notes that a recent California State Audit accused the UC of improperly replacing employees with contract workers.
Ruben Gomez, a radiation therapist at UCLA Medical Center for 26 years and a member of the bargaining team, said the union hopes the UC implements programs to hire more people of color and women.
"We want them to have recruitment, communicate with local hiring agencies to get people of color and women into the UC system, and to raise their income and well-being," he said.
Gomez added that he thinks UCLA's advocacy for social justice is not reflected in their hiring procedures.
"(UCLA has) been talking about social justice on campus and when the UC talks about these social justice issues in our community, we feel that the opposite is happening," he said. "I feel that what they say and what they do are two different things."
Gasparyan was an assistant Opinion editor from 2018-2019. She previously contributed as an opinion columnist for the section and writes about issues surrounding gender equity and student life.
Gasparyan was an assistant Opinion editor from 2018-2019. She previously contributed as an opinion columnist for the section and writes about issues surrounding gender equity and student life.