UCLA student layers historical and societal nuance in "Steel Pier" costumes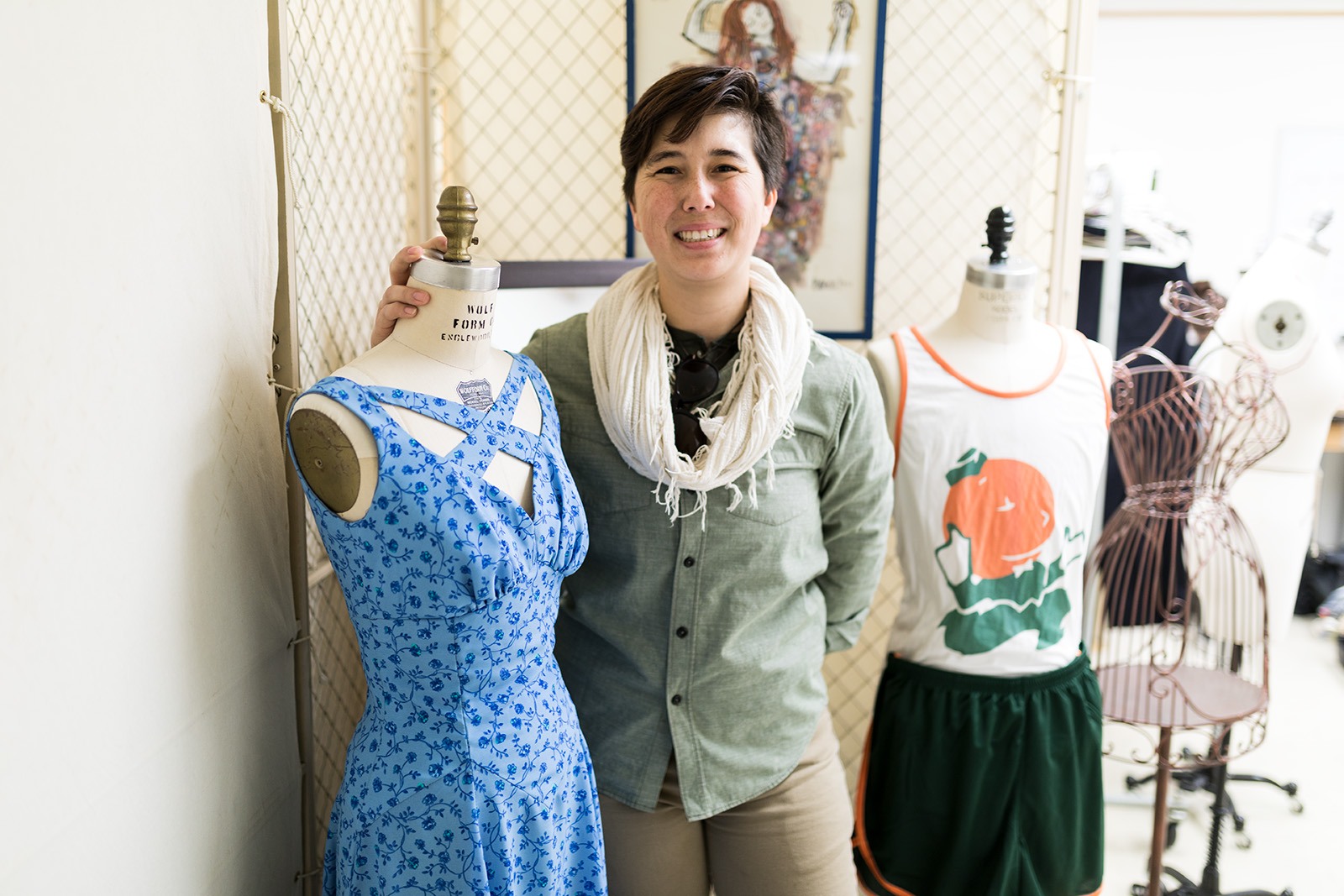 Graduate student Caitlin Kagawa designed costumes for the School of Theater, Film and Television's mainstage production of "Steel Pier." Kagawa crafted period-specific costumes that would display the socio-economic conditions of the characters in the play, which is set in 1933 during the Great Depression. (Chelesea Zhang/Daily Bruin)
Caitlin Kagawa created an outfit specifically designed to be soaked with water onstage.
The outfit is part of UCLA School of Theater, Film and Television's mainstage production of the musical "Steel Pier." The show, which opens Friday at the Freud Playhouse, takes place in 1933 during the Great Depression and tells the story of lower-class citizens competing in a dance marathon, a type of broadcast dance competition. Kagawa, a graduate student in design for theater and entertainment media and the costume designer for "Steel Pier," said she worked with the director and actors in order to craft period-specific costumes that would display the socio-economic statuses of the characters and the bleak themes of the play.
"My goal as a costume designer is to … find a way without words to show aspects of the character," she said.
"Steel Pier" tells the story of a woman named Rita Racine who participates in Atlantic City dance marathons during the Great Depression. At one marathon, she pairs up with Bill Kelly, a man who inspires her to escape the exploitative contests that use the dancers for profit.
Because most of the musical is set at a dance marathon, the outfits must allow for mobility, Kagawa said. She selected durable dresses and shoes that allow free movement for actors in all scenes of the show, including a short tap number. Men's pants had to be flexible enough for kicks and splits during dance numbers. Kagawa also focused on creating clothes that would allow for flexible arm movements, despite the fact that actual dresses in the 1930s often inhibited movement, she said.
The show features a scene in which Kelly goes for a swim in his underwear, adding to Kagawa's challenge of creating clothing that combined functionality with historical accuracy. Performers hold pitchers of water to simulate the appearance of Kelly emerging from a pool. The actor who plays Kelly inevitably gets his underwear wet in the process. Kagawa said it is important to make the underwear look period-accurate while keeping the actor covered. She also had to make a second pair of identical undergarments so the actor could change into a dry pair after the scene and remain properly attired, she said.
Kagawa's costumes also reflect the show's social context. Jeremy Mann, the director of "Steel Pier" and director of singing for the Ray Bolger Musical Theater Program at UCLA, said he and Kagawa had regular meetings to discuss modeling the musical's characters on real-life, period-specific stars like Ginger Rogers, a singer and actress who inspired "Steel Pier's" rendition of Racine.
Mann said actual contestants in 1930s radio-broadcast marathons were often part of the lower classes and attempted to earn money through contests. Performers would use whatever cheap materials they had at their disposal to try to make costumes that looked like the higher-class clothing seen in Hollywood films. To replicate this practice, Kagawa used inexpensive materials like wool for her own costumes in "Steel Pier."
"(Kagawa) has done a good job of stratifying the world … where these people are sociologically and economically," Mann said. "That's told really well in the costumes."
The designs helped some actors portray their social statuses as well, , said fourth-year theater student Shelby Talley, who plays Racine. Racine is somewhat famous under the stage name "Lindy's Lovebird," and her character is expected to exude an elegant and mature persona.
Talley said Kagawa's costuming bolsters her character's semifamous status: At one point, Racine's husband tells her to change from a playful light-blue polka-dot dress into a sleek, dark-blue one. She said the change reflects her competitors' expectations that she look as high-class as her stage identity.
"Her second dress is more expensive-looking," said Talley. "For the couples on stage who see her as 'Lindy's Lovebird,' she looks more like a star or celebrity."
Kagawa said it is typical for women's costumes to express their characters' personalities and statuses in dress-intensive shows, and she wanted to outfit male characters in similarly expressive clothing. She designed the seemingly Hollywood-style clothing with more commonplace and cheap wide-leg pants and woolen clothing to bring out the men's attempts to appear wealthier than they actually were.
"(The outfits are) a subliminal nod to who they really are and allowing who they are inside to come out, so that even if they are onstage for a minute or one scene, the audience won't wonder who they were," said Kagawa. "It's no mystery."
Costuming also helped Mann convey the thematic messages of "Steel Pier," he said. At one point, a few women wear visible underwear beneath transparent wedding dresses in a dance marathon event. Talley said the exposing choice of costuming illustrates the objectification women often experienced in the early 1900s.
"(The wedding dresses) show a darker side to the show because it's vulnerable for all the women to be in these outfits," Talley said. "It shows off the misogynistic view during that time."
Kagawa said the outfits and clothing of the performance help convey the realities of the period that the show depicts.
"I think for a story like 'Steel Pier,' the world is framed by a set, but the story is told in the costumes," said Kagawa. "A story of people in a time where things are destitute and bleak, but we get a chance to see who they are come to life."
Countryman is the 2018-2019 Music | Arts editor. He was previously an A&E reporter. He is a second-year communication student.
Countryman is the 2018-2019 Music | Arts editor. He was previously an A&E reporter. He is a second-year communication student.