Student art exhibition paints personal pictures of mental health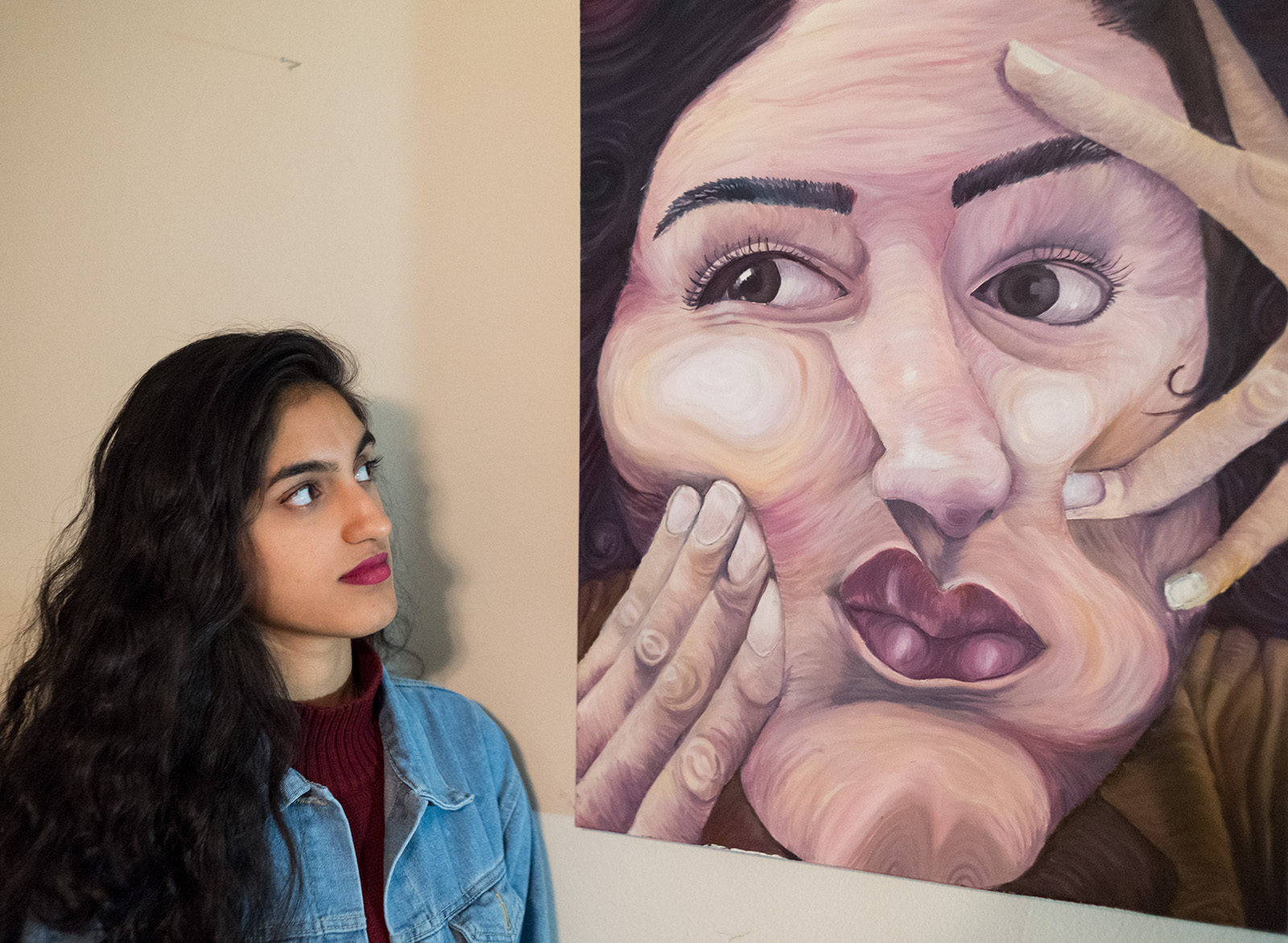 Saloni Kothari, a first-year undeclared student, will display her painting "Drowning" in Hillel at UCLA's newest art exhibition titled "Breaking the Taboo: The Unspoken Epidemic." As the exhibition aims to destigmatize mental illness, many of the artists use art as a means of coping with many forms of mental health issues. (Quanzhao "Ari" He/Daily Bruin)
Correction: The original version of this article incorrectly stated Tami Chalom ran a paint roller over her painting. In fact, she used a ruler.
This article was updated March 5 at 2:30 p.m.
Tami Chalom once ran a ruler over one of her self-portraits in frustration, smearing her image across the canvas.
But the outburst made the painting even more powerful, she said.
Chalom, a second-year communication student, will display her marred self-portrait, "Broken Not Bent," on Monday in The Coffee Bean & Tea Leaf at Hillel at UCLA, as part of an exhibition exploring mental health, titled "Breaking the Taboo: The Unspoken Epidemic." Chalom, the gallery's curator, said artwork enables her and other artists to express difficult feelings or thoughts, an issue she said she feels is common among people with mental health problems.
"If I'm really upset about something, I sometimes have difficulty communicating it," Chalom said. "So I take it out in painting."
Although Chalom has never struggled with mental illness herself, she said she wants to use the exhibition as an open forum to talk about mental health issues and reduce the stigma surrounding the topic. Since UCLA students produced all 16 artworks, Chalom said the exhibition highlights the pervasiveness of mental health problems on campus.
In Chalom's self-portrait, her obscured, black-and-white face symbolizes her difficulty in distinguishing reality from fantasy during her senior year of high school. That year, while laying in bed at night, Chalom said she sometimes had trouble discerning between dreams and real life, a feeling she wanted to echo in the blurriness of the self-portrait.
In curating the gallery, Chalom said she discovered that creating art is actually a common form of therapy for people with mental health issues. Some mental health in-patient programs have art classes, she said.
Art functions as a healing process for Sierra Bronkhorst, a fourth-year sociology student, who said painting helps give her a reason to get out of bed in the morning. Bronkhorst painted three pieces featured in the gallery, two of which she also displayed in the Academic Affairs Commission's "Sanctuary Art Show" in November. One of her paintings, "Warrior" depicts a flurry of negative ramblings in red against a black background and a positive personal message written in white on top of the red paint.
Bronkhorst said the finished piece reflects the process of working through her personal struggles with mental illness. After having a particularly difficult day, Bronkhorst said she felt defeated, but writing the phrase "NO ONE will take away that I am everything to myself" on top of her painting reassured her of her own strength.
"Painting those specific paintings was really the start of me once again being comfortable with myself and finding self-love and happiness," Bronkhorst said.
Although Angela Nguyen, a first-year molecular, cell and developmental biology student, said she has not experienced any issues with mental heath of her own, she uses her art to make sense of bipolar disorder and depression, the latter of which Nguyen's mother struggled with.
Nguyen said her painting "Release" depicts a woman whose hair and eyes are blue, a color traditionally denoting sorrow, in an effort to demonstrate how depression can take over an individual's emotions. Painting "Release" was a therapeutic process for Nguyen as it helped her understand her mother's and various friends' experiences with depression. Although she's never been clinically depressed, Nguyen said the painting process contextualized some of her occasionally depressive feelings.
Artist Saloni Kothari, a first-year undeclared student, said she uses her painting to sort through the strenuous social pressures she feels from her academically competitive family and experience as an international student from Thailand. Kothari's piece in the gallery, "Drowning," depicts a face squished by hands as a means of reflecting the internal identity crisis she experienced when deciding on her future career path, as an undeclared student.
Kothari said even though she does not consider herself to have a mental health disorder, she is cognizant of the importance of regularly tending to her emotional health.
"No matter how minor or major the (mental) injury is, it should always be addressed like a physical injury would," Kothari said. "From a paper cut to an arm being cut off."
Kothari said the repetitive, arched contour lines along the subject's cheeks and chin subtly illustrate her feelings of melting under outside pressure. Kothari painted hands pressing on the subject's face to symbolize her mounting external stress, which she said is pushing to pigeonhole her into a career path.
Kothari said although her family would never directly pressure her, most of them attended reputable schools and earned multiple degrees, so she feels compelled to choose her own career soon and live up to the same standard as her family.
However, after finishing the painting, Kothari said she began see the positive side of her problems and now defines herself as curious and open-minded rather than indecisive. Through the artistic process, Kothari said she was able to make sense of her complicated and often aggravating mental discomfort.
"Making the painting helped me solidify my feelings onto a … canvas," Kothari said. "It's a visual regurgitation of everything that I'm dealing with."