Japanese martial art fights stress, promotes cultural awareness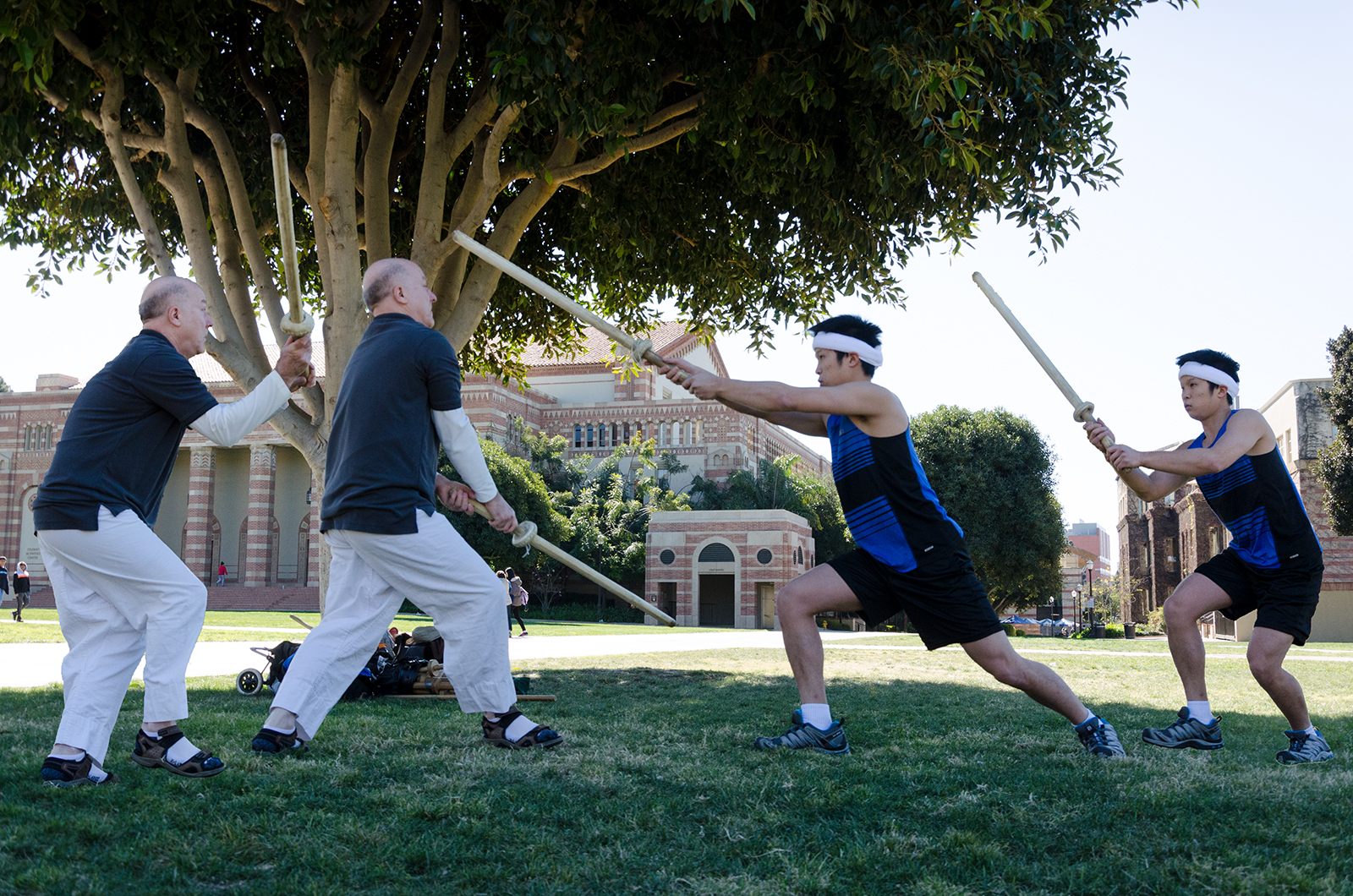 Professor William Bodiford and third-year civil and environmental engineering student Sidney Poon practice with leather-covered wood swords known as fukuro shinai. The Kashima-Shinryu Club at UCLA meets to refine and perfect combat techniques of the 500-year-old Japanese martial art. (Photos by Alexandra Del Rosario/Daily Bruin Photo illustration by Amy Dixon/Assistant Photo editor)
Kashima-Shinryu equips its practitioners with skills to face off against cavalrymen and giant savage boars.
However, since giant boars rarely terrorize UCLA students on their daily commutes to class, some practitioners on campus have found other uses for the Japanese martial art.
William Bodiford, an Asian languages and cultures professor, started the Kashima-Shinryu Club at UCLA in the mid-'90s, using its curriculum of swordsmanship and grappling to promote physical, mental and emotional well-being. The 500-year-old tradition of Kashima-Shinryu embodies the long history of sword fighting and martial arts techniques used by premodern Japanese warriors.
Bodiford first learned about the martial art form when he enrolled at the University of Tsukuba in 1978. His previous Japanese language teacher referred him to a Kashima-Shinryu club at the university, instilling in him an interest he would go on to bring to UCLA. Bodiford said the practice allows him to directly immerse himself in Japan's history and culture.
"Because of my involvement in the practice, I've experienced aspects of Japan and Japanese culture that I would not have known otherwise," he said.
The members of the club meet with Professor Bodiford at least twice a week for about three hours to practice swordsmanship and jujutsu. Club members group into pairs to practice multiple sequences of dueling steps. They wield wooden swords, leather-covered bamboo swords and dull wooden daggers, called bokuto, fukuro shinai and kaikenjutsu respectively.
For a martial arts club, injuries are surprisingly rare, said third-year civil and environmental engineering student Sidney Poon. Scratches and bruises from the leather swords are inevitable, but Poon said any injuries he may acquire from practice are all easily treated with Neosporin and bandages.
Though practitioners may sustain minor injuries, Lynn Henson, one of the club's first members, said Kashima-Shinryu provides mental benefits and encourages a peaceful attitude. He said the three hours of practice help him forget about external stresses and focus instead on the flow of the movements.
Like Henson, post-doctorate biochemistry student Justin Langerman said he finds refuge in the meditative aspect of the practice. Langerman, who has been practicing for about 12 years, said relaxation and awareness are two principal aspects to Kashima-Shinryu that he's incorporated into his busy and stressful life.
"In Kashima, we have to relax to do everything … when you get tense or panic, you perform poorly in technique and life," he said. "Post-doc life is stressful and can be full of discouragement, but because of Kashima-Shinryu, I've learned to maintain my focus in academics the same way I do in practice."
Perfecting the martial art's technique is challenging, Poon added. Similar to academics, developing technique requires listening skills, patience and practice, he said.
"It's a constant struggle," he said. "The most you can do is do your best and listen intently to what (the) professor says because that ensures good technique, improvement and safety."
Since the club is relatively small, consisting of six to eight members, Poon said he hopes new members will join to provide a wider variety of body types and strengths to practice with. He said good swordsmen know how to handle diverse opponents, as height can affect their speed and reaches.
Despite its small membership, the Kashima-Shinryu club provides a space for interpersonal connection and allows students to better understand Japanese history and culture, Bodiford said.
"Kashima-Shinryu is a mode of learning which has almost disappeared from the world," he said. "Through understanding this art form by practicing it, you can appreciate traditional cultures in a way that's very different from reading about it and imagining."
Del Rosario is the 2018-2019 prime content editor. She was previously an A&E staff reporter.
Del Rosario is the 2018-2019 prime content editor. She was previously an A&E staff reporter.