The Quad: Comparing Feinstein's, De León's policy positions in Senate seat race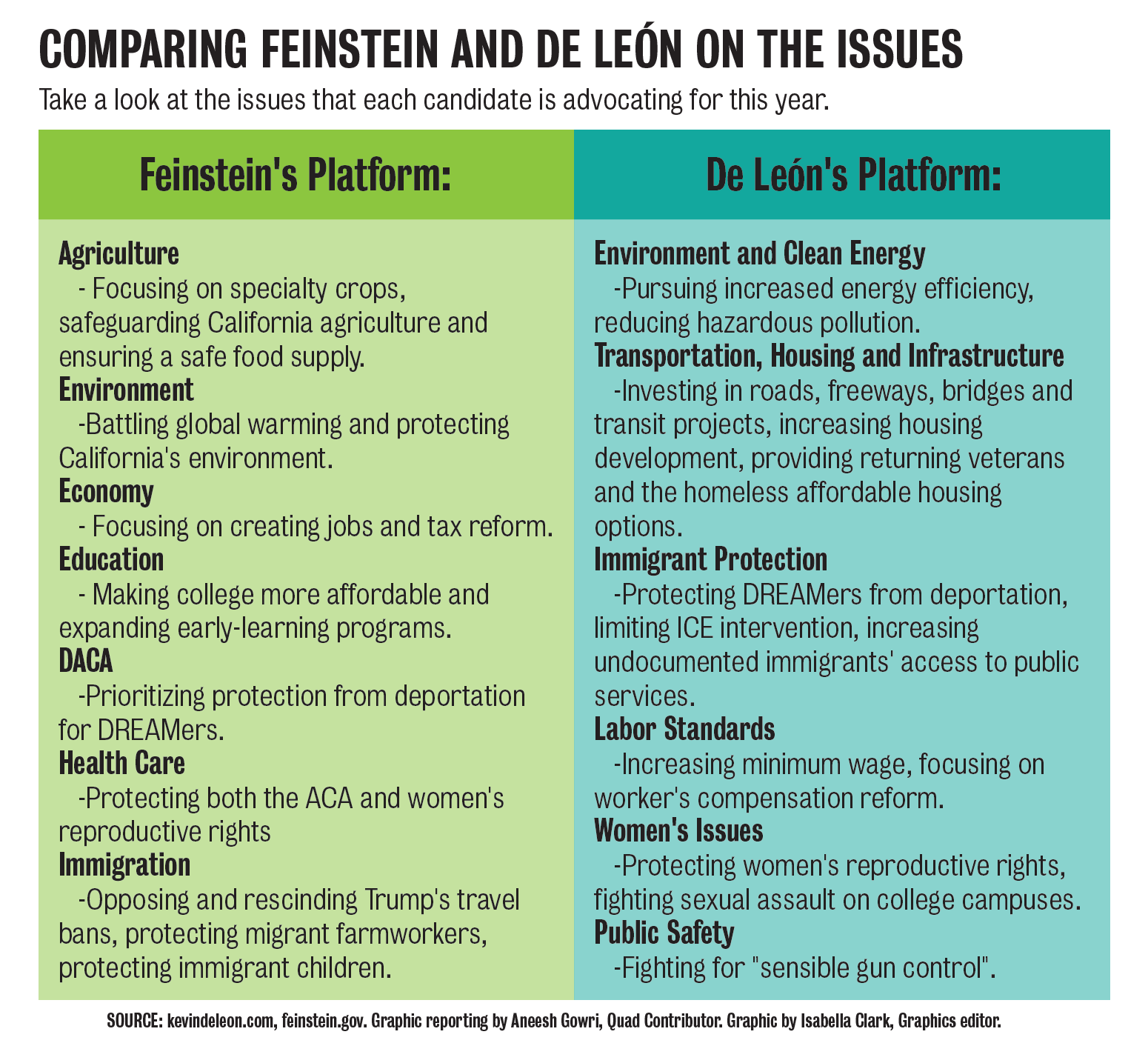 This past weekend, student delegations from California universities travelled to San Diego for the California Democratic Party Convention. At the convention, which follows a similar model to the Democratic National Convention held during presidential election years, constituents have a chance to interact with and meet party leaders while candidates fight for the coveted party endorsement. If a candidate secures the party's endorsement, the party offers them vast resources and a joint fundraising agreement. In statewide positions, candidates must win 60 percent of all Democratic delegates attending the convention to win the endorsement.
This year's convention was particularly intense. California will elect a new governor, potentially elect a new U.S. senator and play a key role in turning the U.S. House of Representatives blue. If Democrats want to usher in a blue wave, endorsing the right candidates is the first step.
This year's race for California's Senate seat is shaping up to be one of the most competitive the state has seen in the past quarter century. In California's primary elections, all candidates for voter-nominated offices are listed on one ballot and only the top two vote-getters in the primary election – regardless of party preference – move on to the general election.
In 2016, this led to an all-Democratic general election between now-U.S. Sen. Kamala Harris and former Rep. Loretta Sanchez. This year, we'll most likely see the same with Sen. Dianne Feinstein, D-Calif., and California State Senate President Pro Tempore Kevin De León, D-Calif.
Feinstein has represented California in the U.S. Senate since 1992, and as the incumbent, holds a strong grip on the position. However, for the first time in modern history, California Democrats denied the incumbent, Feinstein, the party's endorsement. Feinstein only won 37 percent of delegates, compared to De León's 54 percent. Because neither candidate reached the needed 60 percent, neither will win the party endorsement.
This sudden turn of events begs the question: Why now? Why, after all these years standing steadfast behind Feinstein's leadership, are Californians thinking about voting her out of office?
Many argue that the Feinstein vs. De León race is Clinton vs. Sanders all over again. This election seems to be reopening wounds between the establishment and the party's left wing that troubled Democrats in 2016. Once again, millennials seem to be at odds with the older generations.
In November 2017, the California College Democrats tossed Feinstein to the side and endorsed Kevin De León for U.S. Senate in 2018. They argued that De León is a strong voice against Trump, while Feinstein seems to be more interested in maintaining the status quo than fighting for the resistance. But considering Feinstein's opposition to basically all of Trump's policies, young Democrats may be more drawn to De León's fresh face than his policies.
According to Nate Silver of fivethirtyeight.com, Sen. Feinstein and Sen. Harris both vote in favor of Trump-supported policies at the same rate – 19.0 percent for Feinstein and 18.8 percent for Harris – but Feinstein has been accused of appeasing Trump while Harris has been lauded for her tenacity.
De León has criticized Feinstein for her support of unwarranted surveillance on Americans, and Feinstein responded by arguing that as a senior member of the United States Senate Select Committee on Intelligence, she sometimes needs to put the needs of the nation above the needs of the party. At the convention, Feinstein also boasted her strong record on gun control, referencing her bill from the 1990s that banned all assault weapons. She has been pushing to reinstate the ban since it expired in 2004, and is planning on reintroducing to the Senate after the mass shooting in Parkland, Florida, two weeks ago.
The truth is, Feinstein and De León have very similar policy positions.
The Economy: Feinstein and De León both agree that raising taxes on the highest earners and lowering taxes for the middle class and below will allow the government to expand social programs while decreasing the deficit. De León has supported a $15 minimum wage in California; Feinstein signed on as a co-sponsor of Bernie Sanders' $15 national minimum wage bill last year.
Education: Feinstein and De León both want to increase access to quality public education by making public universities more affordable. In 2007, Feinstein co-wrote a bill that increased funding to the U.S. Department of Education and expanded Pell Grants for students across the country. De León has backed a bill that makes the first year of community college free for California students.
Immigration: De León championed a 2013 bill to protect undocumented immigrants in California and allow them to access social programs like insurance and driver's licenses. Feinstein has been a fierce advocate for the undocumented community and voted against the government spending bill earlier this year because it did not include a clean DACA provision.
Reproductive Rights: Both Feinstein and De León have a 100 percent rating from Planned Parenthood and boast pro-choice and pro-women records. Feinstein has championed bills that require sexual assault education and accountability on college campuses. De León has done the same at the state level.
Health care: The only big issue Feinstein and De León disagree on is health care. While De León is a proponent of Sanders' "Medicare for All" plan, Feinstein argues the plan has no real funding mechanism and instead wants to improve "Obamacare" by increasing funding and accessibility.
While De León may have gotten an endorsement from the California College Democrats, some students are still backing Feinstein.
Grayson Peters, a first-year political science student and member of Bruin Democrats who plans to support Feinstein, believes California should not abandon the political clout Feinstein has accumulated through her years of service. Because the Senate runs on seniority, Feinstein has a commanding voice on important committees like the Senate committees on Rules and Administration, the Judiciary, Intelligence and Appropriations.
"I think the problem with our generation is that there is very little patience for pragmatism and going beyond the surface level," Peters said. "We hold our candidates to political purity tests, and if they don't pass every little part, we don't vote for them."
Henry Lutz, a second-year political science student who was able to attend the convention last weekend, said he thinks supporting De León would be risky.
"De León is pushing for reforms much more along the lines of Bernie Sanders and Elizabeth Warren, but (Feinstein) has mainstream Democratic appeal," Lutz said. "De León is really pushing for progressivism within the Democratic Party."
At the end of the day, arguments against Feinstein seem to stem from her age. Many millennials believe that a woman as old as Feinstein, who will be 85 this summer, cannot understand the needs and values of younger generations.
However, with her name recognition and massive political machine, Feinstein will not go down without a fight. According to recent polls, Feinstein is nearly 30 points ahead of De León, and has more than $10 million in the bank compared to De León's $359,000.
But we have a long way until June and even more time before the general election in November. Stranger things have happened – just ask Hillary Clinton.