Goats add fun, stretch boundaries of traditional yoga at outdoor event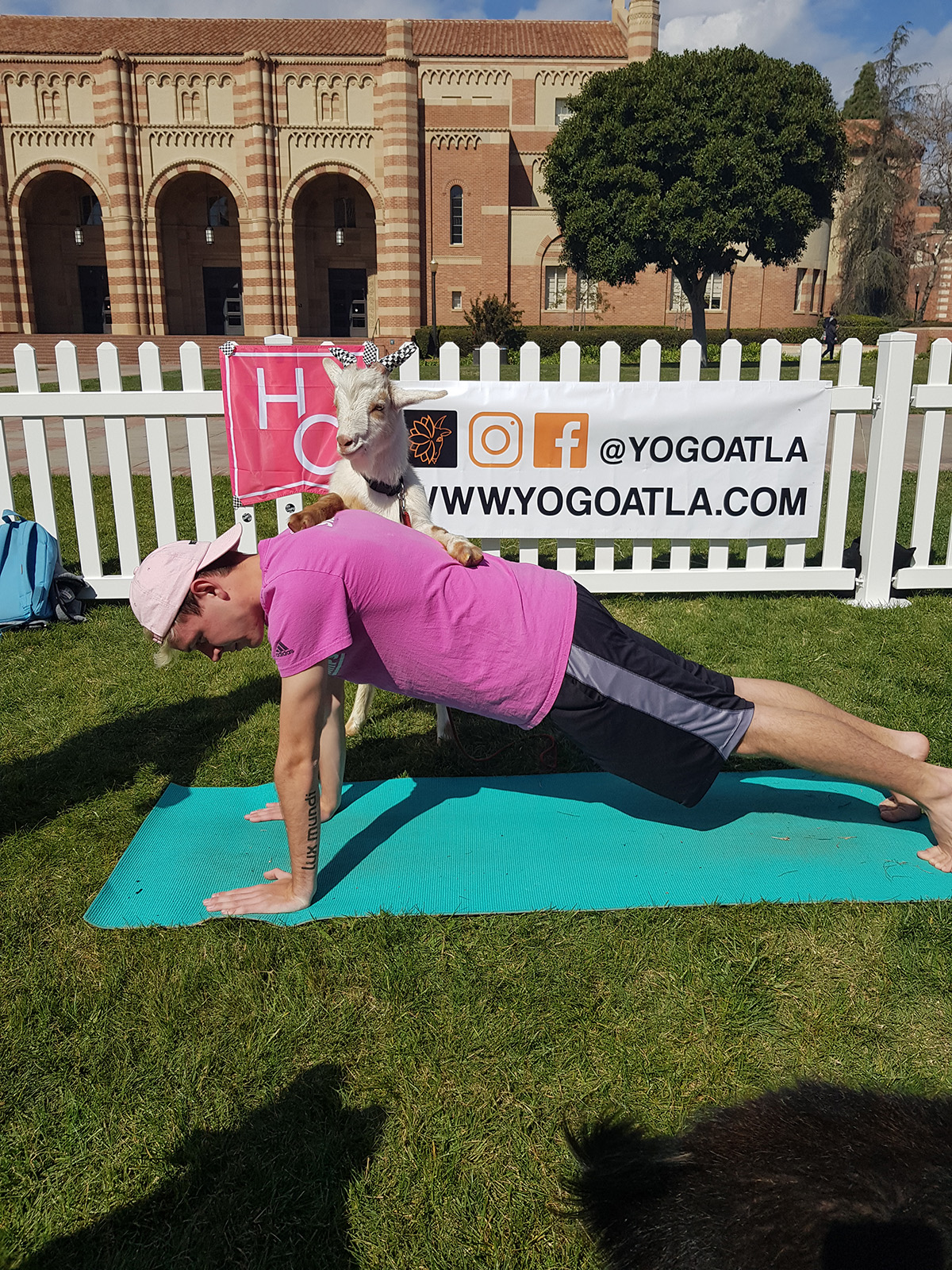 (Courtesy of Claire Fieldman)
Goats joined in on participants' downward dog and cobra poses at Thursday's outdoor yoga event.
The UCLA chapter of Her Campus hosted an alternative yoga event between the Student Activities Center and Kaufman Hall. About 80 students gathered on the grass while two goats, Henry and Enzo from YoGoat LA, wandered between the students and climbed on people as they stretched into different yoga positions. Megan Reusche, a third-year English student and Her Campus events director, said the organization hosted the event in an effort to reduce stress levels on campus.
Goat yoga combines two stress-relieving activities for students: interacting with animals and exercising. Reusche said many studies show animals are helpful in bringing comfort to people while yoga can encourage mindfulness and meditation. Holding goats and focusing on yoga positions creates an entertaining version of the usually calming practice, said Reusche.
While yoga is traditionally quiet and introspective, the organization played instrumental music during the hourlong session to make it more fun, she said. Students were also encouraged by goat walkers to laugh at the silliness of being climbed on.
Third-year communication student Caith Wright instructed the session. She said yoga is typically inwardly focused, but combining the practice with baby goats adds an element of distraction that also helps people connect to the world.
"I think the goats connect to aspects of nature which grounds people and lets them be light-hearted and get back to the basics," Wright said.
Because the traditional aspects of yoga are important, she did not drastically modify the session to accommodate the goats, said Wright. However, she did incorporate a few standing poses and held certain positions so the goats had the chance to walk around and greet the attendees. Despite the loss of internal focus, she said the participants were able to have fun.
"The goat aspect implements a lot of distraction, but it's not necessarily a bad distraction," she said. "It will be really playful and people will be laughing, which is an important thing to embrace because people are always so serious."
Liam Lasting, a third-year architectural studies student, said the goats helped him forget about his finals for the duration of the session. The goats calmed him down, he said.
UC Santa Barbara student Eli Bahar, who owns the goats, trained the animals to climb on yoga students with treats. Bahar said traditional yoga is more calm, but the goal of attending goat yoga sessions is different.
"Goat yoga is very interactive, excitement is off the charts, people are laughing and becoming better friends," he said. "It's also known to release endorphins in the brain that promote happiness, laughter and excitement."
Third-year English student Claire Fieldman said she attends yoga classes often, but the goats added a fun quality that allowed her to focus less on perfecting her positions and more on relaxing. Though Fieldman said she will continue her regular yoga sessions, she wants to explore more goat yoga in the future.
"There's something really cool about combining yoga, which is something I love, with being in the middle of campus on a nice day with a bunch of students," Fieldman said. "The quirky spin of having goats was the cherry on top."
Countryman is currently a senior staff writer. He was previously the 2018-2019 Music | Arts editor and an A&E reporter. He is a fourth-year communication student.
Countryman is currently a senior staff writer. He was previously the 2018-2019 Music | Arts editor and an A&E reporter. He is a fourth-year communication student.