Graduate dance students explore body movement, performance space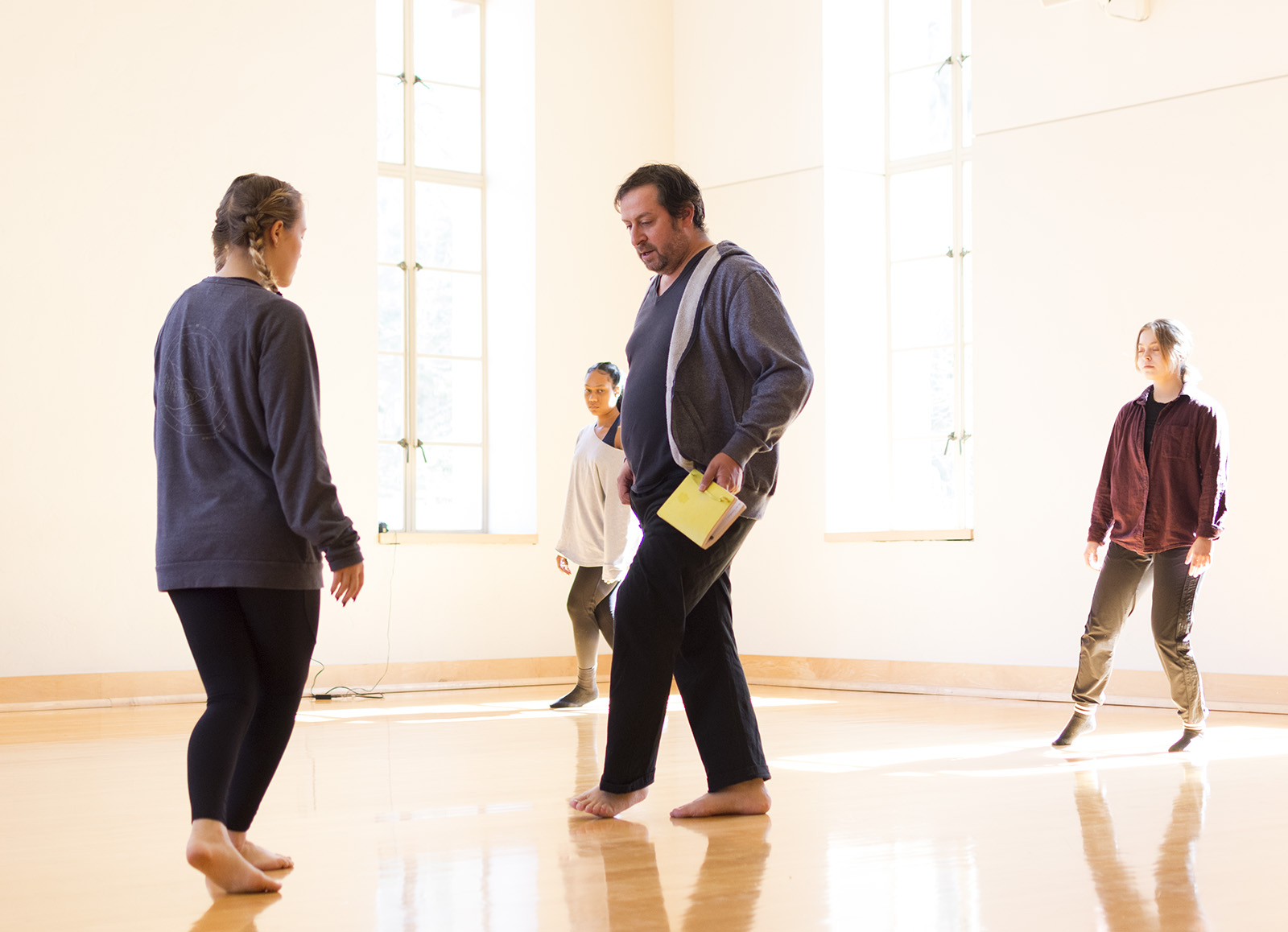 Graduate dance student Levi Gonzalez rehearses his piece, "Polyversa Discoteca," with several undergraduate dance students. Gonzalez said he drew inspiration for his unfinished work from queer theory research in the fall. (MacKenzie Coffman/Daily Bruin)
"glory us weirdos"
Kaufman Hall
Friday at 5 p.m. and 8 p.m.
Free
This post was updated March 1 at 7:02 p.m.
Dancers will embody divining rods, gasp for air and groove like they're in a nightclub in "glory us weirdos."
These dance moves are part of Friday's show, which will present graduate dance students Kristianne Salcines and Levi Gonzalez's in-progress thesis works. "glory us weirdos" consists of two 25-minute pieces that aim to explore how the dancing body can exhibit specific concepts through movement and the nontraditional use of performance space, Salcines said.
While both Salcines' and Gonzalez's pieces are unfinished, Salcines said the performance is an integral part of how the pair will approach their thesis projects in the future.
"I'm currently the choreographer and a dancer in my own piece, so it's hard for me to see what my piece is doing," they said. "I just need to know that people are experiencing something that my collaborators and I have created together."
Salcines said they wanted their work, "Fisted by the Universe," to promote visibility for queer dancers of color and give them an opportunity to bring their emotions and experience into the choreography. They were inspired to create a piece that celebrates its dancers more than it emphasizes aesthetic, Salcines said.
"The dancers are treated like they're just a vessel with no feelings who have to mask everything for the sake (of) performance," Salcines said. "I want to use the piece to challenge this practice and empower the dancing body through autonomy."
In the last part of Salcines' work, dancers celebrate themselves on a T-shaped runway. Randy Reyes, one of Salcines' collaborators, said they tend to highlight their body in the piece, touching the skin and layers of clothes around their body's fleshy and muscular parts. Reyes said being involved in the unfinished work also helped them understand Salcines' choreographic process and appreciate the process of producing a thesis regardless of completeness.
"I'm excited for the showing but I look most forward to the moments where we can discuss how we're doing and build from that," Reyes said.
Feedback between collaborators is important to developing the piece, Salcines said, so they hope their work encourages people to think for themselves and ask questions about the piece's meaning.
"It's a way of generosity when someone shows their appreciation or lack thereof for the work," they said. "I want my audience to have an experience that's not just passive and hope they're challenged to ask questions and inspired to know more."
Gonzalez said he also finds benefits in presenting his unfinished work, "Polyversa Discoteca."
"People can see what my work is about and see what I've been working on; hopefully it interests them," he said. "My work is definitely on the experimental side but I don't want it to be unapproachable."
He said his seven-dancer work was inspired by his research into queer theory in the fall. Gonzalez said "Polyversa Discoteca" revolves around creating a space for dancers of different body types, dance backgrounds and identities. With the positive emphasis on various identities, Gonzalez said he wanted to create a piece that allows his dancers to have agency in their movements.
"I wanted to make some structures where the dancers are able to make choices within the piece and bring their own personal interests and ways of moving in the dance," Gonzalez said.
Lorenzo Rangel-Santos, one of Gonzalez's dancers, said he integrates his hip-hop background into the piece. The second-year dance student said he and other dancers embody metal objects such as divining rods by vibrating their fingers and arms. But rather than just shake his fingers, Rangel-Santos said he flexes his muscles at fast rates which makes his body look like it's vibrating, a move he learned as a B-Boy dancer.
Rangel-Santos said even though Gonzalez's piece is a work in progress, its unfinished status shows the dancers how much the work can change. But he said he hopes the audience can appreciate the work behind "Polyversa Discoteca" even if it isn't officially done.
"I think there's something human about being part of an unfinished work," he said. "The audience can see that it's not just a one-time project and there's a future for it."
Del Rosario is the 2018-2019 prime content editor. She was previously an A&E staff reporter.
Del Rosario is the 2018-2019 prime content editor. She was previously an A&E staff reporter.