Tamale-making workshop discusses social justice in modern food systems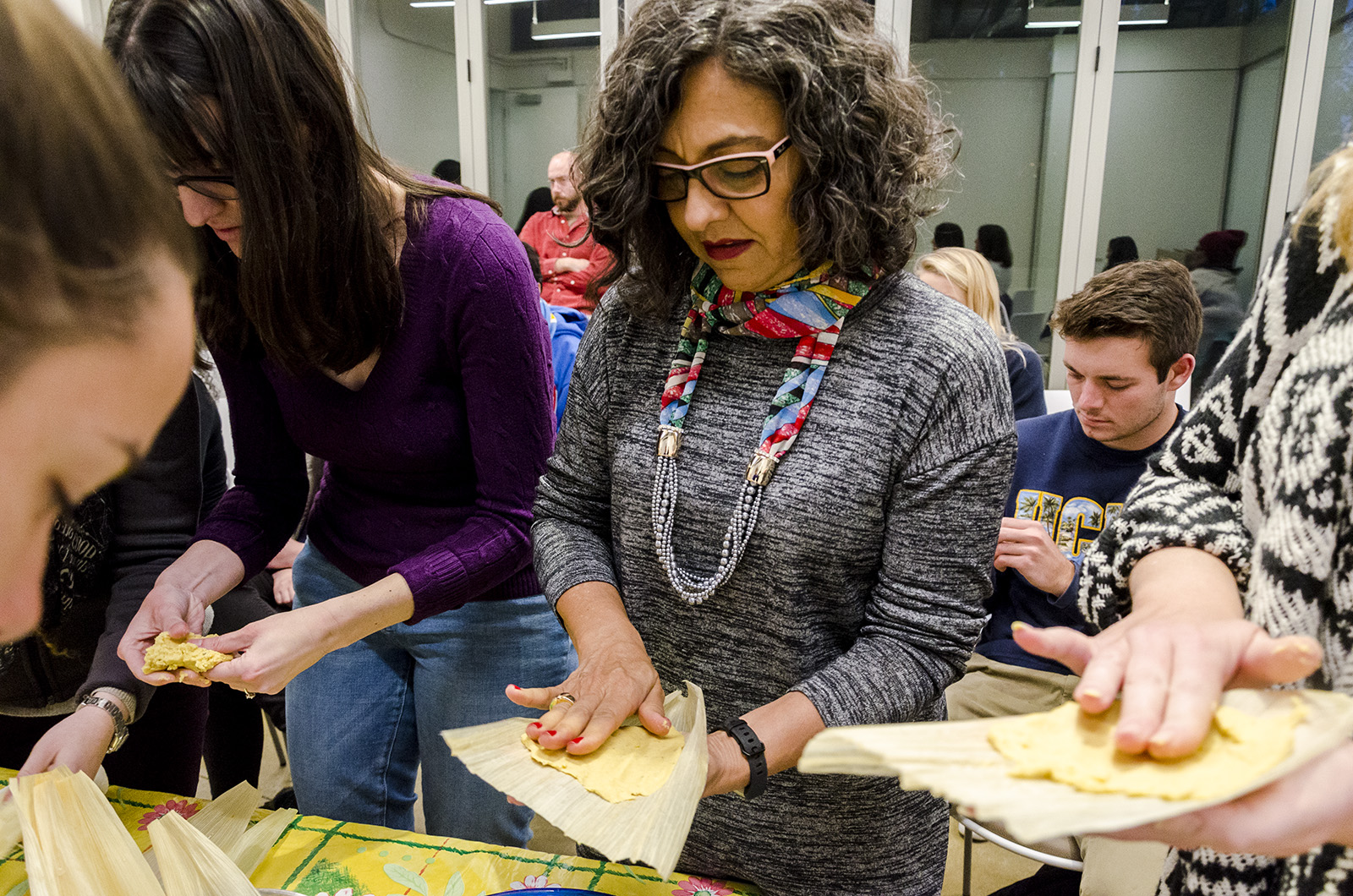 Seed the Commons, a San Francisco-based organization, hosted a food justice lecture Tuesday followed by a tamale-making workshop at UCLA. The lecture and workshop taught attendees about problems with the international food system by comparing it to precolonial Mesoamerican food models. (Alexandra Del Rosario/Daily Bruin)
Organizers used an organic, vegan tamale to represent a fair, precolonial food system at Seed the Commons' latest event Tuesday.
The San Francisco-based organization hosted a food justice lecture Tuesday followed by a tamale-making workshop Wednesday. The lecture and workshop taught attendees about problems with the international food system by comparing it to precolonial Mesoamerican food models.
"It's not just consumers or just farm workers who face social justice issues," said Nassim Nobari, lecturer and co-founder of Seed the Commons. "We need to think more in terms of the system as a whole."
The tamale-making workshop took place at the UCLA Mildred E. Mathias Botanical Gardens. Nobari said Seed the Commons chose to make tamales because the process is easy to learn and features many different ingredients that come together to create one whole.
First, they demonstrated creating the tamale's filling, or the relleno, with beans and vegetables. The discussion included the background and history of the filling, which originates from the Mesoamerican food tradition. Nobari and co-founder Chema Hernández Gil discussed issues facing farm workers who pick the beans and vegetables used in the tamales, including exclusion from overtime pay and unethical working conditions like extreme heat and sexual abuse.
They continued making the tamales with corn, which makes up the dough, or masa. The pair used the corn to highlight the struggles of small farmers, particularly those in Mexico, that result from genetically modified crops and neoliberal or free-market capitalist policies. Many small farmers in Mexico are forced to migrate because they can't compete with genetically modified, government-subsizided corn produced by large American corporations, she said. Many of these migrants become farm workers or slaughterhouse workers in cities, often working under bad conditions.
The team also used organic ingredients to address the limited accessibility of organic foods and the challenges of trying to eat well. Nobari said attendees should purchase organic ingredients to support farm workers because pesticides are harmful to their health.
Members of Seed the Commons spread out the masa like a pizza dough on top of soaked corn husks. They then filled the masa with the bean and vegetable relleno and tied it up with more corn husk for steaming. Nobari told the audience tamale making is like making a sandwich because everyone has their own personal touch.
While the tamales steamed, the workshop finished with a discussion on the importance of animal rights in agriculture and the vegan ingredients of the tamale. Hernández Gil said in precolonial Mexico people's diets were primarily plant based.
"(A meatless diet) is something that has gotten lost over the years, so we try to lift that up and bring about the plant-based nature of traditional Mesoamerican foods," he said.
Nobari said making the vegan tamale shows meat is not necessary in traditional foods or for a nutritional diet. At the end of the demonstration, attendees were invited to make their own tamales and eat the ones prepared by Seed the Commons.
Monica Aguilar, a fourth-year Chicano studies and food studies student, said she appreciated how the workshop integrated cooking and food justice. Aguilar said she also enjoyed learning about how Mexican cuisine has changed over time – greens are not considered integral to Mexican cuisine today, she said, but were a main component of Mesoamerican foods generations ago.
UCLA professor Janet O'Shea said she organized the event in part to bring attention to the food studies work in the world arts and cultures/dance department. O'Shea said she is familiar with the influence of colonialism on performance and education, but wants to emphasize its influence on food production, which receives less attention.
"If we really want to decolonize, we need to think about how we approach food and talk about food and think about food, but also in terms of food provision and who has access to what kinds of food," O'Shea said.
Nobari said food systems are central to many other social justice and environmental issues as well. She said she believes people should incorporate discussions about food justice when addressing climate change, forced migration and migrant issues, and changing food systems is an essential part of the pursuit toward a more just and equitable world.
"One of the things that we're trying to highlight with these workshops and a lot of the work that Seed the Commons does is that (the challenges of the food system) are nearly universal," Hernández Gil said. "We're all being preyed upon and victims of these policies, whether it's in rural Mexico or the most urban of cities in the United States."