The Quad: National and state parks UCLA students should visit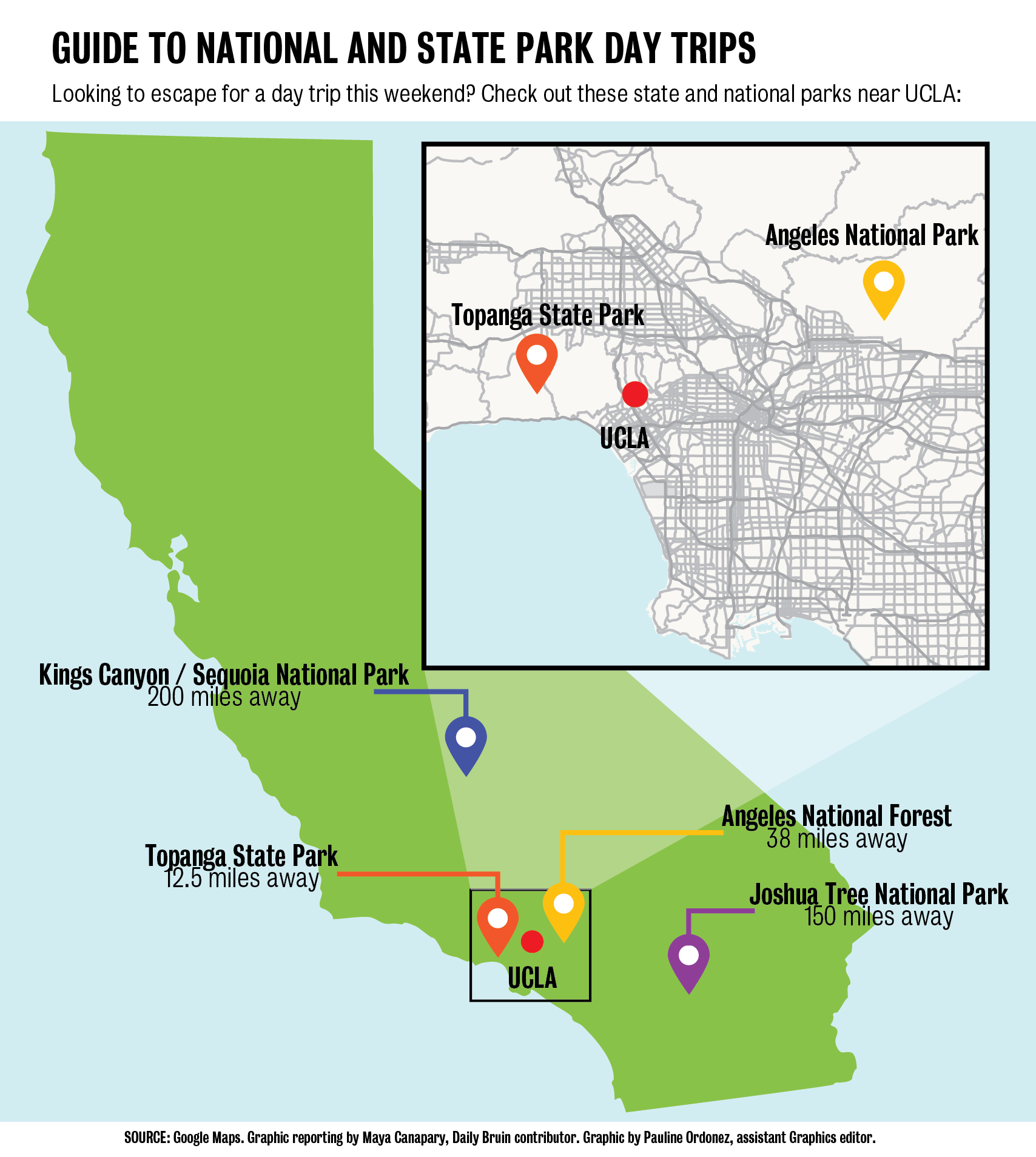 America's protected lands face an uncertain future. On Dec. 8, 2017, President Donald Trump announced a plan to cut the size of Bears Ears National Monument by 85 percent.
Regardless of whether you support this decision or not, we must address the future of our national and state parks and protected lands. Within every state in this nation, there are patches of land that Americans have found so beautiful, so unique, so historical or empowering that they were specifically set aside for the purpose of our appreciation.
Los Angeles happens to be located at the confluence of many different types of biomes, which makes it possible to reach the ocean, mountains or desert within a few hours. We have access to quite a few preserved public lands, as well as cultural and historical monuments. Take a look at some of the options we can take advantage of this holiday weekend:
Driving time from UCLA: 22 minutes (about a $10 Uber)
Nestled within the Santa Monica Mountains just off the Pacific Coast Highway, Topanga State Park may be UCLA's easiest access point to the outdoors. The first people to inhabit this area were a collection of Native American tribes – the Tongva and the Chumash – referred to together as the Topanga people. Later, Spanish and American colonists took ownership of the area. In the early 1900s, the Trippet family acquired most of the land, which has since been sold to the public and established as a state park. The area showcases geologic features such as marine fossils and exposed faults, and features forest, grassland and chaparral areas.
Topanga consists of 36 miles of trails with views of the ocean and exceptional opportunities for hiking and mountain biking. The park extends to the beach for a small section as well, making it a beautiful location for a beach day, in a much more natural (and less crowded) setting than Venice or Santa Monica.
Driving time from UCLA: 1 hour and 25 minutes
The Angeles National Forest contains the San Gabriel and Sheep Mountain Wilderness areas, known for their wild character as completely undeveloped areas. The area mostly comprises dense forests and high peaks, some of which reach more than 10,000 feet. Trails vary in difficulty, meaning that it's the perfect escape for novices and experts alike. The area even includes 176 miles of the Pacific Crest Trail, a long journey completed by those through hiking from Mexico to Canada. Because of its proximity to LA, the Angeles National Forest is an ideal place for a longer day hike, and provides the opportunity to completely separate yourself from LA's urban sprawl.
Driving distance from UCLA: 2 hours and 45 minutes
Franklin D. Roosevelt set aside land for Joshua Tree National Park in 1936 on the basis of its ecological diversity and cultural history. In 1994, it became a national park. Joshua Tree National Park contains 1,235 square miles of desert that harbor the captivating, Dr. Seuss-like Joshua trees, among a bounty of other plants and animals. A drive through the park, from one end to another, reveals a slow but striking change in landscapes as Joshua trees begin to fade, replaced by bare mountains, and later fields of cholla cactus. You would also encounter flashy boulders along the road, a result of molten liquid that slowly rose to the surface and eroded throughout the past 100 million years. These rock formations are unique and enthralling, and make Joshua Tree National Park a popular destination for climbers and geologists alike.
Hikes in Joshua Tree vary in distance, and include some hidden natural and historical features, such as springs and mines, for those willing to look for them. Although students need access to a car to make the drive to the park, it is well worth the trip. This is a place of freedom completely isolated from the noise and stress of LA. The desert landscape, bright stars and open skies give it a surreal, almost mystical feeling.
Kings Canyon/Sequoia National Park
Driving time from UCLA: 3 hours and 30 minutes
Kings Canyon and Sequoia national parks, located in the high Sierra Nevada, harbor an entire array of different ecosystems along an elevational gradient. They are protected under the Wilderness Act of 1994, which defines them as places that are "undeveloped, untrammelled and natural." Sequoia National Park also contains Mount Whitney, the tallest mountain in continental United States.
Granite rocks carved by glaciers shaped many of the spectacular features of this park, and it contains landscapes ranging from forests and wetlands to high peaks and subalpine zones. These parks are large and wild, full of monumental views that simply take one's breath away with the power and sheer vastness of this planet.
Hiking trails vary in length and difficulty. Because of the longer distance from UCLA, camping at Kings Canyon/Sequoia is a more practical option for students than planning a day trip. The park has 14 different year-round campgrounds, and most spots are on a first come first serve basis. Because of the high elevation and cold weather at night, it is also important to bring seasonally appropriate clothing and gear if planning a trip.
Whether or not you believe that these particular areas, or others like them, should continue to be conserved, I would argue they are worth exploring. As someone who grew up outside a national park, I personally have a strong attachment to the idea of protected natural places, and want more people to enjoy the benefits that these parks provide. Many of them cannot be truly understood until they are experienced firsthand. I am also constantly impressed by the rich cultural history each park celebrates alongside their natural beauty. In order to assign these places value, we must understand why they were set aside in the first place.
As UCLA students, we are lucky enough to be located near a diverse range of public lands, and I believe we should take advantage of this to the best of our ability. Finding time and transportation can be difficult, but there are options. Try posting in UCLA's ridesharing Facebook groups, looking into public transportation options, talking to friends or signing up for trips with UCLA's Outdoor Adventures program to make these places more accessible. Taking a little bit of time out of our busy schedules to explore our protected lands – which are often collectively referred to as "America's best idea" – is well worth the effort.