Arts collective allows students to reconnect with Hmong culture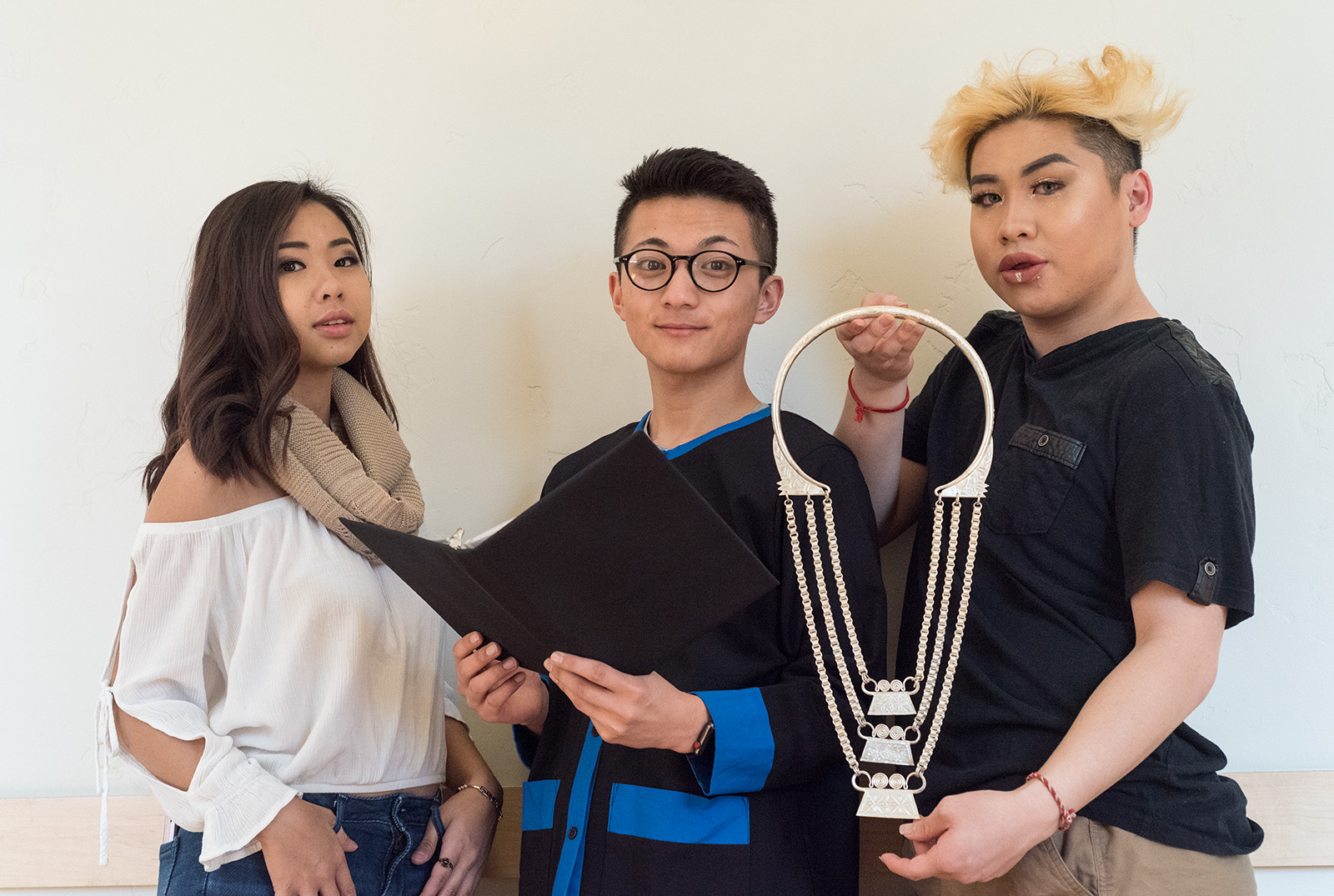 Students Kristy Vang, Johnnie Yaj and Andy Cha (left to right) joined the Hmong Art Collective in fall 2017. The group represents the Hmong community on campus through performative and visual art. (Nathan Smith/Daily Bruin senior staff)
About 31,000 undergraduate students attend UCLA, but less than 30 of them identify as Hmong.
A small group of Hmong students formed the Hmong Arts Collective in fall 2017 as a collaborative space to come together and celebrate their ethnic and cultural identity by supporting and critiquing each other's artwork. The members of the group focus on both performative art, such as spoken word and dance, and visual art, such as drawing and fashion. Johnnie Yaj, a fourth-year world arts and cultures student, said he helped form the collective to raise awareness of the Hmong culture, since it is a complex identity that often goes unnoticed at UCLA.
Yaj said the Hmong, an ethnic group originally from Southeast Asia, first came to the U.S. in the 1970s as refugees fleeing a post-Vietnam War genocide. The CIA had interfered in the Laotian Civil War, also known as the Secret War, by arming the Hmong people and enlisting them to fight against communism during the Cold War. However, after America pulled out of the area, the communists committed genocide against the Hmong people, viewing them as traitors, he said.
During the genocide, Yaj's parents fled to Thailand on foot and swam across the Mekong River to a refugee camp, where they stayed for several years.
"Everything I do is because my parents went through this. Even though I ask my parents about that history, they won't have the words to explain everything that happened," he said. "They don't speak English, and all the words in the Hmong language can't describe a grenade."
Andy Cha, a second-year undeclared student, helped found the collective with Yaj, who served as his mentor in the Southeast Asian Campus Learning Education and Retention program. Cha said he got involved with the collective because he wanted to embrace his Hmong culture by sharing Hmong stories and history with a broader audience, whether Hmong or not.
"Art can build a connection between people; you don't have to be Hmong to understand how I'm feeling," he said. "If I'm expressing it through art you can guide it to yourself and connect yourself to it."
Cha said he expresses himself and his Hmong identity through his makeup art and traditional Hmong songs. One of his favorite songs is titled "Mi Noog," Hmong for "bird." The song deals with moving on from past love, and Cha said he has a special connection to it because he sings it with his family.
Kristy Vang, another collective member and second-year business economics student, said she embraces her Hmong culture through traditional dance. Vang has been dancing in the traditional Hmong style for the past three years, with encouragement from her family. Vang said Hmong dance is unlike other dance forms because of its use of hand movements to express emotion and experience.
Vang said she doesn't call her family back home often and has found herself losing parts of her language because she speaks mostly English at UCLA. However, after joining the collective she has been able to reconnect with people that share her Hmong identity, speak her native language with them, and relay common experiences as first-generation students on a campus where Hmong people are underrepresented.
"We don't have a national border so I feel like it's harder for us to figure out our identity and explain it to people," she said. "Once you tell people, 'I'm Hmong' 99.9 percent of the time they won't know so they'll ask, 'Oh is that Mongolian or Chinese or something?'"
Yaj said he connects with his culture through his writing, including spoken word performances, such as a play he wrote during his college career. Yaj said the play is a tragicomedy that explores the historical displacement of the Hmong people from the mountains of Laos to the Thailand refugee campus, and the resulting intersection of different Hmong histories.
Yaj said he thinks the play is important for helping the youngest generation of Hmong Americans to reconnect with their common history. Even after being in America for more than 30 years, Hmong people still have the highest poverty rates and lowest educational attainment rates of any group of Asian-Americans. So as newer generations of Hmong Americans begin to pursue college for the first time, Yaj said he hopes to connect older and younger generations by highlighting the journey that has brought Hmong culture to the U.S.
"Art is a form of documentation as well as a form of education," he said. "We're using art to explore that part our history, document this history. Whatever we're going through in college right now nobody is documenting that except ourselves."