Alumna's film focuses on capturing authenticity, specificity of ice skating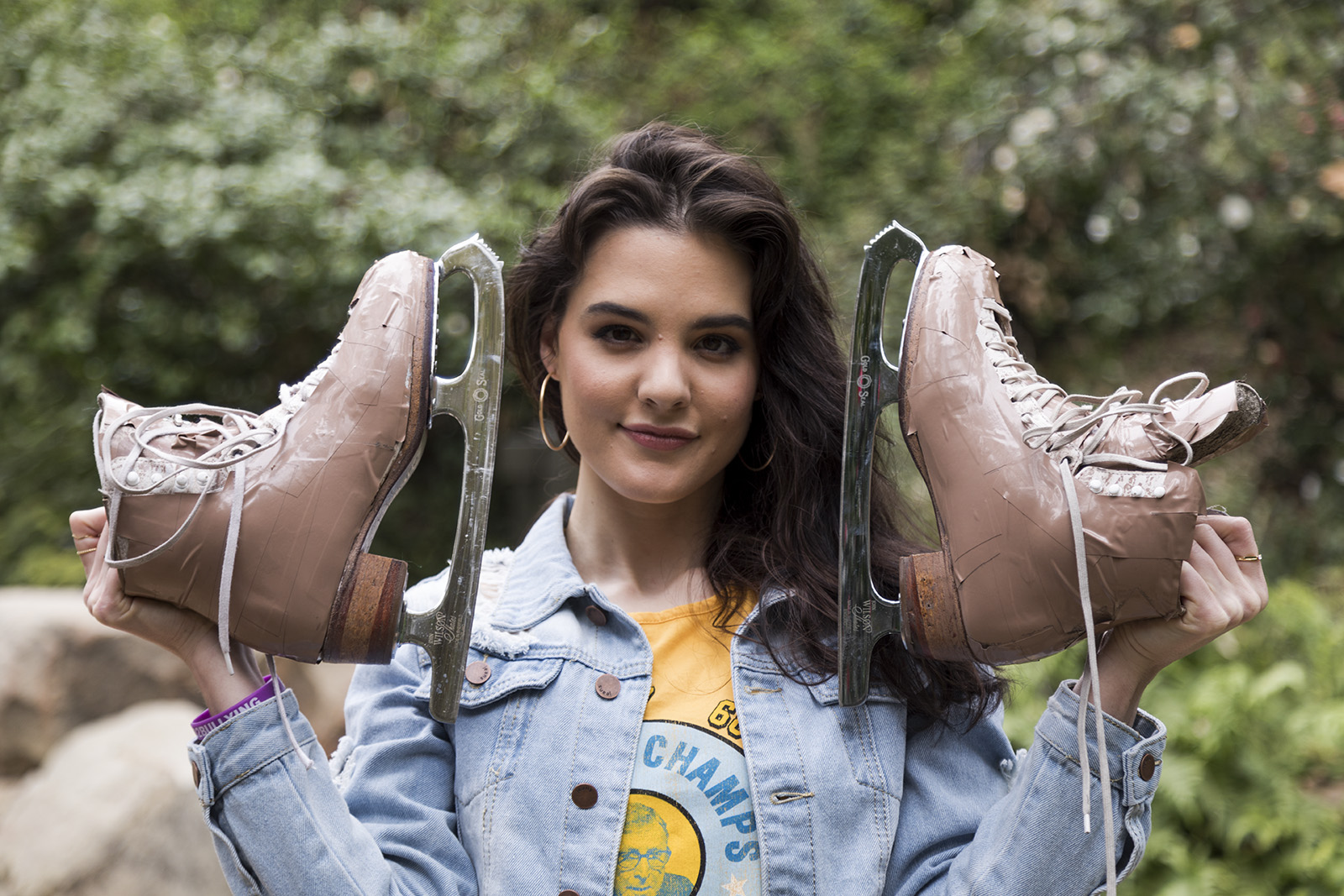 When alumna Maddison Bullock couldn't find a film about ice skating on Netflix, she took matters into her own hands and decided to create her own film. "Ice" tells the story of two young figure skaters who have dreams of going to the Olympics. The film will be making its debut Tuesday at the Ricardo Montalban Theatre. (Daniel Miller/Daily Bruin)
February 15, 2018 11:35 pm
Maddison Bullock wanted to watch a movie about ice skating but couldn't find any, so she decided to make her own.
"Ice," the upcoming film alumna Bullock co-directed, produced and acted in, will debut Tuesday at the Ricardo Montalban Theatre in Hollywood. The film follows the journey of Bailey and Peyton, two figure skaters who grow up as best friends with the common goal of one day competing in the Olympics. Bailey – played by Bullock – and her friend Peyton must face obstacles such as injuries and the politics of competitive figure skating, all while trying to balance their competition and friendship with each other. Bullock, who co-founded the UCLA Figure Skating Team while at UCLA, said she drew upon her experience as a skater to create an authentic portrayal of competitive figure skating that is often missing in films.
"Being at UCLA and my experiences with the skating team taught me if you … see something that doesn't exist, you have the ability to create it," she said.
Bullock said most of the few skating films that do exist use incorrect skating jargon, such as how they describe the scoring system in on-screen competitions, and poor cinematic shots of figure skaters performing on the ice. So for her own movie, Bullock wrote the script herself and hired real figure skaters and hockey players to play the roles in the film.
Bullock discovered the two actresses who play the younger versions of Bailey and Peyton at her old skating rink in Colorado, and the film's cameraman was a former hockey player who was able to follow the skaters on the ice as he shot them instead of staying still and shooting from outside the rink.
Bullock and her co-star Lisa Mihelich – who plays Peyton in the film – also both did their own figure skating stunts in the movie. The stunts included layback spins, which involve skaters arching their backs toward the floor while keeping their head and shoulders dropped backward, and failed jumps, which require purposeful falls onto the ice to simulate failed skating moves.
"I'm hoping that real skaters will appreciate the attention to detail," Bullock said. "I just want that sense of love for the sport to come through and to affect people."
Actor Mike C. Manning plays Bullock's love interest and a professional figure skater in the film. Although he grew up playing hockey, Manning said the opportunity to act with Bullock and other professional athletes helped him better understand his character and the realities of professional figure skating.
One night, Manning, Bullock and Mihelich filmed a scene where their characters play hockey over a frozen pond in 12-degree weather. Accustomed to skating in full hockey gear, Manning said he was surprised by how figure skaters are able to perform in the cold while wearing such thin ornamental costumes.
"It was sort of an epiphany moment for me," Manning said. "I told (Bullock) I really respect what you do, because I had no idea how challenging the sport was."
Bullock also enlisted the help of experienced skaters for the production side of the film. Coral Chou, a UCLA alumna who skated on the university's figure skating team alongside Bullock at UCLA, wrote a song for one of the scenes in the film. In the scene, Bailey and Peyton skate on a lake together and reminisce about why they first fell in love with skating, so the song focuses on the theme of friendship. Chou said she wanted to incorporate a nostalgic quality to the song, taking inspiration from her time competing with her UCLA teammates.
"As a figure skater working the competitive route you learn how to take failure and get back up and try again," she said. "I think it is something that … I've kinda lost as I've gotten older," she said.
Bullock said both the camaraderie and competitiveness of figure skating were important parts of making "Ice." In the film, Peyton deals with anxiety over the fact there is a chance both her and Bailey will not become champions – a reality that many skaters face when competing against their friends or teammates.
"I want to represent skating in a quality way that encourages people to respect the sport, to maybe want look into it more," she said. "There is a tendency with movies to want to make everything glossed over, but I think people crave some specificity."