Restaurant review: New boba cafe gives customers sweet taste of picturesque matcha drinks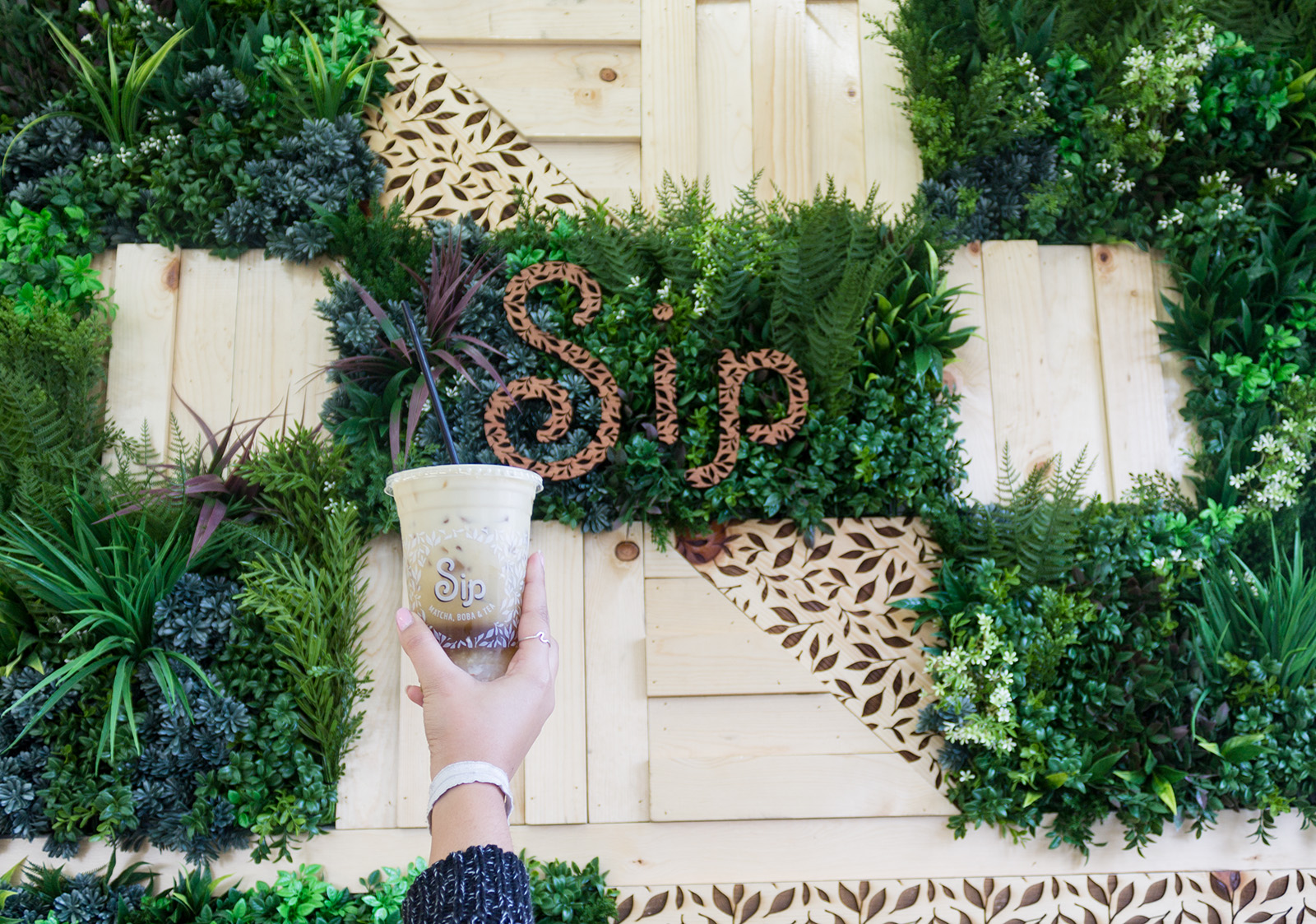 Westwood's newest boba shop Sip offers a pleasant range of milk teas, matcha beverages and matcha-infused snacks. The Daily Bruin's Anushka Jain particularly enjoyed the shop's white chocolate matcha, but found the lychee oolong milk tea to be overwhelmingly sweet. (Manpreet Grewal/Daily Bruin)
February 12, 2018 11:20 pm
Koala T Cafe has a new boba rival in Westwood.
Located on Weyburn Avenue next to Tomodachi Sushi, Sip offers a selection of milk teas, matcha-infused beverages and matcha-based snacks. The cafe had its soft opening last week and is scheduling a grand opening for sometime in the next week or two.
The cafe looks quaint from the outside – a white block with pops of eccentric details, such as its bright "Hella Open" sign. However, the inside of the space emits a much calmer, earthy atmosphere, with tea leaves and succulents adorning the walls.
Similar to most up-and-coming coffee shops and casual eateries in Los Angeles, Sip provides its customers with Instagram-worthy interiors. While awaiting their orders, patrons can spend time eyeing the humorous phrases such as "You can't Sip with us" hung on the walls.
The cafe also boasts a wooden succulent wall, with greenery modestly poking out, and a corkboard map that credits the origins of matcha to East and South Asian countries such as Japan, Taiwan and India.
Sip's menu offers quite a few drink options, but only a few items to snack on – just as the name suggests, its focus lies primarily on beverages. The snack menu features matcha soft serve and onimatcha, a take on rice balls using Sip's in-house matcha rice.
Matcha and milk tea drinks make up the majority of the beverage selections. Customers can also personalize their drinks with three different choices of milk, including organic soy milk and coconut milk, as well as toppings such as boba and a variety of jellies.
Sip also reaches outside of matcha's green spot on the color spectrum, crafting vibrant, eye-catching beverages layered with pinks and yellows, which gives customers another opportunity to snap an Instagram photo. The drinks are served in plastic cups decorated with a white leaf design.
Among its milk teas, Sip's lychee oolong milk tea, customized with organic soy milk and boba, was overwhelmingly sweet, perhaps due to the addition of real lychee bits into the drink. However, the white chocolate matcha impeccably balanced the earthy flavor of green tea with the sweetness of white chocolate in a soft green hue. While the flavor of the lychee oolong milk tea was slightly overpowering, both drinks had ideal consistencies that were reminiscent of milk tea cafes.
With its structured yet gelatinous texture, the boba definitely proved to be a highlight of the order. Sip's boba complemented the sweetness of the milk tea well but did not add any extra sweetness.
Paralleling other trendy spots in Westwood Village, Sip's menu definitely errs on the pricier side, with some drinks totaling five or six dollars and an additional 50-cent charge for toppings such as boba. Though the drinks offer strong matcha and fruit flavors, the price tags may be a deal breaker for potential customers.
The newcomer will have to compete with its neighbor Koala T Cafe for the boba-loving crowd, but it may have the upper hand with its own range of strategically cultivated, picturesque beverages.
Jain is the 2018-2019 assistant editor for the Lifestyle beat of A&E. She was previously an A&E reporter.
Jain is the 2018-2019 assistant editor for the Lifestyle beat of A&E. She was previously an A&E reporter.