LA-based dance company takes 'Samba in the Streets' program to Alabama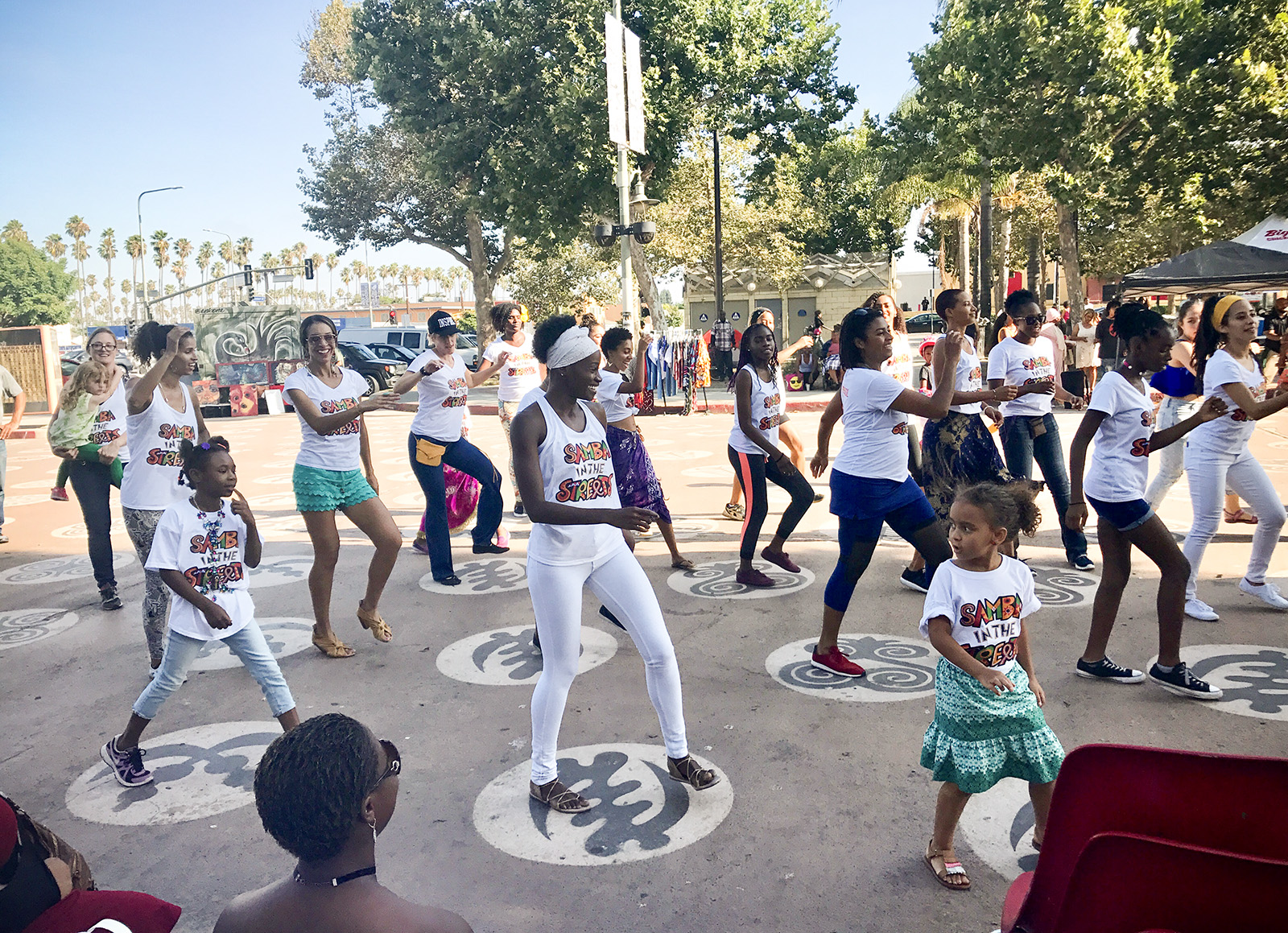 The Los Angeles-based Viver Brasil dance company, co-founded by UCLA alumna and adjunct professor Linda Yudin, is holding their "Samba in the Streets" community engagement program for the first time in Alabama on Feb. 20 through March 7, and for the third time in Los Angeles in late March. (Courtesy of Viver Brasil)
February 8, 2018 11:14 pm
Dancers will sweep their arms in a wavelike manner for Iemanjá, the Candomblé deity of the oceans, while dancing through the streets of Los Angeles to the rhythm of drums.
The Los Angeles-based Viver Brasil dance company, co-founded by UCLA alumna and adjunct professor Linda Yudin, is holding their "Samba in the Streets" community engagement program for the first time in Alabama on Feb. 20 through March 7 and for the third time in Los Angeles in late March. The program addresses social justice and racial equity through Afro-Brazilian music and dance, using the body and beats as a voice against marginalization, Yudin said.
"It is about celebrating ancestry in our contemporary reality with seriousness and joy," Yudin said.
Yudin said the program draws inspiration from the Blocos Afro parading groups in Bahia, a state in Brazil, created in the early 1970s to address racial and social equality in Brazil.
When Yudin and Luiz Badaró founded Viver Brasil, Yudin said they wanted to cultivate an Afro-Brazilian dance presence in and beyond Los Angeles and continue the cultural connection between Salvador, Brazil, and Los Angeles. In "Samba in the Streets," they teach dance movements for the Orixás, deities recognized in the African religion of Candomblé and make connections with specific dances and rhythms that inform Blocos Afro movements and rhythms.
At the end of "Samba in the Streets," the Viver Brasil dance company also often harkens back to the Blocos Afro parading groups by incorporating their own sort of street procession so participants understand that Afro-Brazilian dance and music moves through the streets. The rhythm and movement are about occupying public space with loud sound and large movements, with an emphasis on the arms going up toward the sky. Blocos Afros used such tactics to make Afro-Brazilian voices heard because in the 1970s, Afro-Brazilians were trying to make their voices heard by Brazil's predominately white government, Yudin said.
Kahlil Cummings, one of Viver Brasil's musical directors, teaches different rhythms of samba, such as samba afro and samba reggae. He always begins by teaching Candomblé rhythms so participants can recognize their influence on different styles of samba.
"It's really important that in the midst of our political climate, we can see how connected our traditions and our cultures are to what's going on right now, and how the ancestral work really gives us answers and teaches us things that we should value," Cummings said.
Viver Brasil first began the "Samba in the Streets" program in 2016, offering free Afro-Brazilian dance and music classes in Los Angeles' Leimert Park neighborhood. Yudin said the classes are open to anyone who is interested, regardless of dance experience or ability.
Alumnus Ben Caldwell, the director of KAOS Network, helps organize the program in Los Angeles and said because the dance classes are held in Leimert Park, a neighborhood with different African diaspora populations, they serve as an opportunity for people of different African backgrounds to come together.
Wanting to connect with new communities, Viver Brasil collaborated with Dr. Joan Burroughs, an anthropologist in dance, to get "Samba in the Streets" from Los Angeles to Alabama through Dance/USA's Engaging Dance Audiences grant. Viver Brasil will take "Samba in the Streets" to Birmingham and Selma, Alabama, both birthplaces of the Civil Rights Movement in the United States, because many Blocos Afro activists, leaders, choreographers and musicians were inspired by the Civil Rights Movement.
"Our intention is to begin to connect these very important civil rights histories … (and) this idea of processing peacefully in the streets," Yudin said.
By holding "Samba in the Streets" in Alabama, Burroughs said she hopes to highlight the relevance of African heritage in the Black community and how different parts of the African diaspora have reshaped and reformed that culture.
While in Alabama, Viver Brasil will offer community engagement programs in churches, community centers and schools through a mix of classes, samba processions and a performance of their samba show. In Selma they will also partake in a Blocos Afro-style parade prior to the 53rd Selma Bridge Crossing Jubilee to commemorate the demonstrations that prompted Congress to pass the Voting Rights Act. Usually, Viver Brasil performs just one show and occasionally in a school assembly in each city, but this time they will spend a total of two weeks in Birmingham and Selma.
"We have an opportunity … to really have a much deeper engagement and connections with community members than we have had in the past," Yudin said.