GSA negotiates for lower price increase on university housing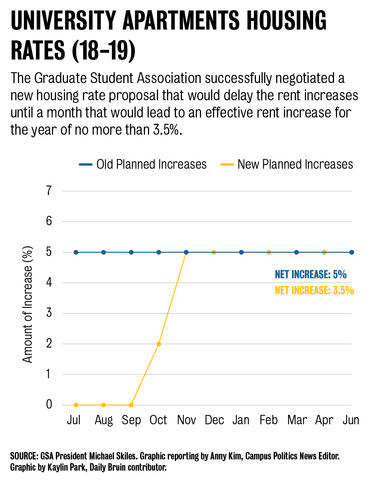 February 7, 2018 10:31 pm
Correction: The original version of this article incorrectly stated UCLA Housing originally planned to increase housing rates by 5 percent. In fact, rate increases for some buildings were set at 3, 3.5 or 4 percent.
Graduate students will have to pay 3.5 percent more on average for their university housing next year.
UCLA Housing originally planned to increase average housing rates by 5, 4, 3.5 or 3 percent, but following a Jan. 26 meeting with Associate Vice Chancellor of Housing and Hospitality Services Peter Angelis and Graduate Students Association President Michael Skiles, the university agreed to lower the average increase to 3.5 percent.
Some housing locations, such as the Weyburn Terrace townhouses, will face a 3 percent increase, while residents of University Apartments South will pay 5 percent more.
Skiles said he thinks the proposed increase in rates was too drastic and would be unaffordable for the average graduate student.
"Students are making $20,000 a year as a teaching assistant, then are being charged upwards of $18,000 to live in university housing," he said. "There is a big disconnect."
Angelis said UCLA Housing's initial plan for a 5 percent increase was intended to help raise funding for upcoming construction projects. UCLA Housing decided to overestimate the expected costs of construction and set a high rate since they will not receive construction bids for the projects until April.
"We like to have a slow and steady increase, and we targeted this next year's increase to be as low as it possibly can, but help us prevent significant rate spikes in the future," he said. "If we get a favorable bid result … that would certainly relieve pressure on next year's rate hikes."
New housing projects, including three new residence halls and two new apartment complexes, which would add about 6,900 beds on the Hill, guarantee students more years of housing and accommodate more graduate students, Angelis said. The Lot 15 Residence Hall project will provide about 1,781 beds, the Le Conte Apartment project will provide about 1,159 beds and the Southwest Campus Apartments will provide about 2,279 beds.
Angelis said the increase was also meant to cover certain operational costs, such as utilities and wages, which increase every year.
UCLA Housing has a history of receiving bids that cost less than originally anticipated, Angelis said.
"They like to guess over, and have the bids come in under," Skiles said. "We have to plan for the worst, because we don't know if they are going to come in under estimate."
Skiles said he understands that while housing increases are necessary to provide more affordable university housing options for students in the future, he thinks the rates should be more reasonable.
Several graduate students said they were concerned about the rate hikes and think the university should provide more affordable housing.
Kevin Gatter, a political science graduate student, said he thinks UCLA Housing should understand that university apartments are the only affordable housing option for many students.
"I think it is super important that rates stay low, with graduate stipends being as small as they are," Gatter said. "It is especially important in a city like Los Angeles, where it is so hard to find reasonable housing."
Drew Tuckett, an MBA candidate at the Anderson School of Management, said he thinks the rate increases will benefit graduate students in the long run because they will fund new housing.
"I know people that would love to be in university housing, but can't because … housing isn't guaranteed for them," he said.
Skiles said GSA plans to work with other graduate student apartment associations and conduct petition drives and demonstrations to push for further reductions in housing rate increases.
"We disagree that the answer to the affordable housing shortage is to make existing housing even more unaffordable," he said. "Housing is a vital resource for an accessible UCLA community."