Yoga instructor brings break dance background, personality to classes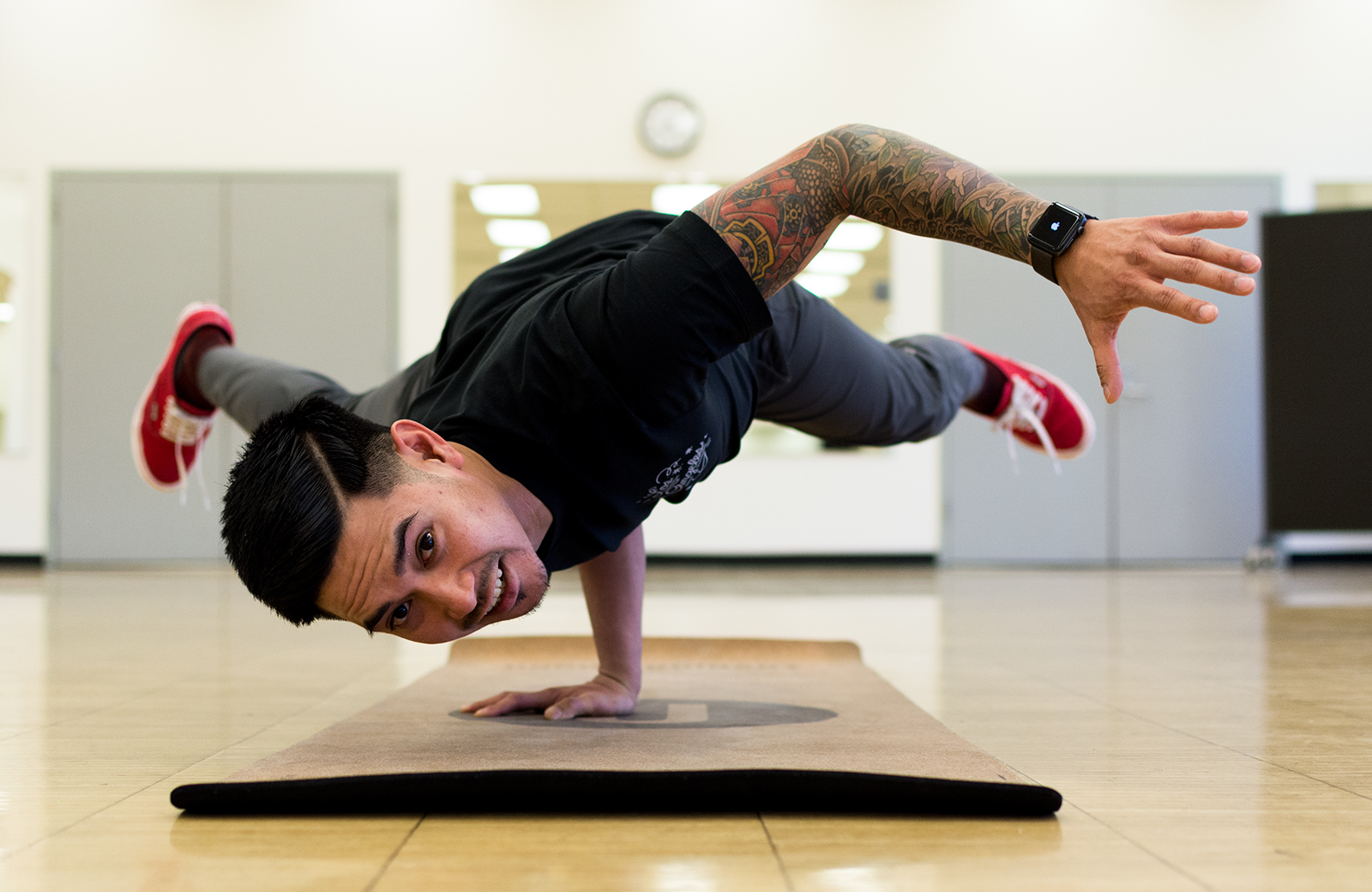 Marco Antonio, a yoga instructor at the John Wooden Center, created a movement known as Salamat Yoga which aims to bring more diverse ages, ethnicities and athletic art forms and practices into yoga. (MacKenzie Coffman/Daily Bruin)
Dressed in all black and looking more like a ninja than a yoga instructor, Marco Antonio flings the door wide open to greet the crowd of students waiting to take his class.
Antonio, a yoga instructor at the John Wooden Center, uses his dance background to curate his own interpretations of traditional yoga practice. As a former competitive break dancer, Antonio said his classes use different paces, tempos and rhythms that help create unorthodox experiences for his students. He pulls from break dancing and other movement arts like calisthenics to teach yoga and create his own path in the industry.
"I like to call myself a 'brand-new old-school' teacher," Antonio said. "I come forward with eclectic approaches, while at the same time still honor original traditions."
Antonio said he tries to make yoga lighthearted and fun for his students and also makes sure they get a fitness experience, so they can walk away with gratitude that they created space and time in their day for self-care.
To further this approach, Antonio created Salamat Yoga, a movement that aims to bring more diverse ethnicities, ages and athletic art forms such as mixed martial arts and dance into the practice.
There is a stigma that yoga is a female-dominated form of fitness, and women and men have to dress and act like stereotypical yogis to practice it, Antonio said. He said he tries to disrupt those misconceptions and encourage more male participation in yoga by allowing his personality and roots to show through his teaching.
"One thing about yoga that (Antonio) emphasizes is that it's your own practice, and I really believe that," said Ryan Rizeq, a fourth-year civil and environmental engineering student.
As one of the few male students in campus yoga classes, Rizeq said he feels self-conscious about not being able to do certain poses because he is not as flexible as some women in the class.
"(Antonio) makes it easy to let go of that," Rizeq said. "He takes the time to cater to the male students in his class, and it's really cool to see he's invested in his students."
Rizeq added Antonio helps him feel more comfortable coming to class by making it a point to stop by his mat and help him through poses or comment on how much he has improved his practice.
Other students studying under Antonio said he has applied his adaptable teaching style to activities at UCLA beyond his gym classes.
Melissa Chimwaza, a second-year pre-human biology and society student who frequently takes Antonio's meditation classes, said her resident assistant contacted Antonio to teach a Drake-themed yoga event for the Courtside C3 dorm community last quarter.
"A lot of people had never done yoga before, but he made sure that everyone was super comfortable," Chimwaza said. "It was a really cool experience, and his music taste is impeccable too."
She added that Antonio is her favorite instructor at Wooden because of the little things he does, like rubbing essential oil on students' hands at the end of class, chiming in on conversations she's having with friends and creating a sense of community in his classes.
"It's nice going to a class and having a teacher care about what's going on in your life," she said. "You get to know him and the rest of the people you're practicing with – I actually became really good friends with a fellow yogi and we hang out outside of his class."
Because of the connections he's made with his students, Antonio has also worked with campus organizations such as Samahang Pilipino Advancing Community Empowerment.
Maurus Dumalaog, the SPACE project director, said he first met Antonio at Cliffs of Id, an indoor climbing gym Antonio also teaches at. Dumalaog was looking for a yoga class to take and expected something completely normal and traditional.
"To my surprise, (Antonio's) class was the exact opposite of that," Dumalaog said. "He's taken yoga and flipped it and turned it around in a way that isn't disrespectful to the craft. His energy is infectious – that I can say for sure."
Having enjoyed his experience with Antonio, Dumalaog decided to ask Antonio to lead a team-building staff development session with SPACE during finals week last quarter.
He said Antonio made his team do what he called the "Uber activity," where one person held onto the shoulders of another who was blindfolded, and the person behind was responsible for guiding the blindfolded person around the room, as if they were a car. Antonio shut off the lights and let everyone drive their blindfolded Uber at varying speeds.
"It was a great metaphor for the ebb and flow of life," Dumalaog said. "You bump into people and do not know where you're going, but at the end of the day, there's something good that comes out of it. (Antonio) was able to tie that in and make it so meaningful."
Antonio said his ultimate goal is to inspire people with his classes and help them grow and succeed. In the future, he wants to work with athletes to help them improve their athletic and mental performance.
"There's a movement behind what I'm trying to do," he said. "I'm not your average yoga teacher who teaches fitness classes – I'm trying to lead people in the right way in their lives."