Battle of the Editors: Men's basketball's season-changing moments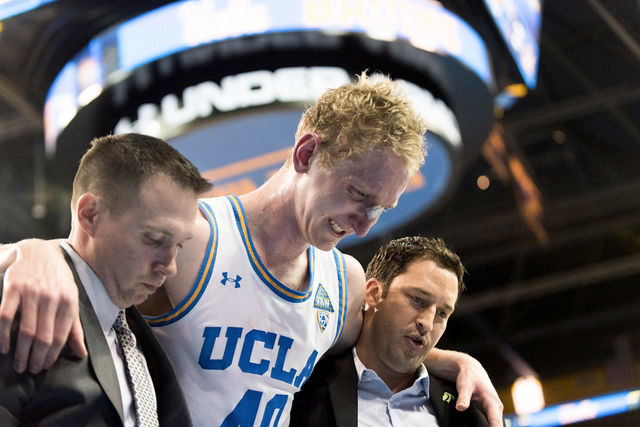 Junior center Thomas Welsh left UCLA men's basketball's game against California with his team trailing 27-16 and 9:07 to go in the first half, but his fellow Bruins found a way to rally without him. (Hannah Burnett/Assistant Sports editor)
16-0 run after Welsh's injury in Cal game
David Gottlieb, Sports editor

"Things looked bad."
Those were the first three words in our story about the California game, and they were apt.
Not only was UCLA down 27-16, but senior center Thomas Welsh had to exit the game with a left knee sprain. It was a moment that easily could have led to a total meltdown.
But then things looked good.
Senior forward GG Golomon came into the game and hit a layup, starting up a 16-0 run that included contributions from six different players and gave UCLA a lead that was only in real danger for about a minute and half of game clock in the Bruin victory.
I cite this moment as the biggest because for the six minutes and 51 seconds that it took to post those 16 unanswered points, UCLA looked like a team. The group understood what it had to do: step up when one of its key players wasn't able to.
If the Bruins are going to have a shot at doing something special this season, they can't be overly reliant on veterans like Welsh and junior guard Aaron Holiday. They'll need to work as a more complete team, and against California, they did exactly that.
And it didn't look too bad.
UCLA men's basketball's 26-1 run to close out 2017
Nicholas Yekikian, assistant Sports editor

Can one run set the tone for an entire year?
Most would say no, but the Bruins had a season-defining moment during their final game of 2017 against the Washington Huskies.
Going into halftime the Bruins were down by eight points and had been outshot in nearly every statistic – the only category in which the Bruins led was points off the bench.
Despite the shaky start, the Bruins overcame this in dramatic fashion.
After the half, UCLA was electric, sinking exactly 50 percent of its shots and tacking on 46 points in the final 15 minutes.
But the real stunner was the way the Bruins closed out that second half.
They went on a 26-1 run to close out the game and seal the win against a Huskies team who all but dominated the first half.
It was a full team effort, but freshman guard Kris Wilkes lead the Bruins in the second half with 14 points and senior center Thomas Welsh contributed 12 rebounds.
It is that flip-of-a-switch energy that the Bruins have shown signs of all season, but on New Year's Eve it was on full display.
It's not how you start, but how you finish. If the Bruins can finish out its season the way it finished this game against the Huskies, they'll be in good shape once the tournament comes around.
Aaron Holiday's overtime buzzer beater against Stanford
Kelsey Angus, Assistant Sports editor

The junior guard had just two points going into halftime.
But by the end of the double-overtime game, Aaron Holiday had posted 31 points – including two baskets at key points toward the end of the game.
Holiday went 8-for-8 in the second half and sunk a go-ahead layup with 25 seconds remaining in regulation.
Stanford was able to tie up the score at 85, but Holiday continued to shine in overtime.
With UCLA down by three with five seconds left, Holiday made his way across the court and sunk a game-tying 3-pointer at the buzzer to force a second overtime.
While the Bruins eventually lost in double overtime, Holiday's performance was what kept them competitive and still in the game after giving up a 13-point lead. His 29 points after half and his clutch plays at critical moments make this game one of the most memorable of the season.
Moreover, UCLA was able to flip the script and take down Stanford when the Cardinal came to Pauley Pavilion last weekend, and the double-overtime loss surely provided a lot of motivation for that win.
Aaron Holiday's game winner against Wisconsin
Ryan Smith, Assistant Sports editor
The Bruins are Aaron Holiday's team.
I'm not sure I would have had the confidence to say that in October.
In the first three games of the season, junior guard Holiday scored a total of 41 points on just 38 percent shooting. To make matters worse, he was averaging over 36 minutes of playing time in those contests.
For me, the tipping point occurred in the game against against South Carolina State. After being torched by Jordan Howard of Central Arkansas for 35 points in the game prior, Holiday responded by posting 8 points and three turnovers in 32 minutes.
Sure the Bruins were 3-0 after winning that game, but none of their wins were close to impressive. They surrendered 101 points to Central Arkansas at Pauley Pavilion, and had a point guard who was severely underplaying.
However, a trip to Kansas City for the Hall of Fame Classic would flip the script on Holiday for good.
In a game against Creighton, Holiday went off. He scored a season-high 25 points on 8-of-17 shooting and only recorded one turnover in a win that many people didn't expect UCLA to get after looking so poor in its first three contests.
Holiday opened up my eyes that night, but he solidified his status as "the guy" for the Bruins against Wisconsin the following night
Already boasting a stat line of 16 points, five assists, three steals and no turnovers, Holiday took the ball with 10 seconds left in a 70-70 game, dribbled through a triple-team, and finished a layup at the basket with 0.8 seconds left.
It was at that moment I had gained full confidence in Holiday. The man showed heart, toughness and most importantly a clutch gene. UCLA men's basketball has been riding on his back since.
Holiday is currently averaging 19 points, 5.3 assists and 3.6 rebounds per game this season, and is one of the front-runners for Pac-12 player of the year.
Jaylen Hands' thru-the-legs alley-oop to Kris Wilkes
Melissa Zhang, Assistant Sports editor
Jaylen Hands has been one of the most dynamic players on the UCLA roster this year.
The freshman guard has been a critical piece for the Bruins (15-7, 6-4 Pac-12), who haven't been able to deliver the same sort of dominant season as last year's. One of the most fitting plays came against UCLA's 89-73 win against Stanford.
Hands stole a ball from the Cardinal offense, and lobbed a between-the-legs pass up the court to fellow freshman guard Kris Wilkes for an alley-oop, but Wilkes finished it with a layup rather than a satisfying dunk.
Some may call it a perfect metaphor for UCLA's season this year: building up a lot of excitement, but ultimately ending in disappointment.