Dance workshop connects students of all backgrounds, promotes expression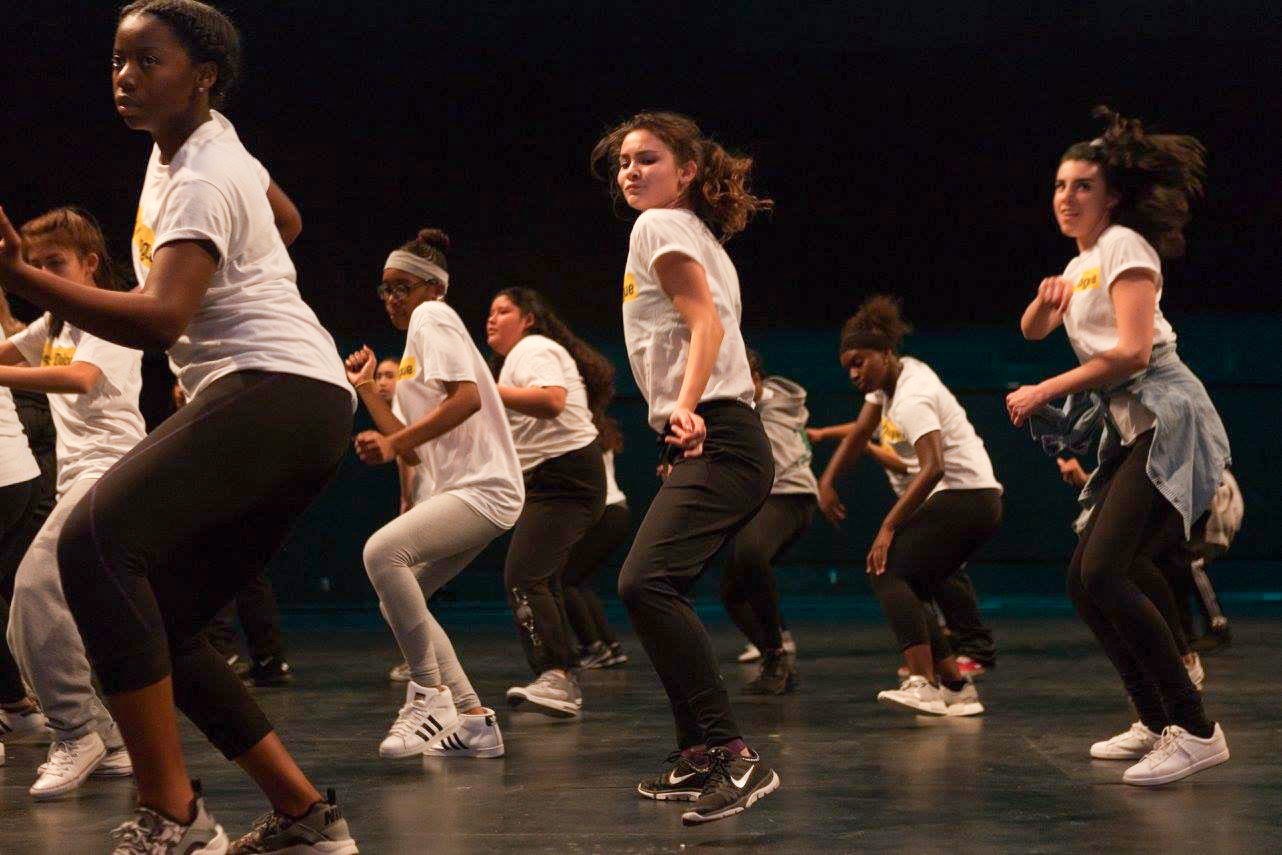 Students at Dance and Dialogue workshops begin the class in a group discussion called a council. Following the council, students rotate between different dance stations where they learn various techniques such as hip-hop and contemporary dance. (Courtesy of Ricka Glucksman Kelsch)
Teenagers danced to the beat of the Hamilton cast recording and leapt to the sound of smooth jazz music in a bustling dance hall in the heart of Los Angeles.
The workshop, which took place Wednesday, was the first meeting for Dance and Dialogue, an organization that seeks to foster passion for dance and build community among middle and high school students across Los Angeles. Founded by UCLA alumna Ricka Glucksman Kelsch in 2013, Dance and Dialogue combines noncompetitive dance with talking circles to help participants form new relationships with kids from other schools, bridging socio-economic gaps.
"Fear of other cultures and backgrounds comes from lack of knowledge," Glucksman Kelsch said. "(The workshop) is all about imparting as much knowledge as possible about the similarities and not the differences between the kids."
The workshops begin with council, a process in which students gather together in circles and engage in conversation about different dances and cultures they are passionate about. Glucksman Kelsch said the council helps remove the stereotype that dance is an intimidating and elitist art form by grounding it in casual conversation and icebreakers.
When Glucksman Kelsch first began teaching dance, she noticed that students would focus their energy on competing with each other instead of on the act of dancing itself. She said her students focused on the technicality of dance instead of using it as a way to express their feelings about issues in the world around them.
"I felt that their hearts needed to catch up, because how could I make a difference with them if they couldn't see beyond themselves?" Glucksman Kelsch said.
Glucksman Kelsch said she realized both her financially privileged students and her students from marginalized backgrounds needed a forum in which they could foster a sense of community among themselves and transcend their different backgrounds. And while dance initially created the divide, for Glucksman Kelsch it was also the solution.
She decided to create Dance and Dialogue in 2013, starting out with about 80 students from a couple of schools and focusing on the universality of dance, which exists across different social statuses and cultural experiences. Today, Dance and Dialogue works with approximately 1,500 students from all over the Los Angeles school system.
At the workshop, students dance alongside peers from different schools and social backgrounds, something middle school teacher Carrie Dolin said her students wouldn't be able to do without Dance and Dialogue. Dolin, who joined four years ago, said the program exposes her students to different styles and interpretations of dance, such as the incorporation of sign language into a routine performed by a deaf instructor.
"Some of my students are really isolated and don't get a lot of opportunities to learn other dances and meet other passionate students," Dolin said. "This gives them the exposure to different cultures and experiences that they wouldn't have otherwise."
Glucksman Kelsch also instructs students to take what they learn and pay it forward in their communities by organizing external projects and performances. Dolin said the initiative motivates kids to bring positive change into their communities that ranges from putting on shows for their schools to teaching elderly residents of retirement homes how to dance. Past students have choreographed contemporary pieces representing social justice issues, such as police brutality, and have taught cultural dances to communities in Guatemala.
Cheryl Factor, one of the council facilitators for Dance and Dialogue, said she has to tackle the challenges kids face surrounding their transition into adulthood before the dancing even begins.
"Middle school is the time when all these changes are happening, and this leads to insecurities and even bullying," Factor said. "That's why it's so important to start with the council and let them express themselves and know that dancing is just another form of expression, not judgment."
After council, the kids break off into their dance rotations based on the colors of their Dance and Dialogue shirts. Each rotation offers a different dance technique, including the distinct types of steps in hip-hop and the expressive gestures in contemporary dance. The workshop culminates in student performances of pieces from their lessons for their teachers and fellow peers.
Glucksman Kelsch said Dance and Dialogue is an escape from more rigid types of dance classes and allows her students to focus on enjoying the art of dance. She added she hopes as students expand their dance skills to encompass different styles, they begin to see dance as a communal form of expression and not just a technical performance.
"A lot of my kids start off telling me they don't think they would be able to dance," she said. "But my biggest motto as a dance teacher has always been that everybody can dance, because at the end of the day we all are the same, we all are human."