UCLA men's tennis defeats LMU 5-2, extends winning streak to four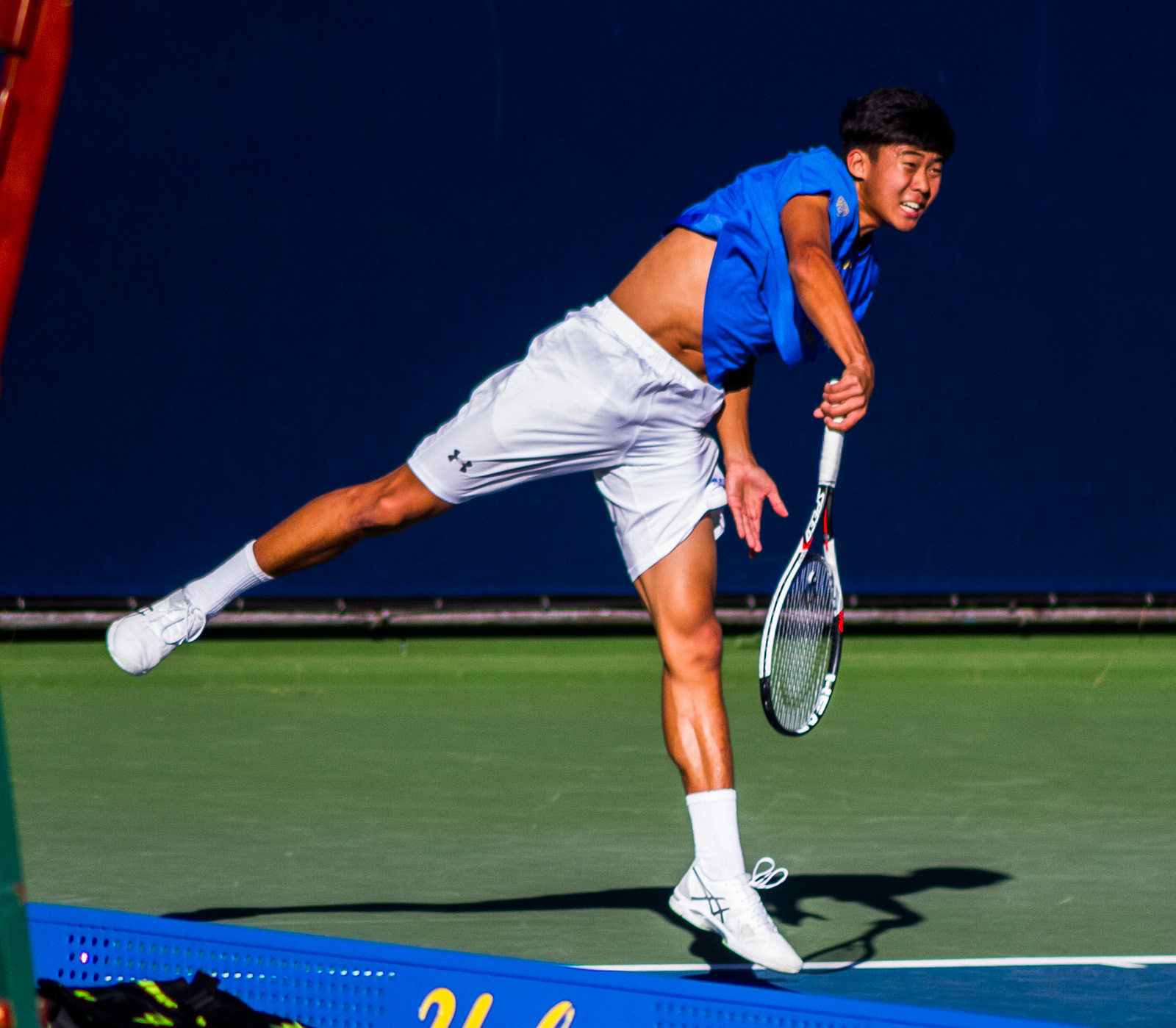 Sophomore Evan Zhu's return to collegiate tennis continued with a straight-set victory over Loyola Marymount's Lukas Moenter. Zhu won the first set 6-3 and the second 6-2, playing a role in the Bruins' victory over the Lions. (Habeba Mostafa/Daily Bruin)
Correction: The original version of this article and accompanying incorrectly stated Evan Zhu is a freshman. In fact, Zhu is a sophomore.
No. 6 UCLA men's tennis (3-0) continued a run of three straight victories, beating Loyola Marymount 5-2 on Tuesday.
Sophomore Evan Zhu won his match in straight sets, beating Loyola Marymount's Lukas Moenter 6-3, 6-2. With this win, Zhu has won all four of his regular season matches to date after coming back from professional tennis fall quarter.
After playing with different teammates in their first three matches, Zhu and No. 1 senior Martin Redlicki were paired at the doubles on court one and emerged victorious 6-3.
"We got broken on doubles a little more than we would have liked," Zhu said. "I've been working on being aggressive on the first ball after the serve, which has been helpful."
The Lions posed more of a challenge than the Bruins' recent three matchups – they won all three 7-0. Senior Austin Rapp lost 6-2, 6-7(4-7), 0-1(8-10) and freshman Connor Hance lost 3-6, 6-3, 6-7(6-8).
"We were in a fight in a lot of matches," said coach Billy Martin. "Even though (Hance) lost, he had a great match with a tiebreaker in the third set and (Rapp) had a good match too."
Freshman Bryce Pereira played doubles with his partner junior Maxime Cressy and helped secure the team's doubles point.
"Cressy and I have similar game styles and have chemistry on court," Pereira said. "We both have good serves and love coming to the net. In the beginning, we were pretty tight and the guys were being supportive and helping us out."
Redlicki and No. 55 senior Logan Staggs won 7-5, 6-1 and 6-7, 6-3, 6-3 respectively. Also, sophomore Ben Goldberg won his match 6-2, 7-6. Cressy and freshman Keegan Smith sat out the game in order to let the younger players gain experience in matches.
"I took (Smith) and (Cressy) out because I want our 7 and 8 guys to be ready," Martin said. "(They) are going to be hurt throughout the year so I want all our guys to have match experience."
The Bruins will host UC Davis at home Saturday for the Intercollegiate Tennis Association Kickoff Weekend.
"We have some tough matches coming up and we're hoping to go to the the national indoor championships," Martin said. "I love going in order to scout all the top teams."
Chang joined the Bruin as a freshman in 2017 and contributed until 2018. He spent time on the men's tennis beat.
Chang joined the Bruin as a freshman in 2017 and contributed until 2018. He spent time on the men's tennis beat.