Past bleeds into present in Hillel at UCLA's newest art exhibits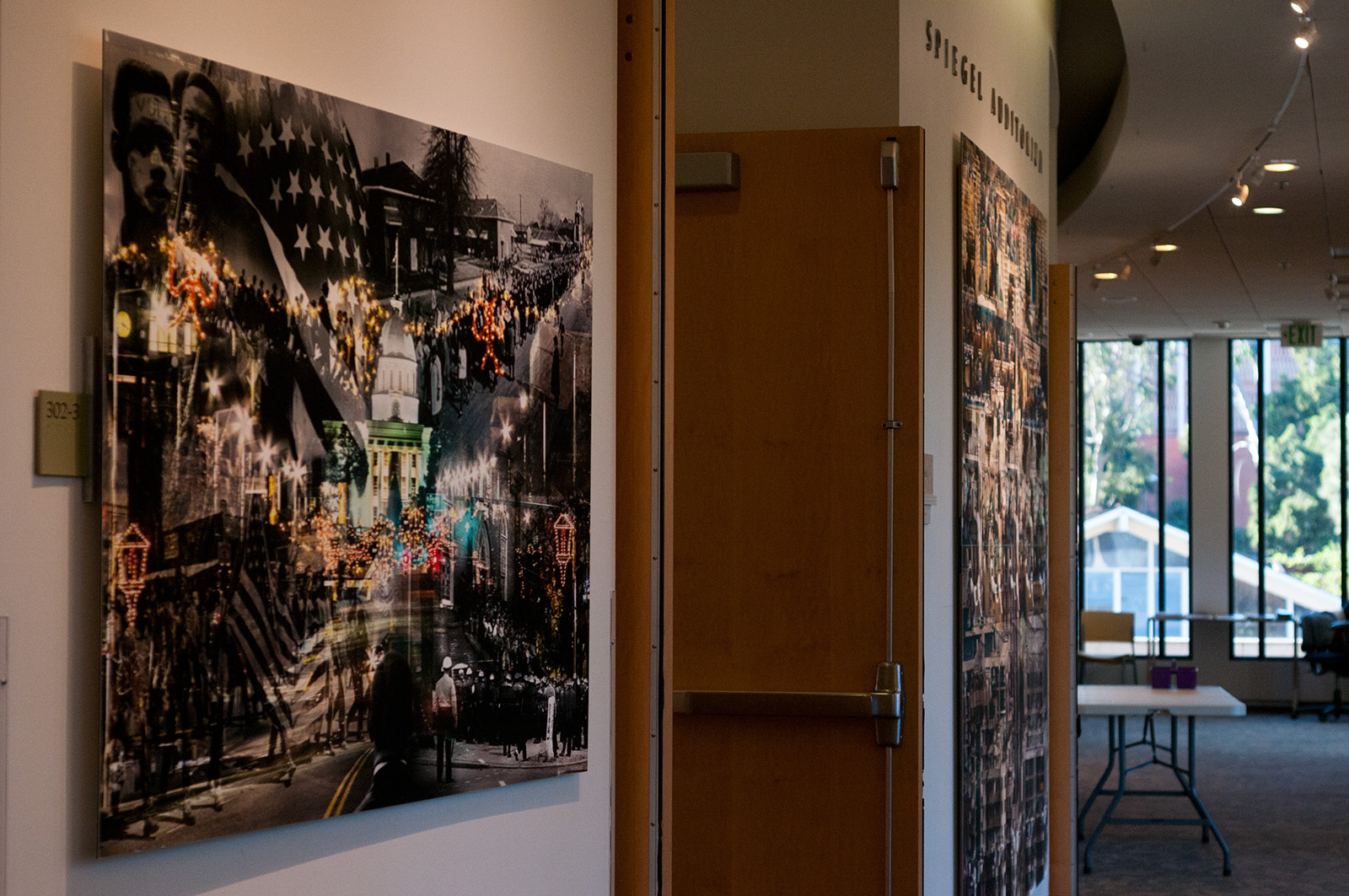 Hillel at UCLA's Winter 2018 Art Opening features photographs from Robert Weingarten's photo series "Pentimento" that layer Weingarten's own contemporary photos with older, historical images of the same location. The exhibition also features paper cuttings from Corrie Siegel's "The Space Between Symbols." (Pinkie Su/Daily Bruin)
Past and present intertwine in Robert Weingarten's artwork, which layers photos of the burning World Trade Center and the One World Trade Center.
The photograph is a part of Weingarten's exhibit, "Pentimento," which will open Thursday for Hillel at UCLA's Winter 2018 Art Opening along with Corrie Siegel's "The Space Between Symbols." The show is part of the organization's annual art gallery, which showcases nine new art exhibits every year. Siegel said both she and Weingarten play with overlays in their artwork while thinking about the dynamic between the past and the present.
"We can't separate ourselves from the past, and it's important to be knowledgeable about our history and these invisible structures that still exist and are affecting our day-to-day lives," Siegel said.
Perla Karney, the artistic director of Hillel at UCLA's Dortort Center for the Arts, said the organization tries to develop relationships with artists like Weingarten and Siegel because artwork can help students understand cultural differences.
"I think that's a wonderful way to bring students together … to really break boundaries," Karney said.
Weingarten's "Pentimento" features historic photographs of significant and, in some instances, destructive events, which Weingarten overlaid with photos of the historic places as they are today. The word "pentimento" refers to the aging process of older paintings that have been painted over with new images. As time goes on, the original painting starts to bleed through the newer surface, resulting in a combination of the two works. With today's digital technology, Weingarten said he is able to digitally layer photographs to create instant pentimenti.
One piece in the Hillel exhibition features a current picture of the Warsaw Ghetto in Poland overlaid onto a picture of the same neighborhood during the Warsaw Ghetto Uprising in 1943. Weingarten said places like Warsaw have little to no monuments marking events that occurred there, showing how even tragic events can disappear with time.
"If you go to that ghetto today, there is a little plaque on a street, but you have no idea (about its history) and life goes on," Weingarten said.
One of Weingarten's two mural-sized photographs, "Manzanar," is 15 feet in length and more than 200 pounds. Weingarten said he envisioned the image as a large panoramic photo because the landscape of Manzanar, which held a Japanese internment camp during World War II, is immense and empty.
Because of their distinct artistic approaches, Siegel and Weingarten have their artwork housed in different spaces within Hillel's five galleries: Weingarten's work is in the largest gallery space to accommodate the large scale of his photographs while a smaller, more intimate gallery space houses Siegel's work.
Siegel's work features texts written during the German Third Reich and quotes from officials of President Donald Trump's administration. As she read, she overlaid sentences from the texts onto themselves and then cut out the spaces in between the words. Although she created some of the paper cuttings in 2011, she designed most of them within the last year.
"Siegel is very interested in Jewish themes and the Holocaust, and that fits very well with our mission and with our message," Karney said.
Raised in a Jewish household, Siegel's interest in the Jewish tradition of text study led her to conduct research on Germany during the rise of the Third Reich. Within the past year, she also began including contemporary references from modern-day politics.
"These quotes imply certain ideologies, and for me as a citizen, I felt the need to study and think about these quotes because they affected me on a visceral level," Siegel said. "For me as an artist, it's helpful to make visual these ideas that I am digesting."
Several of Siegel's pieces use quotes from the Trump administration such as ones about alternative facts and chemical weapons that have inspired public debate.
"My reaction was to write them down and turn them into a material for my own creative process because in that act it became a way of me working through these ideas," Siegel said. "They were a way for me to feel a sense of control and power over the words and turn them into a different type of conversation."
Siegel said the space between letters also conveys how words affect the structure of society. Some of the paper cuttings are in custom frames sandwiched between glass, creating a shadow behind the art piece. The effect points to the power of words by giving them physical shapes that cast shadows.
"In any time, what we say and how we say it, and how we listen to what is being said is of utmost importance because it determines the shape of our society and the way we treat people," Siegel said.