Jazz director discusses work on Grammy-nominated album 'Let Love Rule'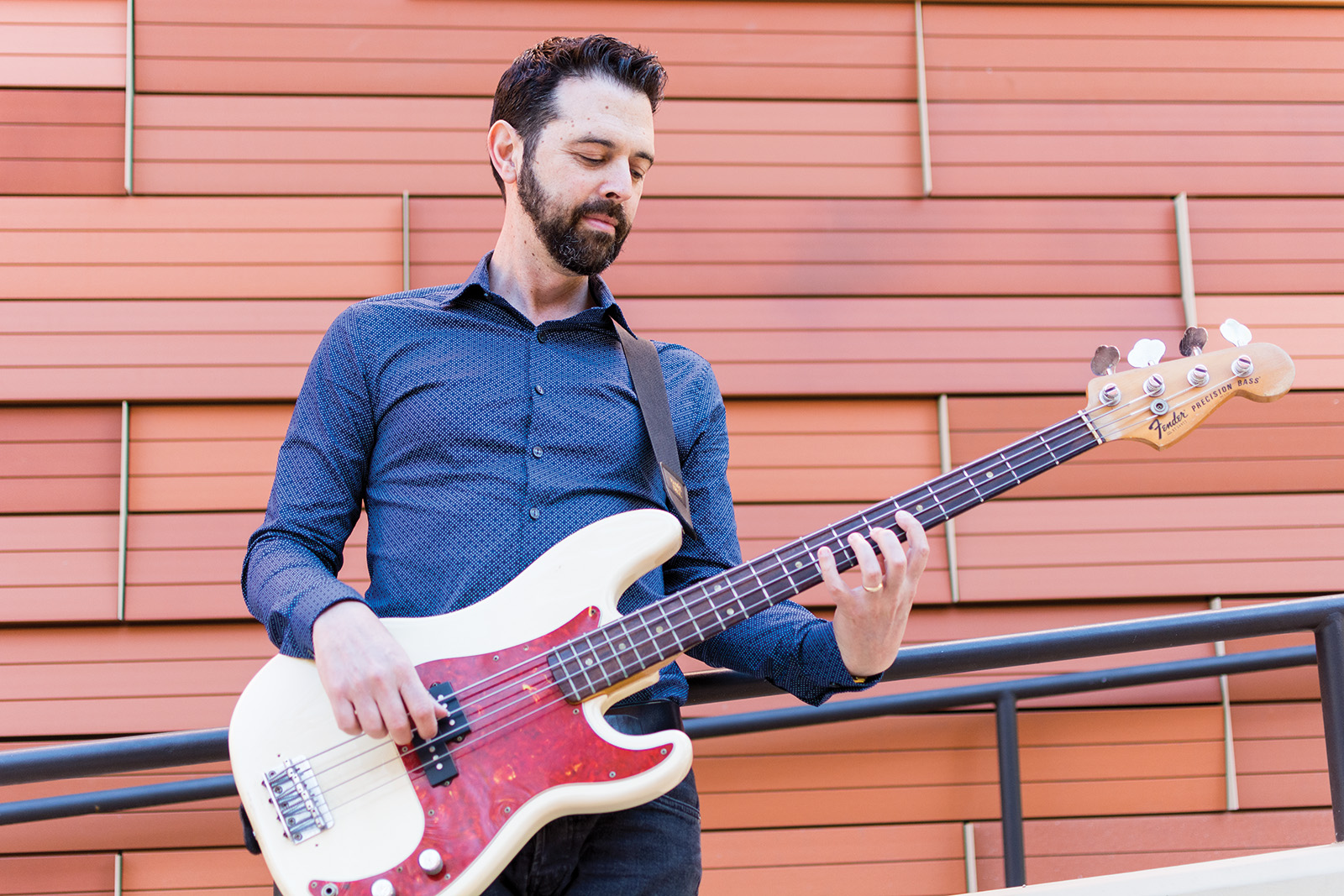 Daniel Seeff, who has previously contributed to Anderson. Paak's Grammy-nominated album, "Malibu," cowrote and contributed instrumentals to R&B musician Ledisi's song "Shot Down."
The song is part of the album "Let Love Rule," which is nominated for Best R&B Album at the 60th annual Grammy Awards. (MacKenzie Coffman/Daily Bruin)
January 23, 2018 10:47 pm
Daniel Seeff is going for a Grammy for the second year in a row.
Seeff, the program director of the Thelonious Monk Institute of Jazz Performance at the UCLA Herb Alpert School of Music, contributed to albums that have been nominated for Grammys alongside Beyoncé, Rihanna and Bruno Mars for two years in a row.
Seeff – who contributed to two of Anderson .Paak's songs on last year's Grammy-nominated album "Malibu" – cowrote and played bass, saxophone and guitar for R&B musician Ledisi's song "Shot Down" on her album "Let Love Rule." "Let Love Rule" has been nominated for Best R&B Album at the 60th annual Grammy Awards.
The Daily Bruin's Anushka Jain spoke to Seeff about his contribution to the album, the statement of the song and his thoughts about collaborating with other artists for the second time.
Daily Bruin: Could you explain a little bit about the message of the song you worked on with Ledisi, "Shot Down"?
Daniel Seeff: Ledisi is talking about all of the African Americans that have been killed by the police over the last few years. I mean, it's in the news, but if you live in the United States and you pay taxes, and your taxes go to pay for a police force that's supposed to defend you, and there are people in the police force that may have some pre-existing ideas about the people they're supposed to be protecting and harm them in some way, that's an awful thing to think. Hearing a song like "Shot Down" could be someone's entryway into understanding the reality that they don't experience.
DB: What is the best part about collaborating with other artists on albums like "Let Love Rule"?
DS: Ledisi is amazing. Amazing artist, amazing singer, really a fun person to work with. She's excited about making music and it's fun to work with someone like that. She has a ton of ideas about where she wants to go. I love the subject matter of the song and it's satisfying to work on something that is a statement that you really believe in. I've worked with (DJ Khalil) and (Sam Barsh) so much over the years that that's just an old, good relationship, and it's fun to work with people that you know really well and make music with them.
It was fun for me to get to do something that had a reggae element. As much as I love that music and I've played that music, I don't get that much of a chance to apply it these days. It's fun to get together with a group of people and really quickly be able to put something together that sounds good.
DB: Do you think working on "Malibu" influenced your approach to working on "Let Love Rule"?
DS: No, I don't think so. I spend a lot of time, as a musician … learning different types of music, really studying different types of music and absorbing it and making it part of my vocabulary, so that when I'm in a situation, whatever the style and whatever the the approach is, I can reach into my filing cabinet of music that I know and pull that out. The Ledisi record really comes from years of listening to this bass player named Aston Barrett who played with Bob Marley and The Wailers. … The thing I did on that song, on "Shot Down," is Barrett's influence put through my filter, my artistic filter. The (Anderson .Paak) record was a different style of bass playing that's more like a hip-hop style of bass playing.
DB: Do you think your 2017 Grammy nomination opened any doors for you career-wise?
DS: Well, "Malibu" is really a great piece of work. Of all the things I've done, I don't think I've gotten so many people reaching out to me over the years that I haven't been in touch with contact me and tell me how much they love that album. So that was exciting, to be a part of something that, artistically, was affecting so many people. Again like the Ledisi thing, every time you get a chance to write with someone … you have an opportunity to bring out a part of yourself that is unique to that situation.
For the (Anderson .Paak) record I played bass and guitar. Someone online wrote out my bass part and posted it. It's nice to see that some stranger that I don't know sat down, looked at the record and liked what I did enough to want to take the time to write it out and post the part for people to see. It's a satisfying thing to do, and working with (DJ Khalil), we got more opportunities, I think as a team, to write and work with more people because of having been part of that album. Hopefully the same will be true of "Let Love Rule."
Jain is the 2018-2019 assistant editor for the Lifestyle beat of A&E. She was previously an A&E reporter.
Jain is the 2018-2019 assistant editor for the Lifestyle beat of A&E. She was previously an A&E reporter.