Men's tennis to face LMU after 7-0 three-peat start to season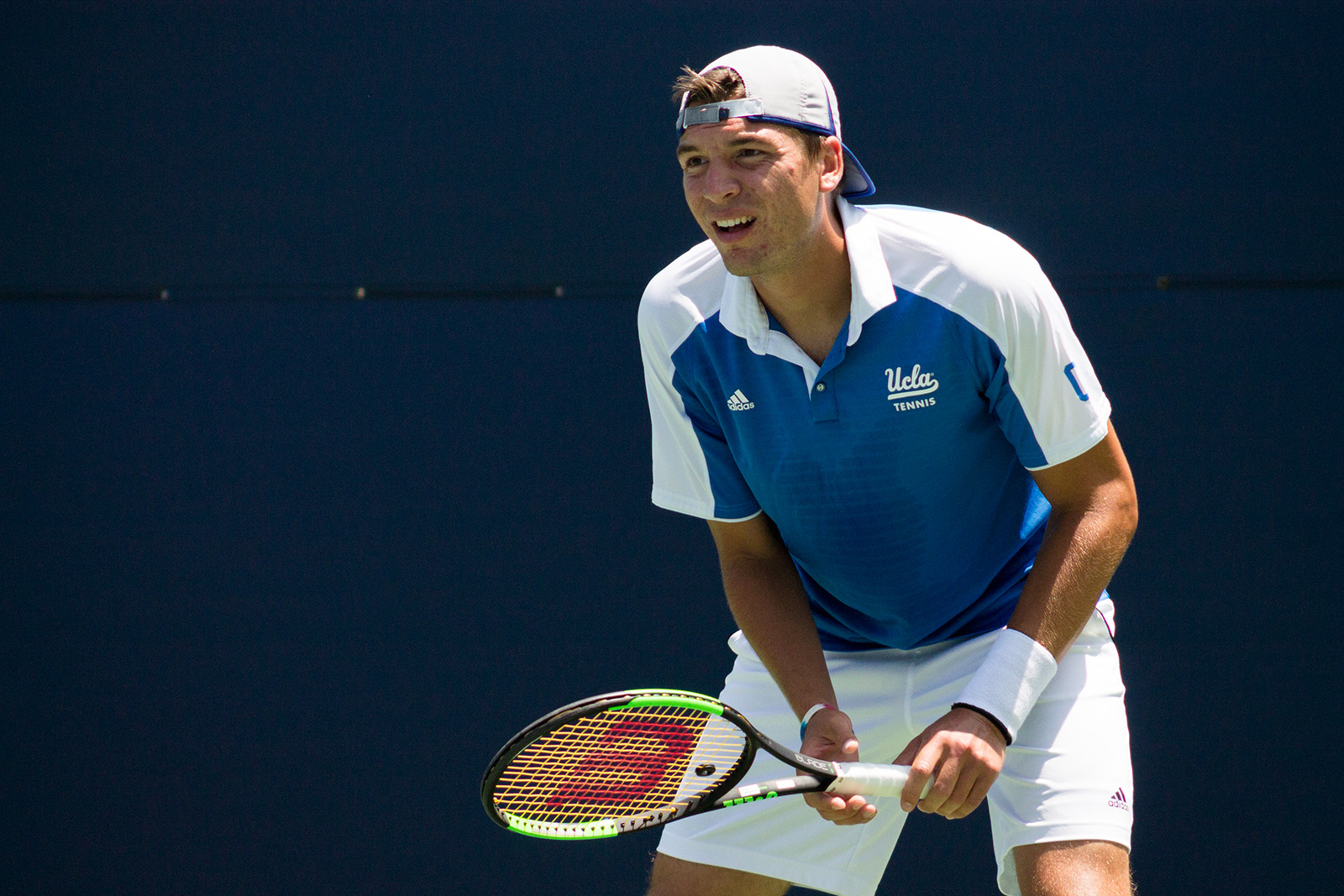 Senior Martin Redlicki did not play against the Pepperdine Waves on Saturday, competing at the Oracle Challenger tournament in Newport Beach, California instead. Redlicki is the top-ranked player in the country. (Daily Bruin file photo)
7-0.
That has been the score from all three regular season matches for UCLA men's tennis so far.
The No. 6 Bruins are ranked just one spot behind crosstown rival, the No. 5 USC Trojans, and hope to carry the momentum from this weekend into their match against the Loyola Marymount Lions on Tuesday at home.
The past three matches have allowed coach Billy Martin to test out players at different singles positions, with freshman Keegan Smith playing first singles and sophomore Evan Zhu playing second singles in their match against Pepperdine.
Nationally top-ranked senior Martin Redlicki has previously competed at the first singles slot, but missed Saturday's match to compete at the Oracle Challenger tournament in Newport Beach, California.
[Related: Men's tennis sweeps Pepperdine despite top-ranked Redlicki's absence]
"I want to get everybody in the mix and feeling comfortable with stepping up and playing for us," Martin said.
The doubles teams are still being mixed and matched as well, with the usual lineup of Redlicki and Zhu at first doubles replaced in favor of senior Austin Rapp and Smith.
Martin said this year's roster has a significant amount of depth, which will help as the season continues, especially if certain players are hindered by illnesses or injuries. He mentioned freshman Connor Hance as an example, who was sick this weekend and otherwise would have played singles if he had been healthy.
"We've got some good depth both in singles and doubles," Martin said. "It certainly helps with injuries and the flu season and all that. You never know … but it certainly is a luxury, and I have to say, it doesn't always happen, year-in and year-out."
Junior Maxime Cressy talked about his compatibility playing with freshman Bryce Pereira. The two had a dominant performance at the fourth doubles slot Saturday, easily taking down their competition with a 6-1 win.
"I feel like we match very well together. We both love being at the net," Cressy said. "So when we go up to the net as fast as possible, our strength is our returns, making good returns, and going up to the net to put a lot of pressure. We're all over the net."
Freshman Connor Rapp also mentioned that he felt good joining forces with Zhu in the doubles game.
"It was great, (Zhu) was here last year and I know him pretty well," Rapp said. "It meshed well and it felt good to get out there and play with him."
For LMU, playing at the Los Angeles Tennis Center on Tuesday will mark the team's first match against UCLA since the two teams met in the 2013-2014 season, when the Bruins earned a 4-0 sweep.
Martin said his goal against LMU is to get his players comfortable with competing for their team, which adds more pressure compared to playing individually in tournaments.
"There's always a little added pressure, in my opinion, playing for your team compared to when you go out and play a tournament," Martin said. "If you lose (in a tournament), the only one who really cares is yourself. Now you've got that added pressure that's a new dimension that the guys haven't really had since last May."
Martin also said he wants to prepare his players for the fast-approaching ITA Kick-Off Weekend, which will take place Saturday and Sunday. The Bruins will have to win both matches in order to qualify for the ITA Division I National Men's Team Indoor Championship in February.
"Especially the Kick-Off weekend coming, where it's do or die – we have to win those two matches to earn the opportunity to go to the Indoors," Martin said. "I feel that's important to our team to see the best, play against the best, mainly because I want them to get too big of heads and feel too overconfident … if things go well, great, but if not I think it's humbling and a wake-up experience for them to see that they've got to work a little bit harder and shore up some parts of their game."
Chang joined the Bruin as a freshman in 2017 and contributed until 2018. He spent time on the men's tennis beat.
Chang joined the Bruin as a freshman in 2017 and contributed until 2018. He spent time on the men's tennis beat.