Student collaborates with major fashion brands before turning 18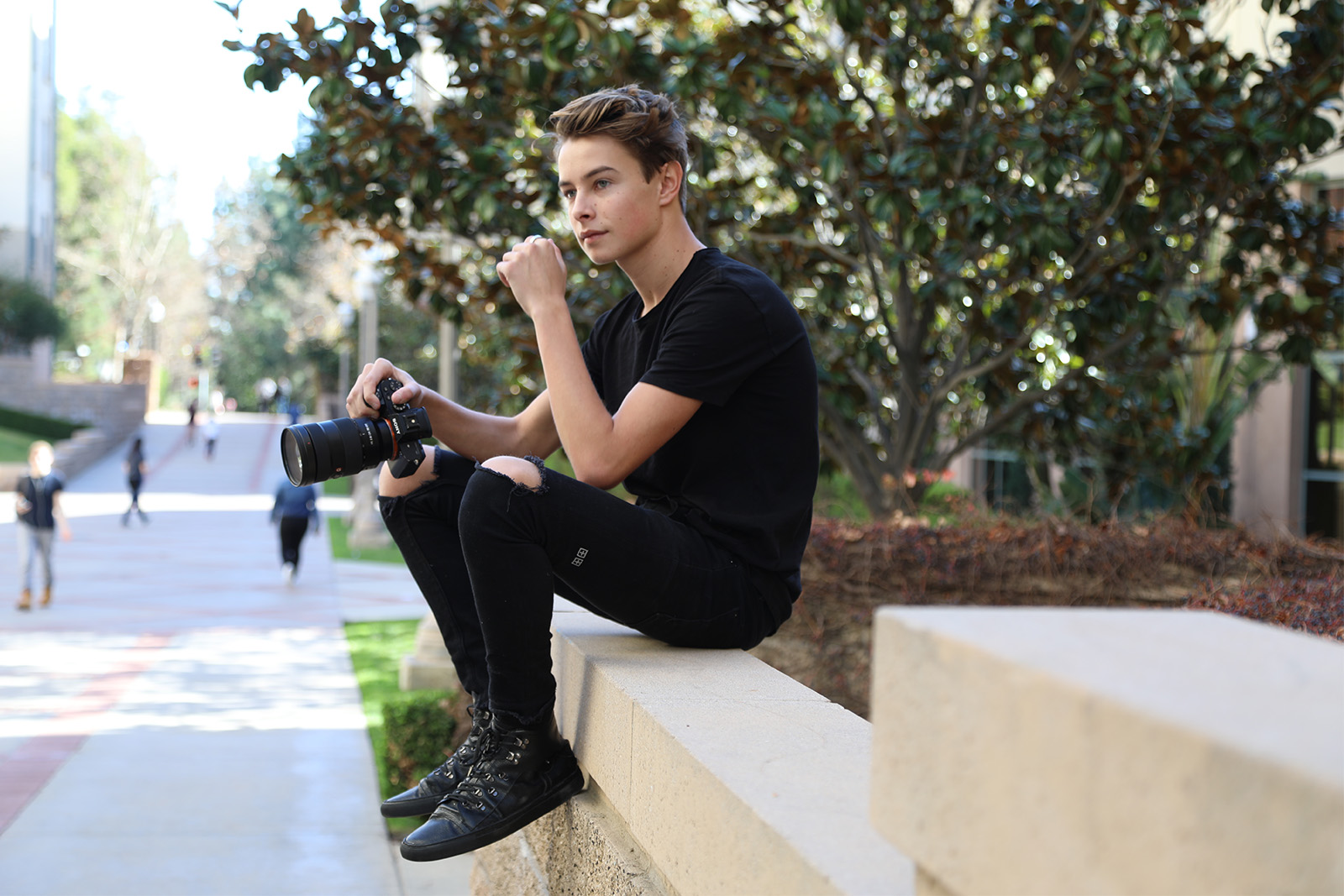 First-year economics student Connor Brashier has worked professionally with numerous clothing brands, artists and influencers, including Pura Vida Bracelets, Madison Beer and Jay Alvarrez. Although his job consists of professional campaigns and commercials, his favorite videos capture cherished moments from his own experiences, which include surfing and wakeboarding. (Daniel Miller/Daily Bruin)
Connor Brashier's first experience with photography was playing with his father's spare cameras. Now the 18-year-old's work includes traveling to Costa Rica, Miami and Tulum, Mexico, shooting catalogs and lookbooks for brands such as PacSun.
Brashier, a first-year economics student and videographer, has worked professionally with numerous clothing brands, artists and influencers, including Pura Vida Bracelets, Madison Beer and Jay Alvarrez. Brashier's upcoming project, his 2017 reel, features glimpses of his experience at Coachella, multiple studio shoots and a meeting with Travis Scott in Miami. He plans on releasing the project this week.
Connor Brashier's father, Craig Brashier, majored in photojournalism in college, so Connor Brashier always had easy access to cameras while growing up in Laguna Beach, California. Craig Brashier said he began to teach his son basic camera skills when he was younger, but at around 13, Connor Brashier became more independent with his camerawork and started to teach himself videography.
Brashier said his social media platforms grew quickly in popularity during his sophomore and junior years of high school, especially with the help of his friend Sam Dameshek, who had a large social media following. Brands and influencers primarily recognized Brashier for his videography on Instagram, and from there, clients and local companies contacted him, kick-starting his advancement into professional collaborations. Brashier said his age is often an advantage, as he can appeal to the young demographics of the brands he works with as well as his younger clients.
"We see things differently than people who have been through film school or people who have been through photography classes," Brashier said. "We see things in a more creative way than a technical way."
Brashier said many of the brands he works with target young people, so he tries to showcase carefree, natural experiences people engage in during their youth. He often films in Southern California, using beaches and surfboards in his videos as symbols of spontaneous youth.
However, Craig Brashier said despite the advantages of Connor Brashier's young age, it has created some awkward job environments. Musical artists have hired Brashier to document a concert without realizing he wasn't 18 and could not enter the venue, and "Playboy" and "Nude Magazine" have hired him for photoshoots and videos.
Griffin Thall, the CEO of Pura Vida Bracelets, has worked closely with Brashier and hired him to film for Pura Vida's lookbooks, catalogs and social media. Thall said Brashier captures the essence of the brand and appeals to its youthful clientele. His subjects include adventurous experiences often filmed outdoors and at the beach, spending time with friends and traveling.
Many of his videos feature the beach, surfing and skating. His YouTube upload for The Covea Collection, a swimsuit range, showcases poolside locations, beach backdrops and palm trees.
"He lives in Southern California, so he knows how to capture that Southern California vibe really well," Thall said.
Brashier said he also found working with noteworthy influencers, artists and companies slightly intimidating at first because of his young age. He tries to reach out to clients before shoots, with the goal of getting to know them before working together. Brashier said he enjoys the company of his colleagues even when he's not working and has often spent time with them off set.
"It's cool being young and getting to learn," Brashier said. "I could've gone to film school but I got so interested in the business side of things after working with so many businesses – that's what inspired me to do (economics)."
After shooting with subjects such as Kygo and Cameron Dallas, Brashier compiled his various collaborations and travels in his upcoming 2017 reel. He has spent the past month piecing together his best memories of the year and co-producing the music for the video. Although his job consists of professional campaigns and commercials, his favorite videos capture cherished moments from his own experiences.
One of Brashier's favorite passion projects showcases his vacation to Mexico, titled "The Boat Trip v.1 – Salt." on his YouTube channel. The four-minute video features Brashier surfing, wakeboarding and jet skiing.
"My favorite things to make are the ones that are fun and fueled by passion," Brashier said.
Jain is the PRIME director for the 2020-2021 school year. She was previously the PRIME content editor during the 2019-2020 school year and an assistant Arts editor for the Lifestyle beat during the 2018-2019 school year.
Jain is the PRIME director for the 2020-2021 school year. She was previously the PRIME content editor during the 2019-2020 school year and an assistant Arts editor for the Lifestyle beat during the 2018-2019 school year.