Design media arts students display artwork inspired by prefix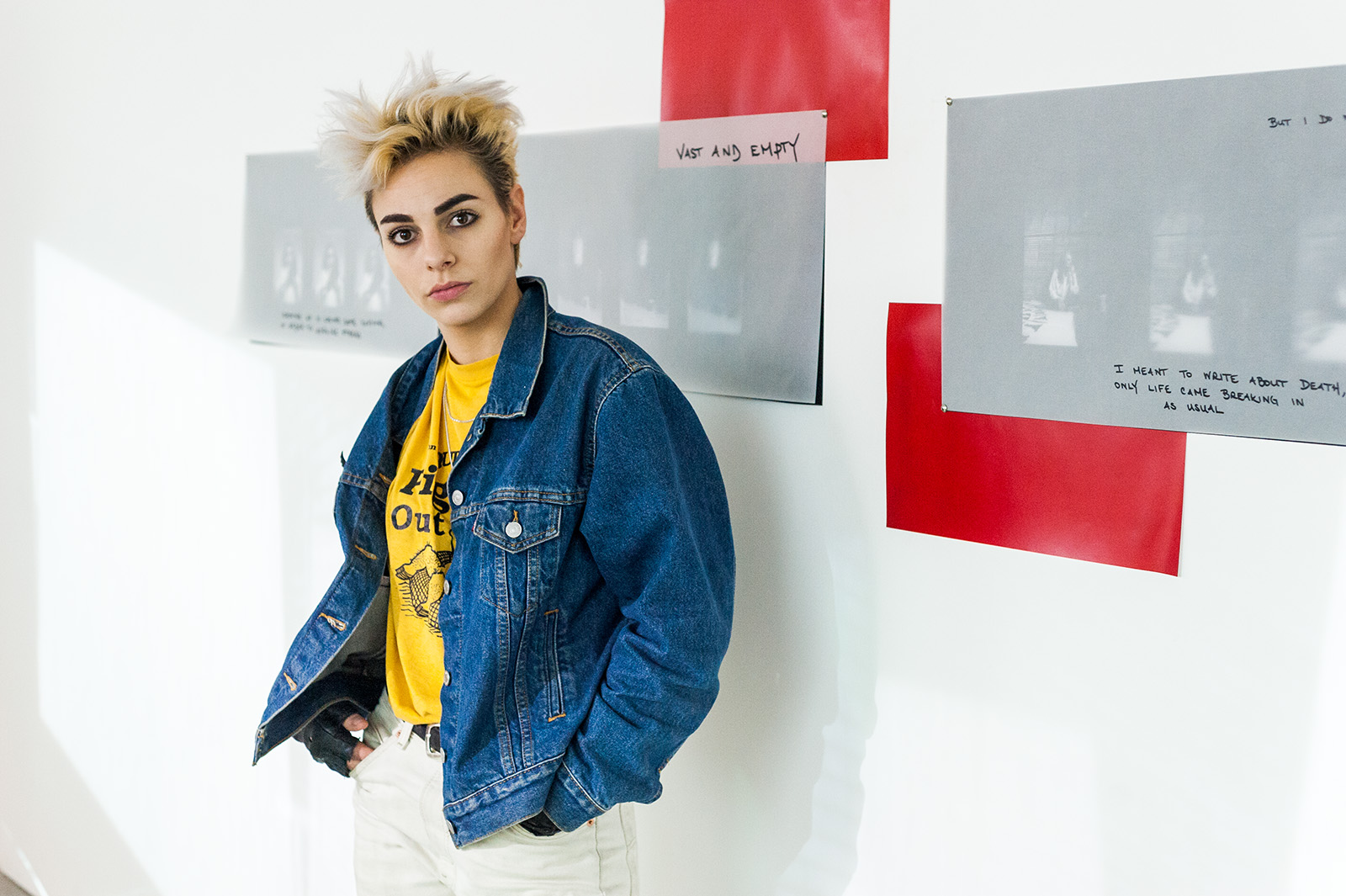 Matea Friend, a fifth-year design media arts student, explores how time affects identity in their video installation titled "Tempus Fugit." Friend asked subjects, ranging in age from five to 75 years old, to define universal concepts like beauty and failure. (Daniel Leibowitz/Daily Bruin staff)
January 17, 2018 10:37 pm
Three letters and a hyphen inspired a 27-artist exhibit.
Undergraduate design media arts students will display their artistic interpretations of the prefix "dis-" at the New Wight Gallery on Thursday. The prefix, which indicates reversal, a negation, lack or deprivation, and a removal or release, allowed students to interpret terms like "distance" and "dismantle" through mediums such as sculptures, video installations and poster designs, said organizer Jen Agosta.
The fourth-year design media arts student said she believes the theme lets students create and present work that resonates with them on a personal level, while focusing on various interpretations of "dis-." Students drew inspiration from their own experiences to create new work or expand on previous pieces, all invoking the concept of "dis-."
"What we were excited about (with) this subject was all the concepts and words we hadn't thought of," Agosta said. "It's exciting to see the artists' different interpretations and takes of 'dis-.'"
Agosta will display her work, "Meet Me There," a black, hand-bound, 167-page book that focuses on the disintegrating staircases around east Los Angeles. The book features photographs of stairways that were once connected with transportation systems but have since disappeared following the '60s, she said. In addition to the photos in the book depicting the wearied stairs, Agosta said the book itself embodies the idea of disconnecting.
"The binding threads are just hanging loose, away from the main spine of the book," she said. "I wanted them to be representative of these vascular systems of walking streets and trains that have lost any kind of connection."
"Disconnect" and "distance" are just a few of the "dis-" words represented in the undergraduate exhibit. Fourth-year design media arts student Noa Batle adds interpretations of "dismantle" and "disarm" to the display. Batle melted and sculpted more than 60 green toy soldiers to create his piece "Playground." The familiar green soldiers sit on swing sets and play hopscotch and tetherball, disarming the toys and representing the dismantling of stoic masculinity, he said.
"As a kid I only saw (the toys) as soldiers and I never imagined they had a reason to fight, or any other purpose beyond the battlefield," he said. "They instilled in me what it meant to be a man ­– to not show emotion, to be stoic and strong."
He said removing the soldiers' weapons and placing them in domestic situations helps him understand that there's more to masculinity than overt strength. Batle said he hopes attendees who see his soldiers will think about the way they perceive masculinity and gender roles.
"Putting these soldiers in these new roles was also a way for me to accept the complexity of masculinity and explore identity in a more broad and open way," Batle said.
Similarly, Matea Friend's video installments explore identity through the way humans change with age. The fifth-year design media art student's work, "Tempus Fugit," shows interview footage of subjects ranging in age from 5 to 75 years old, defining universal concepts like beauty and failure, Friend said.
"It's so interesting for me to see how definitions get so skewed and feel so disconnected and different according to age," they said.
When asked to define success and failure, Friend's 5-year-old subject said A-plus and A-minus, respectively, whereas the subject in their 20s defined failure as a lack of people who support, they said.
Friend said they asked participants to paint in addition to defining the words. The younger subjects were more free and careless with their painting, whereas the older groups were more meticulous and detailed in their works.
Friend said the project got its start when they and their sister drew a picture of their mother with wrinkles. Friend said they hope people who see their piece will find beauty in the way that minds of different ages think.
"My mom was so shocked when she saw the drawing, she didn't even know who was on that piece of paper," Friend said. "She felt so disconnected and didn't see herself in it."
Chelly Jin, one of the exhibit organizers and former Daily Bruin contributor, said pieces from the installment like Batle's and Friend's came from a personal background that can have an affect on a larger, more public scale. The fourth-year design media arts student said exhibits like "Dis-" serve the UCLA design media arts community by giving artists a platform to share their works and stir conversation.
"With an exhibit like this people can learn about how much 'dis-' is present in everyday life," Jin said. "We can use art to change or respond to our current political, economic and socio-cultural environments."
Del Rosario is the 2018-2019 prime content editor. She was previously an A&E staff reporter.
Del Rosario is the 2018-2019 prime content editor. She was previously an A&E staff reporter.