UCLA men's tennis has strong showing in Sherwood Collegiate Cup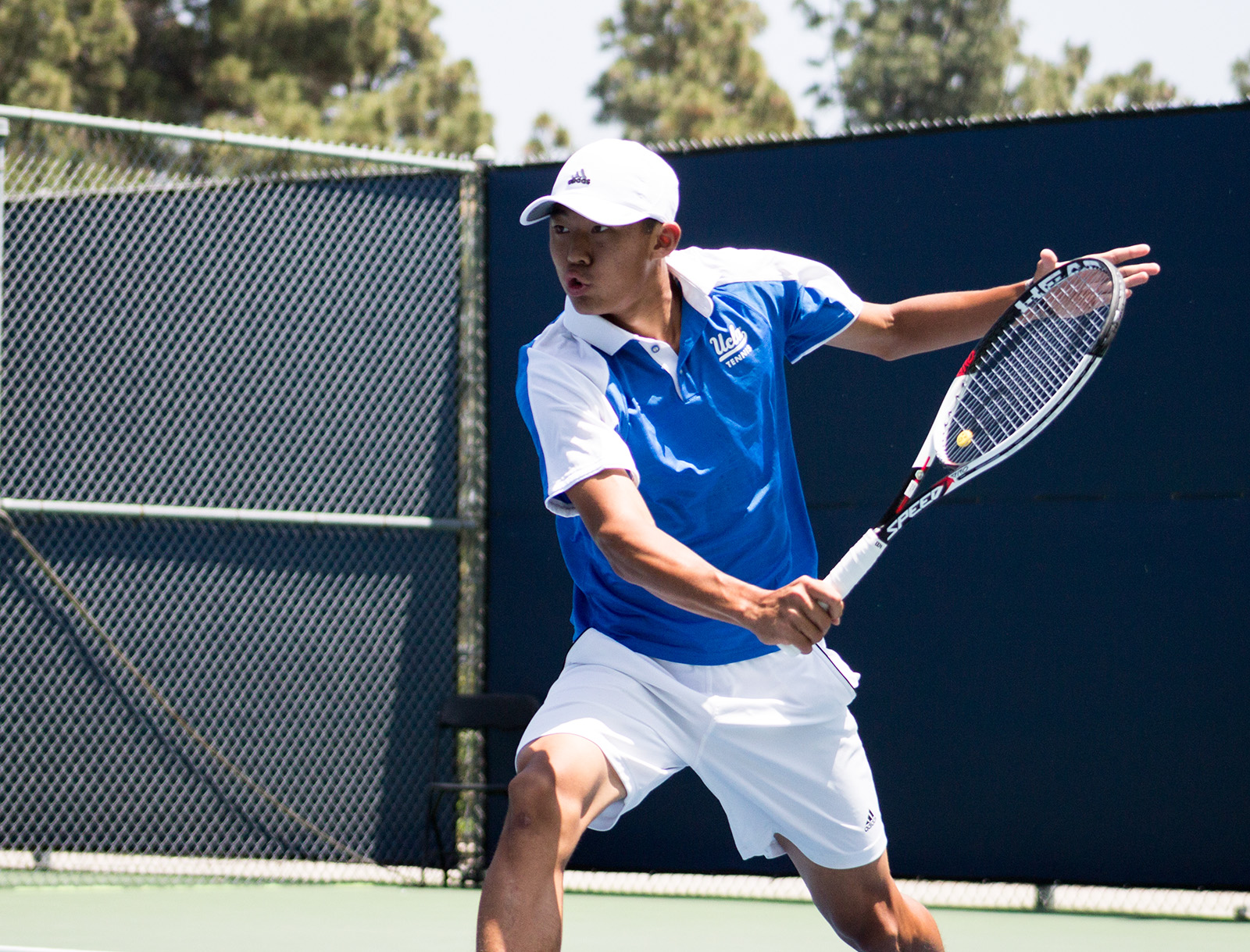 Sophomore Evan Zhu returned to play for the Bruins in January after taking fall quarter off to compete professionally. UCLA hosts back-to-back matches against George Washington and Grand Canyon on Thursday. (Emma Skinner/Daily Bruin)
Winter season is coming.
The UCLA men's tennis team played in their first tournament since ending fall season with freshman Keegan Smith going the farthest in the Sherwood Collegiate Cup, losing to Stanford's Tom Fawcett 4-6, 6-1, 7-5 in the semifinals.
"(Smith) had the best tournament out of all our guys," said coach Billy Martin. "We have some good matches this week and that will help us get prepared for the season."
Junior Maxime Cressy bounced back after losing to his first-round opponent, Baylor's Jimmy Bendeck, 6-4, 3-6, 7-6 to win the next four matches and take home the trophy in the Sherwood singles consolation final by beating Stanford's David Wilczynski 7-5, 6-2.
"I was proud of my attitude and how I felt on the court," Cressy said. "The first match I lost due to stress – it was my first match back so after that loss, I was disappointed. I felt comfortable in my next matches as I played without worrying about the outcome."
Sophomore Evan Zhu made his season debut as he took fall season off to play professionally. Zhu won the first round over USC's Jack Devine 6-1, 7-5 but lost his second match 6-3, 6-4 to Stanford's Sameer Kumar.
"In my first match, I did a good job being aggressive and moving the ball well which I struggled with in my second match," Zhu said. "It's nice being back. I was playing a lot of professional tennis so I used every match this fall as a great learning experience."
No Bruin pair was able to make it to the final round of doubles play.
In the first round, sophomore Ben Goldberg and Zhu lost 6-2 to Stanford's Tom Fawcett and Timothy Sah, Cressy and freshman Bryce Pereira lost to Baylor's Johannes Schretter and Roy Smith 7-6, and freshman Lucas Bellamy and redshirt freshman Reid Ponder lost 6-2 to Stanford's Michael Genender and Kumar.
Senior Austin Rapp and Smith advanced to the semifinals but lost to USC's Jake Jaede and Laurens Verboeven 6-2, and freshmen Connor Rapp and Connor Hance also lost to Stanford's Geneder and Kumar 6-3 in the semifinals.
After Zhu and senior Martin Redlicki at the first doubles spot, Martin says that the rest of the doubles spots are up for grabs.
"We know I'm trying (Zhu) and (Redlicki) back," Martin said. "For the other teams, I know it's not written in stone so we'll see as the season progresses."
The Bruins will take on George Washington and Grand Canyon at home Jan. 18.
Chang joined the Bruin as a freshman in 2017 and contributed until 2018. He spent time on the men's tennis beat.
Chang joined the Bruin as a freshman in 2017 and contributed until 2018. He spent time on the men's tennis beat.