Design media arts professor creates neuroscience-based installation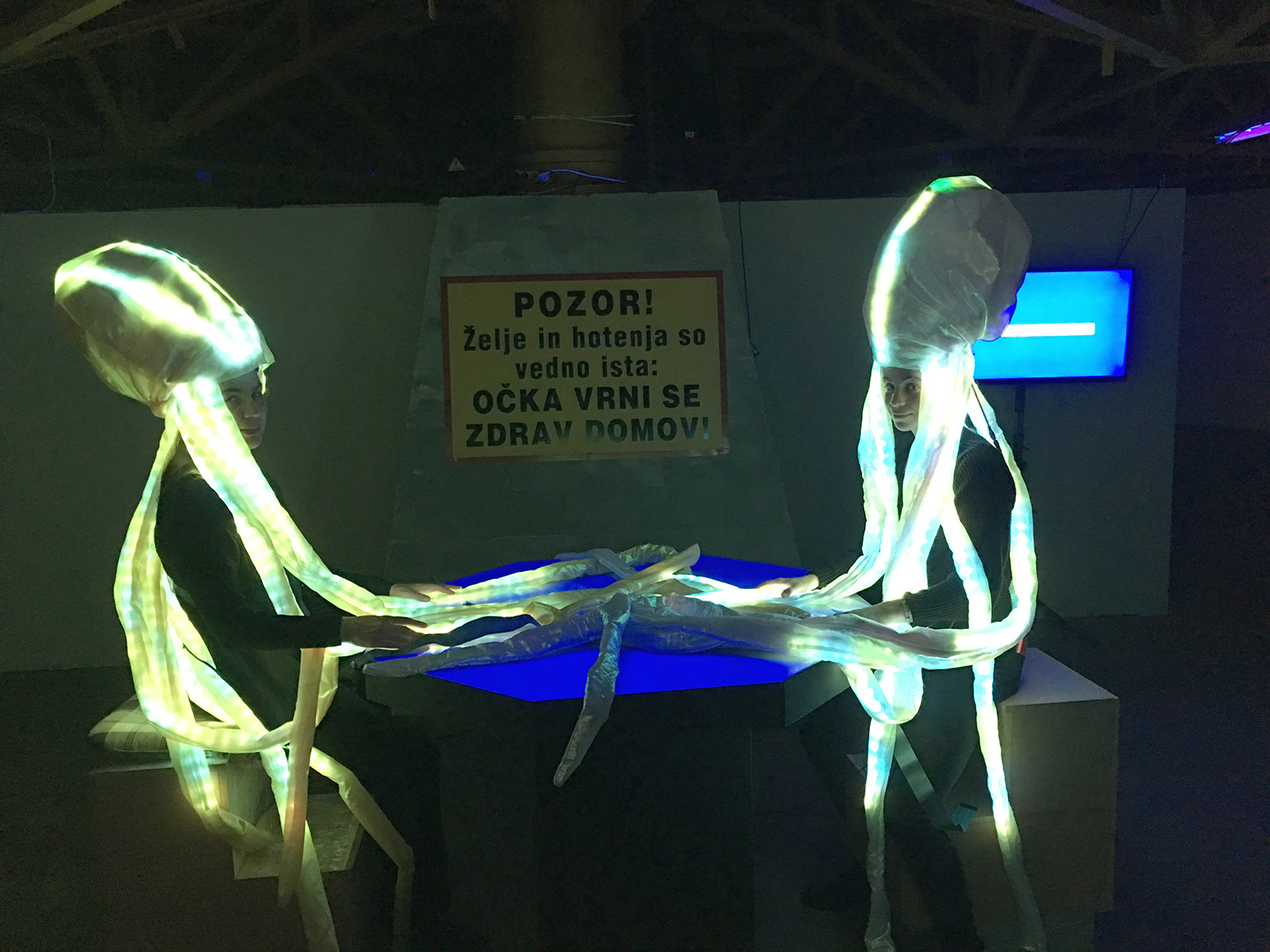 In the art installation "Brainstorming: Empathy,"
participants wear EEG-equipped headpieces, allowing them to see each other's brain wave activity through colored LEDs, resulting in wordless communication. (courtesy of Victoria Vesna)
It may not be possible to read other people's minds, but viewers can now see what two people are feeling through the art installation "BrainStorming: Empathy."
Victoria Vesna, a design media arts professor and Mark Cohen, a neuroscience professor in residence created "BrainStorming: Empathy," a piece of performance and experiential art, after four years of work. Vesna and Cohen said the work serves as a means to blend the arts with science in its efforts to display nonverbal communication and empathy through neuroscience technology.
"(The project) is a discussion and it's bouncing ideas off of each other," Vesna said. "It becomes this melding of different worlds."
In "BrainStorming: Empathy," two participants wear headpieces that resemble octopuses and can record their brainwaves through an electroencephalogram, the tracking and recording of electrical activity within the brain. The brain waves are then translated into colors and a cappella sounds that correlate with certain mental processes, such as feelings and emotions. Vesna and Cohen will showcase the performance art piece at the LA Art Show in the Dialogs booth from Wednesday to Sunday. It has previously been shown at the UCLA Meyer and Renee Luskin Conference Center in 2016, as well as an art festival in Slovenia and an exhibition centered on synesthesia.
"BrainStorming" came into its present form by exploring nonverbal communication across species with the scientific research that guided the project. Participants wear EEG-equipped octopus headpieces and wordlessly communicate through LEDs that reflect their brain waves, fostering empathy in a live performance, Vesna said. The two participants sit across from each other at a table and are instructed to empathize and feel their partner's emotions.
The piece features 350 LEDs throughout the octopus headpieces' tentacles that change color as a result of the different brain wave activity from each of the two participants. Vesna and Cohen also recorded a cappella samples of singer Kenton Chen, which play based on the participants' emotions.
After Vesna and Cohen met about five years ago, they discussed different aspects of neuroscience, such as brain mapping visualizations, and soon began working on their first iteration of "BrainStorming." The piece was initially conducted with sample EEG recordings of the brain waves of five to eight scientists, artists and humanists who discussed particular topics, including how humans are influenced by environmental aspects universally and the commonality between people, Vesna said.
During the ongoing creation process, Vesna commissioned another art piece for the Glow Festival in Santa Monica that utilized octopuses. While commissioning the piece, she researched more about octopuses and grew interested in their intelligence and communication. Her interest in octopus communication soon made Vesna curious about the similarities of nonverbal communication between humans and octopuses. Vesna also had the octopus headpieces from the commission left over and said she decided to add a performative element to the caps due to their otherworldly aesthetic.
"(The) symbolic octopus crowns really make it look like someone's an alien creature and that also this creature is right there with us and there's something very majestic about it and funny about it," Vesna said.
Neither Cohen nor Vesna are strangers to an interdisciplinary approach to their work. Vesna said she often collaborates with other artists and scientists in order to bring a scientific angle to her work, such as on her piece "Blue Morph," which uses sounds from the metamorphosis of a caterpillar and nanoscale images in its work. Cohen's work with visualizations and brain mapping in neuroscience was also used in a more artistic form, such as a cover for Science Magazine he created.
The meeting of the media arts and science fields creates a new perspective on the interaction and communication present between people. Marisa Caichiolo, a curator for the LA Art Show who brought "BrainStorming" to the show, said the piece is an experience that goes beyond an art installation.
"To have (brain waves) translated to colors and forms and to associate colors to feelings as a part of 'BrainStorming' is captivating," Caichiolo said. "(It's) creating an understanding and a dialogue between the viewer and the experience itself because it really opens up the idea of communication between the brain and people in a different form."
While the LEDs and a cappella sounds help the participants and viewers visualize the nonverbal communication, the piece ultimately runs on hard scientific data, Cohen said. The electrical signals and data are typically shown on a large backdrop during the performances. Cohen said he believes the neuroscience data aspect of "BrainStorming" is a fundamentally important part of the work.
"It's very important to me that the brain science ('BrainStorming') explores is real rather than metaphorical – that it's direct," Cohen said. "We're presenting actual data, we're doing actual neuroscience work with this."