Student takes an interpersonal approach to professional photography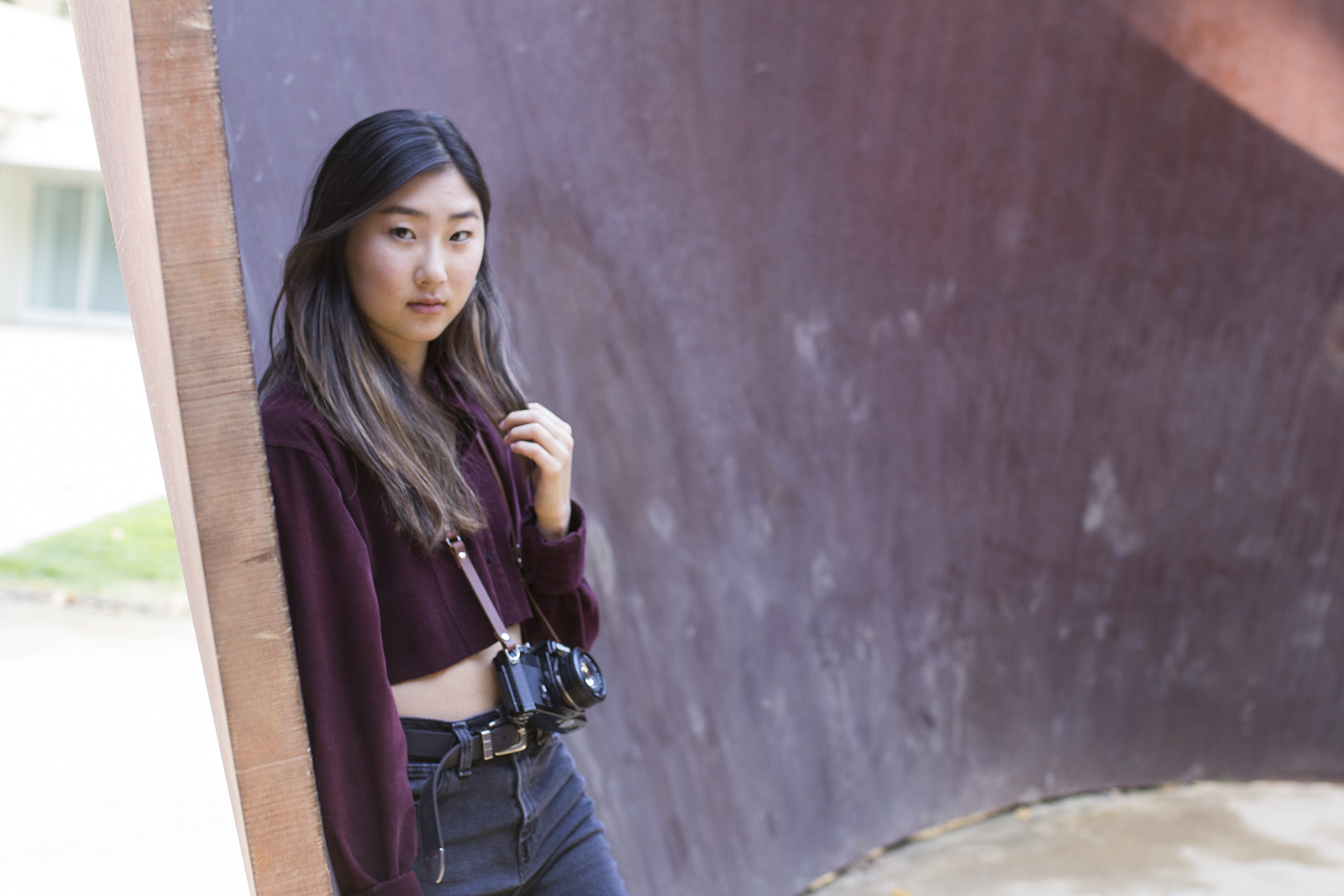 Ashley Kim, a second year communication student, doubles as a professional photographer.
She photographs friends and models, and said she tries to create a positive atmosphere at her photoshoots. (Chengcheng Zhang/Daily Bruin)
December 4, 2017 12:00 am
Ashley Kim's photographs appear on the pages of magazines such as Mad Sounds Magazine and Local Wolves.
The second-year communication student began photographing her friends with her dad's old camera at the end of high school. About a year and a half ago, she messaged a girl on Instagram whose photos she liked, and discovered she was signed to Ford Models. Kim reached out to the girl's agent by email, then established connections with other agencies, which began sending her girls to photograph for test shoots and magazines. Now, Kim photographs professional models from agencies such as Ford Models and LA Models.
"I started out with friends," Kim said. "And then just seeing other photographers on Instagram shooting with signed models … I thought that'd be cool, to shoot with agencies, because I feel like it's a more legitimate thing."
Working with signed models is often easier because they are more accustomed to highlighting their best angles with a variety of poses, she said. She only has to give them minor directions, such as tilting their heads a certain way or moving their arms to make the poses look better.
"They know what they're doing, so I (give less input) because I trust them," she said. "It shows up on camera, too."
Friends, on the other hand, do not have previous modeling experience and tend to stand still when she's photographing them. As a result, Kim said she has fewer shots to choose from, and the pictures turn out relatively posed and unnatural.
For each shoot with professional models, Kim creates a mood board – a collage of photos that captures the aesthetic and general tone she's looking for in the shoot. She draws inspiration for her boards from Instagram images, magazine photos and billboards. She is also influenced by costumes she has seen in films, such as the French film, "Léon: The Professional," she said.
Kim said even though she plans her shoots in advance, she likes to keep them relaxed and organic once they've begun. In a typical shoot, she chats with her model while walking around the shooting site with them, stopping to take pictures of the model when she sees a location with good lighting or one that matches her vision. In doing so, she said she makes the process feel like a social outing rather than a formal shoot.
In addition to posing the models, Kim sometimes styles them for the shoot and gives them her own clothing to wear. Amelie Zilber, a sophomore at Harvard-Westlake School, borrowed a tulle dress from Kim when she worked with her at the end of August.
Zilber, who was signed with Ford Models at the time, said she was able to chat with Kim before the shoot and get to know her personality. Often during a job, she doesn't have the chance to bond with the photographer, she said.
"I had already spoken to (Kim) and knew that her intentions weren't just to shoot and get it over with because it was her job," Zilber said. "I was able to understand that she wanted to be there for herself too and actually took an interest in the job she was doing that day, which made me more comfortable overall."
Zilber said she also enjoyed working with Kim because her input was constructive, unlike the aggressive comments from other photographers she's worked with. Zilber was able to connect with Kim in a way she doesn't connect with other photographers in part because of Kim's young age, she said.
Vince Palaganas, Kim's friend who is also a photographer, said one of Kim's strengths as a photographer is taking the time to talk to people and connect with them. While other photographers he's worked with have been less relaxed and very to-the-point, Palaganas said Kim is able to create a calm and relaxed environment around her subjects.
"She can easily talk to her subject," he said. "She can convey what she wants in the photo."
Kim said shooting professional models and working with their agents can be an intimidating experience. However, she often finds that she can easily befriend her subjects and keep in touch with some of them after they've worked together.
"They're people too, and they're going to school or not, and it's fun to meet them and hear about what they like about shooting too," Kim said.