Concert review: KIIS FM's Jingle Ball at The Forum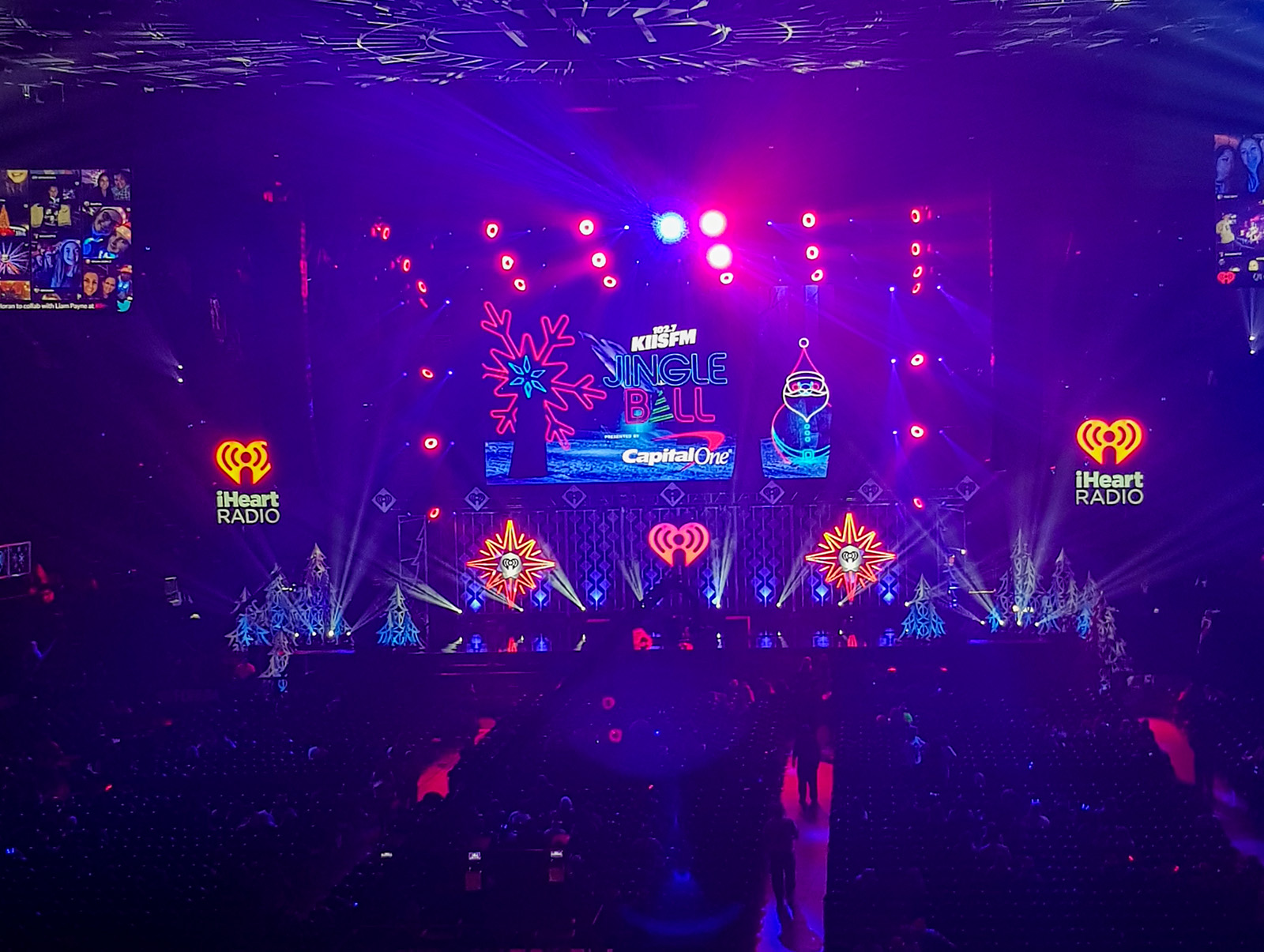 KIIS FM's Jingle Ball concert Friday night was filled with festive and captivating performances that set a cheery mood for the holiday season. Highlights of the night included Taylor Swift and Ed Sheeran's first live performance of "End Game" and Charlie Puth's rendition of "Have Yourself A Merry Little Christmas." (Eli Countryman/Daily Bruin)
Los Angeles rang in the holiday season with KIIS FM's Jingle Ball, which highlighted some of the biggest hits of the year.
The sold-out show, which lasted four and a half hours and was hosted by Ryan Seacrest, featured musicians such as Halsey and Taylor Swift who performed alongside pyrotechnics, confetti, and theatrical smoke effects.The dozens of singers at the show brought a light-hearted and festive energy to the stage.
Ed Sheeran opened the show with fan favorites, such as "Shape of You," using only a loop pedal without any other instrumentalists on stage. Though only half of the audience was in attendance by the time he began singing, Sheeran captivated the fans and delivered a solid set with mostly on-tune vocals.
A few artists went above and beyond the expectations set by Sheeran. Charlie Puth, the only singer to actually incorporate Christmas music into his set, brought a different presence to the stage. Donning a flannel and Converse, Puth looked more like a concertgoer than a performer. The casual outfit seemed a bit out of place for the star-studded event, but his personable chats with the audience between songs such as "Have Yourself a Merry Little Christmas" matched the relaxed vibe of his outfit.
Taylor Swift, who closed the show, was the biggest attraction of the night – fans cheered each time her songs played during commercial breaks. The audience was still packed when she took to the stage after more than four hours of music, and following her first song, the audience roared for more than 30 seconds. Though her vocals wavered occasionally as she danced around the stage, she brought high energy to the set and landed powerful notes in her rendition of "I Don't Wanna Live Forever." Taylor also played a few older hits off of "1989" and performed "End Game" with Ed Sheeran for the first time live.
Another standout of the night was Logic, who launched into the American spotlight with "1-800-273-8255" this year. Many of his songs were unknown to the audience, but his captivating stage presence made his set the most interactive of the night. He swaggered around the stage and rapped in a style that he called a "crash course" on Logic.
Other noteworthy musicians of the night included Halsey, Niall Horan and Demi Lovato. Halsey, who maximized the use of pyrotechnics on stage, gave an upbeat performance that kept the audience on its feet. Shortly after, Niall Horan delivered a memorable performance of his hit song, "Slow Hands," as well as a few songs from his debut album "Flicker." Lovato, who brought out Cheat Codes for a duet, let loose powerhouse vocals during her performance, which sounded identical to her studio versions.
Artists such as Liam Payne, The Chainsmokers, and Kesha also put up impressive shows, but parts of their sets were forgettable. Payne performed just one hit song, and the others he performed felt like generic versions of "Strip That Down." The Chainsmokers opted to sing multiple obscure songs, but they re-energized the audience when Halsey came back out to sing the 2016 anthem, "Closer." Kesha moved the audience with her emotional "Praying," and a surprise duet with Macklemore, but her vocals in other songs were lackluster and often off-key.
However, the only artist who felt completely out of place during the show was Sam Smith. An artist known for his slow ballads, his catalog didn't have many options that fit into the otherwise cheery show. Instead, the audience listened to slow song after slow song as Smith filled his allotted time to a sitting crowd. The only real benefit of having him in the show was that it gave people a chance to relax after dancing for hours on end. In another, calmer setting, listening to "Stay With Me" or "Too Good at Goodbyes" might have been a welcome experience, but he failed to entice a dance-craving audience with lyrics about his disappointing love life.
Jingle Ball was a night of powerful and captivating performances that successfully set a festive mood in the City of Angels.
Countryman is the 2018-2019 Music | Arts editor. He was previously an A&E reporter. He is a second-year communication student.
Countryman is the 2018-2019 Music | Arts editor. He was previously an A&E reporter. He is a second-year communication student.