Throwback Thursday: Arthur Ashe's AIDS admission and the implications of his unwillingness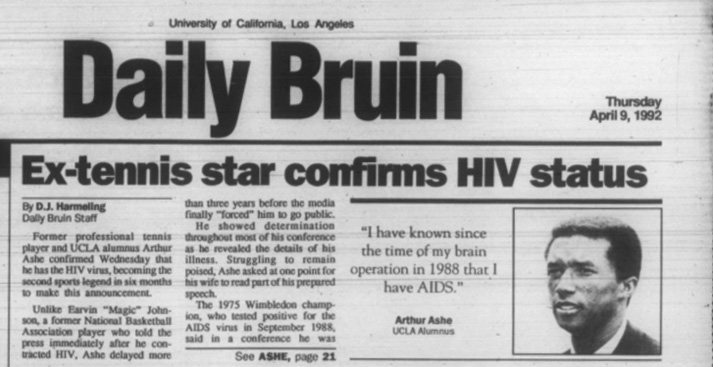 November 30, 2017 5:00 pm
Throwback Thursdays are our chance to reflect on past events on or near campus and relate them to the present day. Each week, we showcase and analyze an old article from the Daily Bruin archives in an effort to chronicle the campus' history.
Tomorrow as you walk down Bruin Walk, you may see Wilson Plaza in its usual disarray. There will probably be stalls, loud cacophony echoing from speakers and a crowd of people surrounding the tiny stage. Instead of strolling by, you might want to pause and look up. Tomorrow, the campus will be observing World AIDS Day.
It was here at UCLA that the disease was first discovered in 1981.
This article – published April 9, 1992 – recounts the story of how Arthur Ashe, the famed tennis player, came forward regarding his status as an HIV patient and details the campus' reaction to the news.
Ashe first confirmed rumors of his condition at a press conference in New York, three years after he was first diagnosed with AIDS in 1988. According to the article, Ashe felt compelled to share his condition due to increasing media scrutiny. Many journalists consider Ashe's coerced acknowledgment of his condition as a blight on reporter investigation.
Ashe's news first came to light in a New York Times article, which The Bruin published alongside its own front-page article. The article stated Ashe and his doctors believed he contracted the virus during a blood transfusion he received for his cardiac bypass surgery in 1983 at St. Luke–Roosevelt Hospital Center in New York. At the time, scientists had yet to develop the test that we now use to detect the virus in blood samples.
"(Ashe's AIDS announcement) increases my fear. I think it was better that nobody knew," said Davide Sanguinetti, then a UCLA freshman and tennis player, in the paper.
The article ends on a somber note with a quote from Ashe, who said that he is unsure how he will deal with his public disclosure but hoped that he could continue with his life in as normal a manner as possible.
The tone of the article is extremely telling of the condition of HIV/AIDS and society's response to the disease in 1992. Although HIV remains an incurable virus in 2017, it can be kept at bay with the right medication. But in 1992, AIDS was almost like a death sentence.
The 1990s were an era of budding activism, awareness and treatment in HIV/AIDS history. People were just starting to wake up to the gravity of the AIDS epidemic and reconsider society's response to HIV/AIDS victims. It was during this decade the epidemic would hit its peak in 1996.
In terms of medicine, the global community was still frantically finding solutions to – what was then – a mostly mysterious disease. Shorter tests used to detect the HIV-1 virus in the blood were invented just a year before Ashe announced his diagnosis. The world would also have to wait until 1996 for Highly Active Antiretroviral Therapy or HAART – a three-drug combination that causes an immediate 60-80 percent decline in HIV/AIDS-related death – to become available in rich nations.
The only drug available to Ashe at the time was the controversial, largely inaccessible Azidothymidine, or AZT, which cost around 8,000 dollars per year. The drug was rolled out in 1987 and was approved even after a controversial drug trial because of the urgency of the situation. To put this into perspective, we now have 151 drugs in six different classes of drugs that can help us combat the virus.
Looking back at this HIV/AIDS timeline, Ashe – by no fault of his own – missed important medical landmarks that may have either prevented infection or postponed his death to later than February 6, 1993.
Ashe's reluctance to reveal this information for three years is understandable, considering the widespread stigma at that time; a prime example of this was the travel ban the U.S. imposed on HIV-positive individuals four years after Ashe contracted the virus. The U.S. continued this ban for 22 years until the Obama administration lifted it in 2010. At the time, the U.S. lagged behind more AIDS-progressive countries like the Netherlands and Brazil, who began generic production of the AZT drug in 1993.
Needless to say, things have changed. The invention of drugs like pre-exposure prophylaxis – a highly effective drug that is used both by people with HIV and those at a high risk of contracting the virus – has reduced the fear surrounding HIV/AIDS. More and more people now have an Undetectable Viral Load, a condition in which the HIV count in blood is so low it is almost impossible to transmit the virus. Although HIV medication is still expensive, the government subsidizes these expenses.
But we still have a long way to go. The LGBTQ community continues to be affected by AIDS stigma – an acute reminder that the community was ostracized in the 1990s, as evidenced by the fact AIDS was known as GRID, or Gay-related Immune Deficiency. This stigma is also seen in the FDA's blood donor policy, which bans homosexual and bisexual men from donating blood. People of color are also adversely affected by the disease and constitute the second largest HIV/AIDS affected population in the U.S.
However, while certain communities may be more impacted than others, the disease, in some way or another, affects everyone. People's lack of basic information regarding the virus and disease can at times lead to discrimination, with individuals facing discomfort while revealing this information to potential sexual partners and cases of nuanced workplace discrimination.
[Read more: http://dailybruin.com/2016/12/01/the-quad-living-with-hiv-in-2016-has-anything-changed/ ]
The fact that we will be celebrating the day tomorrow with an interactive performance in Kaufman Hall and with free HIV screening in Bruin Plaza shows that we, as a community, have come far from the days of blatant stigmatization and discrimination. Let's not let that progress stagnate.
Appurva Goel is a Daily Bruin Quad contributor. She likes writing about different cultures, fashion and social issues.
Appurva Goel is a Daily Bruin Quad contributor. She likes writing about different cultures, fashion and social issues.