Alumna explores new forms of comedy after stand-up success in New York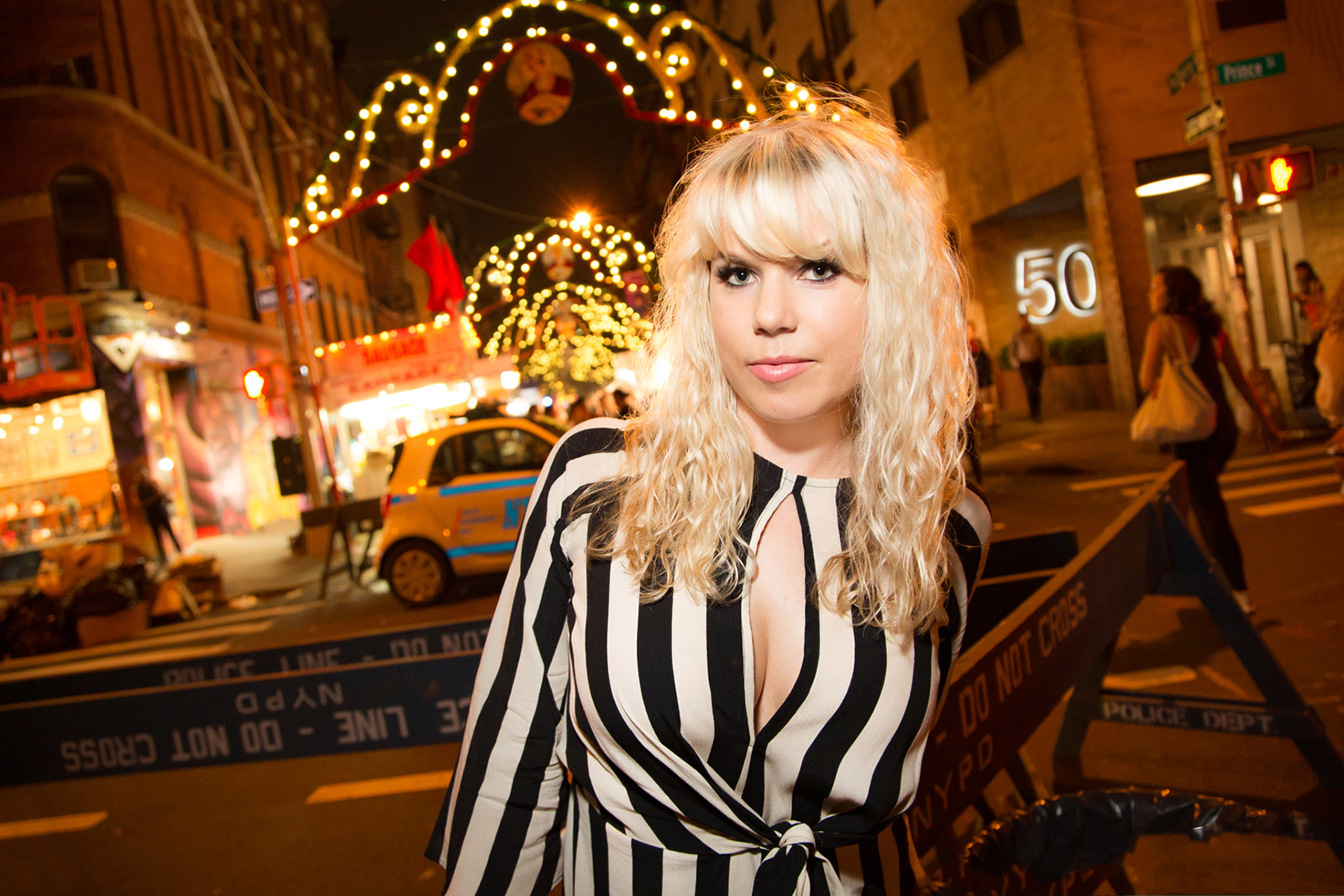 Alumna Blair Socci got her start in comedy by performing five-minute stand-up comedy sets in New York City about red meat and her tomboy childhood. She also runs her own podcast titled "How To Be A Beefy Woman," which airs every Thursday. (Courtesy of Phil Provencio)
Blair Socci's comedy career began in the shower of her New York City apartment.
Blair Socci, a UCLA alumna and former Daily Bruin staffer, said she became interested in stand-up comedy when her ex-boyfriend brought her to his show. However, she didn't consider comedy as a career until after she moved to New York to pursue a master's in creative writing.
"Me and that dude broke up and then six months later, I just had a thought in the shower that I should try comedy," Socci said. "It was very bizarre; I never thought about it until that moment."
Socci began writing five-minute stand-up sets for open mic nights in New York. She said some comedians wouldn't suggest starting in as large a comedy scene as New York, but she jumped straight in without a long-term strategy. She performed on stage three times a night and hammered away at sets about red meat, her breakup and how her upbringing as a tomboy contradicted with her parents' expectation that she find a husband.
Now five years in, Socci has branched out from stand-up comedy into new areas, such as television, hosting, script writing and her own podcast "How To Be A Beefy Woman" which airs on iTunes, Spotify and Soundcloud every Thursday.
In addition to performing her usual stand-up comedy sets every night, Socci helped create a comedy show, "Nacho Bitches," which she co-hosts with her friend and fellow comedian, Corinne Fisher. Every month for the past three years, Socci and Fisher have hosted a lineup of friends and upcoming comedians at New York Comedy Club.
Although she and Socci perform stand-up comedy sets in "Nacho Bitches," Fisher said co-hosting is a different experience entirely. Co-hosting relies largely on listening and audience interaction, something Fisher said is optional for a normal stand-up comedy set. Working with another person on stage is also different than solo sets because her partner can cover for her when there's a lull, Fisher said.
Though co-hosting is a difficult process to master, Fisher said Socci is the best choice for a co-host because of their mutual respect and strong friendship. Their relationship outside of the comedy world helped them when it came time to co-host because of how well they know each other's timing and comedic style. Fisher said Socci's whimsical comedy meshes well with her aggressive and self-depreciating style.
"I think every person who's not a comedian knows that they're funniest when they're with their best friends or with their significant other, and that's no different when it comes to professional work." Fisher said.
Socci said while some stand-up comedians are opposed to doing projects outside of stand-up comedy, she embraces opportunities off of the stand-up stage. She began starring in the MTV show "Ladylike" in 2016, which involved hidden camera high jinks such as pretending to be pregnant on blind dates and staging a car crash to see how people responded to the stereotype of women being bad drivers. Socci said her experience working with comedy on television helped her become comfortable in front of the camera. Socci said even though television is entirely different than stand-up comedy because it lacks live feedback and involves playing a scripted character, it's still a creative process of performing.
Socci said her newest project, "How To Be a Beefy Woman," helps listeners get to know other comedians in their most sincere form. The podcast involves asking comedian guests about the food they eat, embarrassing stories they have and what they would do if everything went right in their life – questions Socci said she regularly asks. She said she believes people can get to know her on a deeper level through her investigation into red meat and what she would do with her hypothetical wealth.
Socci's friend, Farah Brook, has worked with the comedian on writing television scripts and has guest starred on an episode of "How To Be A Beefy Woman." Brook, who hosts a podcast of her own, said she and Socci had always been fans of podcasts which made the transition from traditional stand-up comedy to the aural medium much easier. And while podcasts are more of a natural conversation that doesn't require the the same levels of performance, Brook said Socci's wacky comedic style present in her stand-up comedy is apparent in everything from the topics of discussion to the title of the podcast.
"Recording 'How To Be A Beefy Woman' with (Socci) just felt like a regular hangout, sitting around and talking about stuff we love," Brook said. "There's nothing more her than her podcast; it's very representative of her comedy and her perspective and point of view."
As a comedian, Socci said she just can't rely on stand-up comedy to survive which is why, along with a desire to create, she chose to work on so many different projects. However, though Socci enjoys working with MTV, writing scripts and producing the podcast, she said stand-up comedy is her top priority – the vulnerability of being on stage keeps her committed to performing every week.
"Stand-up is the one thing that I feel like I was born to do, I can't imagine my life without it," Socci said. "It doesn't even feel like a choice, it's just a thing that I love and am so connected to."