The Quad: Walk off the Thanksgiving food belly with Black Friday shopping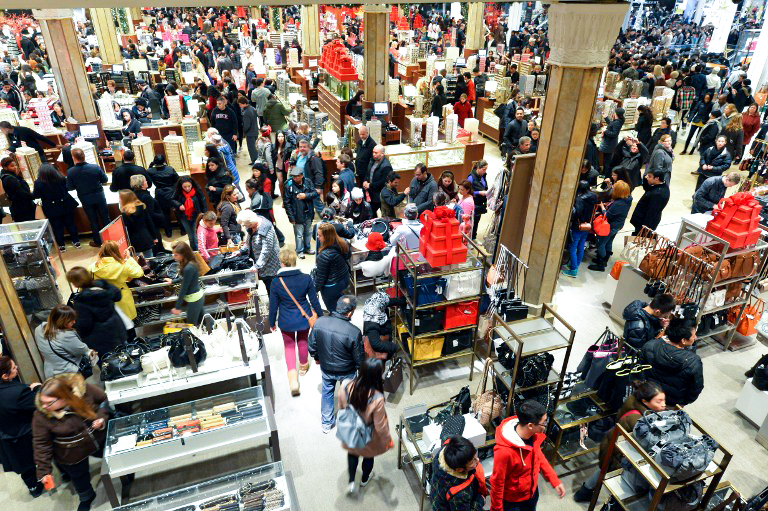 (Creative commons photo by Diariocritico de Venezuela via flickr)
November 22, 2017 4:53 pm
Thanksgiving is just around the corner, and many of us are looking forward to celebrating the day with family and friends. Once the Thanksgiving festivities and feasting are over, another equally exciting and fun-filled day comes along – Black Friday.
Black Friday is one of the biggest shopping days of the year, as many stores offer discounts and deals the day after Thanksgiving.
The term "Black Friday" is believed to have originated in Philadelphia. In the 1950s, on the day after Thanksgiving, shoppers and tourists would flood the city in anticipation of the Army-Navy football game held the Saturday after Thanksgiving every year. The Philadelphia police would use the term "Black Friday" to describe the chaos in the city.
Philadelphia police faced additional stress since they could not take the day off due to the abundance of crowds and traffic. The Philadelphia police department coined the term "Black Friday" with the hope of casting a bad light on this annual event and discouraging people from taking part in the shopping mayhem.
Since then, the term "Black Friday" has evolved to have a more positive connotation, as it signifies a day of profitability for retailers as well as superior shopping deals for consumers. However, Black Friday today still does have its negatives, as it is often accompanied by bad traffic and crowded stores. On a darker note, Black Friday crowds can reach extremes, as seen in the incident when a Walmart worker was killed, trampled by a mob of shoppers back in 2008.
For some students, Black Friday is an exciting holiday spent shopping with family. Connie Do, a third-year biology student, said she used to enjoy Black Friday shopping when she was younger – it was a rare opportunity because her mother did not usually allow her to shop late at night.
Khadija Shalbi, a third-year biology student, thinks that Black Friday is not only about the sales, but is also a fun way to get her family together. In middle school, she would wake up at 3 or 4 a.m. in order to wait in line at Best Buy with her family.
However, the deals on Black Friday may not be that exceptional after all, as it is also a day when deals are marketed more prominently than usual.
"I think it's kind of fun to go shopping at midnight but to be honest, I could find deals just as good or even better around the year," said Do.
[Related: The Quad: How to survive Black Friday]
Students who will be around campus on Black Friday can find good deals in stores around Westwood. Target will be having discounts on various items, including smartphones and video game consoles. Clothing stores such as Victoria's Secret and Urban Outfitters will also be having Black Friday sales.
Those who are looking to snag some new dining supplies or take cooking classes in order to learn how to whip up new recipes for the holiday season can check out Sur La Table, a kitchenware store that will also be offering exclusive Black Friday deals.
Black Friday may not be for everyone, but it is an exciting post-Thanksgiving activity to enjoy with family. The retail-oriented celebration is a great way to get discounted rates on merchandise in preparation for the upcoming holiday season.
Brenda Chan is a Quad contributor. She likes writing about fitness, nutrition, lifestyle and education.
Brenda Chan is a Quad contributor. She likes writing about fitness, nutrition, lifestyle and education.