Rock band Santiago's Trip seeks to break traditional musical molds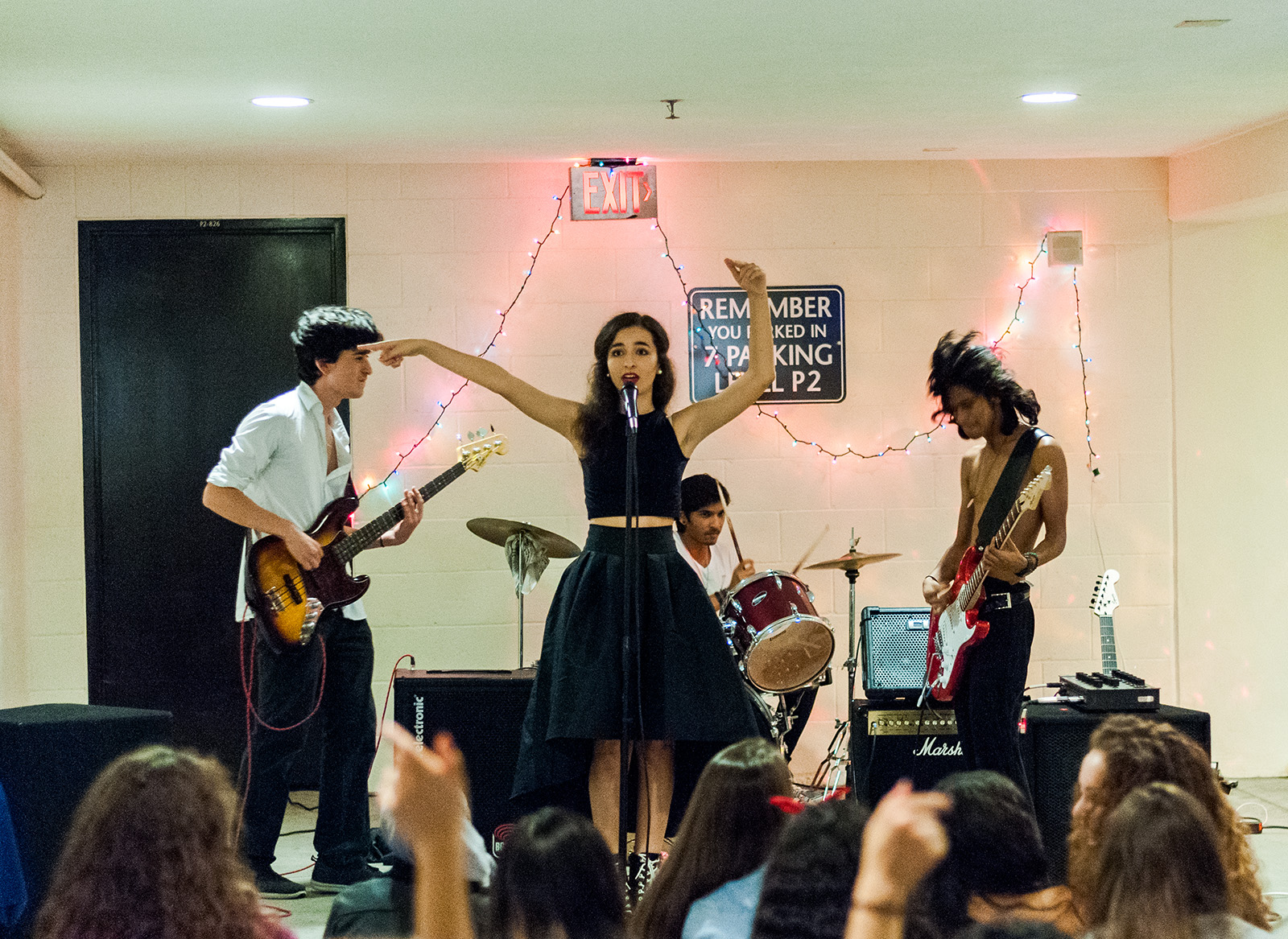 Santiago's Trip performed in Parking Structure 7 with string lights and cookies for attendees. Nish Selvalingam, the band's guitarist and a second-year philosophy student, said the band tries to challenge society's expectations for what rock bands should sound like. (Liz Ketchum/Daily Bruin)
String lights and cookies set the mood in Parking Structure 7, which served as an impromptu concert venue for the band Santiago's Trip.
"The space seats little more than 20 people … but we get the best energy from these performances," said Sahfa Aboudkhil, the band's lead singer.
Aboudkhil, a second-year comparative literature student, said the group started performing and practicing in parking lots because it can only use UCLA's rehearsal rooms for limited amounts of time and often receives noise complaints when they play in their dorm rooms.
But the band now sees playing in parking lots as its way of breaking from the norms of what audiences expect from music venues. The band tries to make its parking lot concerts feel more welcoming than other rock concerts by setting out cookies for the audience members and laying out a tarp for them to sit on, she said.
The band consists of UCLA students Aboudkhil, Nish Selvalingam and Marcel Burgunder. They share a desire to challenge society's expectations of how a rock band should sound, said Selvalingam, the band's guitarist and a second-year philosophy student.
"Rock and roll isn't one genre. … It's doing things that haven't been done before," Selvalingam said. "It's not about the music, it's about the attitude."
However, the band still draws from rock traditions – Selvalingam said he tries to emulate rockers of the past with his long hair and rambunctious personality. He was fascinated by pirates as a child and considers musicians Mick Jagger and Jimi Hendrix to be modern-day pirates. Their big personalities and defiance to the system shaped how he sees the world, he said.
"From (a very young age), I always saw authority as the enemy," he said.
Growing up, Selvalingam saw his friends' parents pressure them into learning how to play piano and said he began to view the piano as a symbol of the establishment. So he searched for an instrument that was louder and less melodious, eventually picking up the guitar at age 13.
Selvalingam met Aboudkhil during his first few weeks at UCLA after seeing her perform at a jam session near Covel Commons. Aboudkhil said her friends and family often doubted the band's ability to succeed in its musical pursuits, but the negativity has only inspired the defiance in the band's lyrics and performances.
"We come off as loud and anti-establishment because if we (took) a moment to listen to what others say, we wouldn't be doing this," Aboudkhil said.
Marcel Burgunder, the bassist and a second-year mathematics of computation student, joined the band last. He said he brought a classical musician's perspective to the group because he primarily played and wrote music on the piano until he picked up the bass after coming to UCLA.
Burgunder said he started playing the bass because he wanted to get into rock culture, but he plays the instrument with the same calculated and technical method he used to play piano, which contrasts with Selvalingam's more eccentric performance style.
Selvalingam said the bandmates' different approaches to music may seem contradictory, but those varied perspectives have become the very essence of their music.
"I'm always thinking of how to put the sex into the song, … the not-thinking part of rock and roll, while (Burgunder) spends time thinking about music and the specific chords," Selvalingam said.
However, the group's distinct personalities and perspectives do sometimes result in clashes, and they have temporarily broken up many times before. Each time, though, they eventually recognize that the message of Santiago's Trip is bigger than their own visions, said Aboudkhil. The name Santiago's Trip comes from Selvalingam and Aboudkhil's favorite book, "The Alchemist," which follows a man named Santiago and his journey to find his personal treasure and unknown destiny.
"It's a metaphor for our musical career," Selvalingam said. "We don't know what our dreams will become, but we are sacrificing everything for it."