Theater student crafts symbolism into stage costume design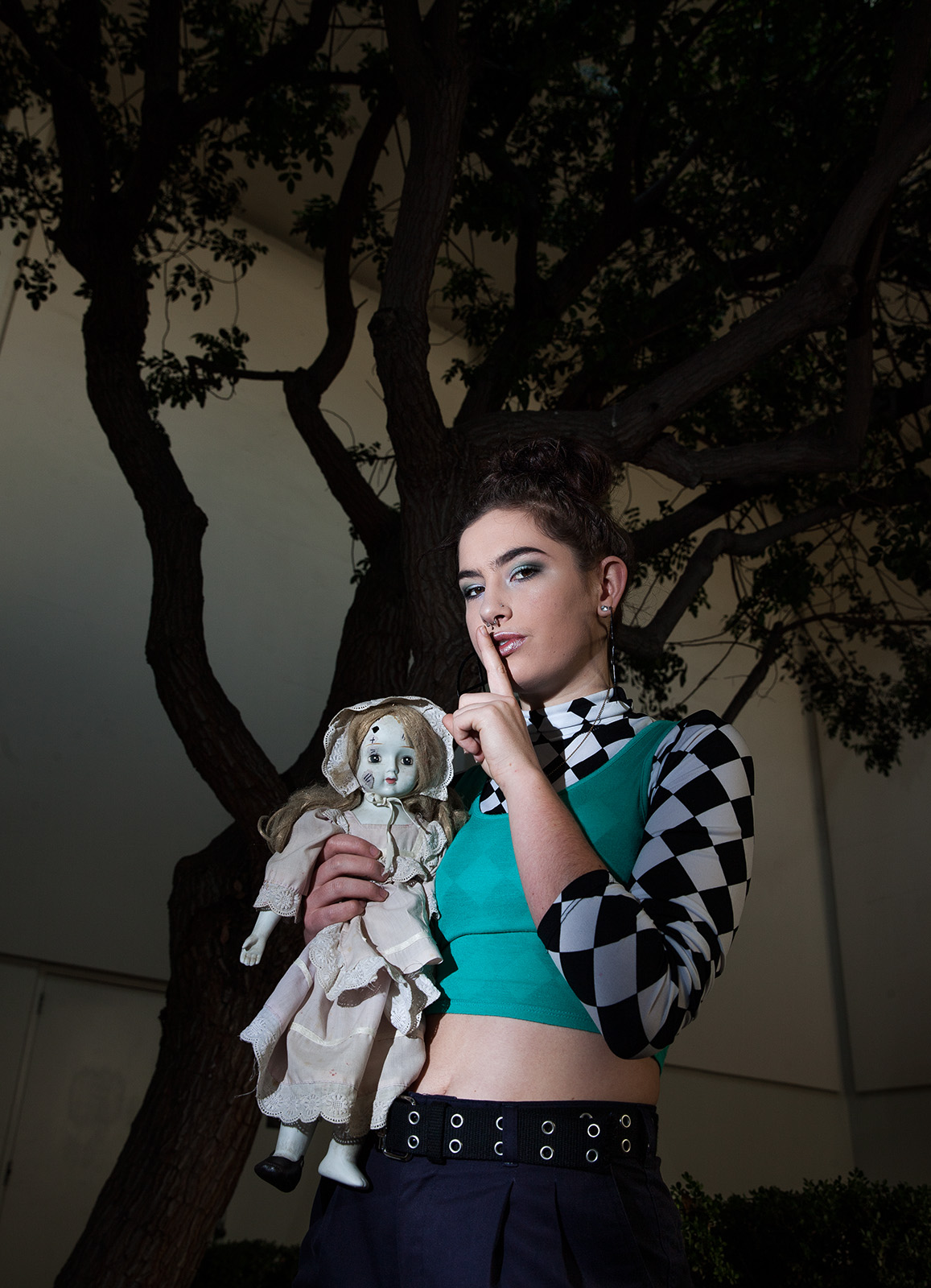 Kaylin Riebli, a second-year theater student, kept a creepy doll from the set of one of the past productions she designed costumes for. She said she tries to incorporate psychology into the makeup and costumes of the characters. (Aubrey Yeo/Daily Bruin senior staff)
Kaylin Riebli discovered her love for costume design while crafting her first grade Halloween witch ensemble.
When she was a child, the second-year theater student bought Halloween costumes with her mother and customized them until they became her own creations, changing the color of the buckles on a leprechaun outfit or the texture of a witch's broom.
But in sixth grade, Riebli expanded her costume design at home to the theater stage in local school productions.
Since then, Riebli has worked on several UCLA shows, including Act III Theatre Ensemble's "The Cure" – an immersive theater experience in October that featured bloodied actors portraying patients and audience interaction. The show was one of Riebli's first professional experiences with special effects makeup; she used liquid latex to simulate chemical burns, and red and blue yarn to create prominent veins. Riebli is now working on a less gory project, assisting with costumes, makeup and production design on a senior thesis film titled "Crosshairs," about a hired female assassin.
"It's my job as a designer to make the character come to life, to make them look good and to make the actor confident in their ability to portray the character," she said.
Riebli debuted her special effects talents winter in a theater class project depicting the seven deadly sins. Riebli designed each of the sins' original costumes – Lust in red leather and Wrath in torn motorcycle attire. Riebli also created gory autopsy scars for Wrath using dried hot glue, rubber cement, staples and fake blood – 20 gallons of which she currently houses in her dorm room.
Stefanie Chordigian, a second-year theater student, began collaborating with Riebli her first year. Chordigian said Riebli often practiced making artificial bruises and cuts on herself, experimenting with alternative materials for coloring, such as liquid lipsticks and blush.
"She pictures what she wants in her head, figures out the best method and will spend hours figuring out how to perfect what she loves to do," Chordigian said.
While on set for her current project, Riebli consolidated her multilevel toolkit of makeup into two powders and a Sharpie, which she used to touch up the main actress' makeup. However, Riebli said she only planned for minimal makeup reapplication because the actress' scene takes place at the end of a long day, and she wanted to let the makeup age naturally.
In the last thesis film she participated in, titled "Partying With Communists," Riebli had a more active role in the film's costume design. She discussed the script with directors and actors before searching for costumes at vintage and thrift shops and modifying them to fit each character's style.
Second-year theater student and co-costume designer Jared Davis said costuming the thesis film was a challenge because Riebli and Davis had difficulty finding clothing from the '50s. Luckily the designers were able to find '80s-styled dresses and coats that could be adapted to fit the era.
Riebli said she paired a green children's polo shirt with an '80s pattern and collar with '50s-styled pants, shoes and suspenders to fit the film's aesthetic and balance out the more modern style of the shirt.
To aid in the characterization, Riebli said she also tried to incorporate each of the characters' psychologies into their costumes. While designing the costume for the antagonist, a producer who blacklisted an actress who refused to sleep with him, she styled him with a red tie to denote aggression and an expensive suit to convey wealth and power.
Davis said that Riebli complemented his knowledge of the era with her meticulous commitment to detail. Riebli even found a pin with a bee on it to costume a character in the film that fights back – or stings.
"It's her ability to look at something small and see how it's going to contribute to the bigger picture and finding connections that you wouldn't have thought of with clothing, with colors, with shapes," Davis said.
As she continues to work on costume design for the thesis film, Riebli said the fun of watching someone put on a costume and transform is the same as it was when she was a child.
"Everything is intentional and that's what I love," she said. "Everything has meaning – every single scene, and cut, and zipper and texture of fabric means something to the storyline, to the director, to the show, to the character and therefore to the audience."