Students aim to explore meaning of sanctuary through art show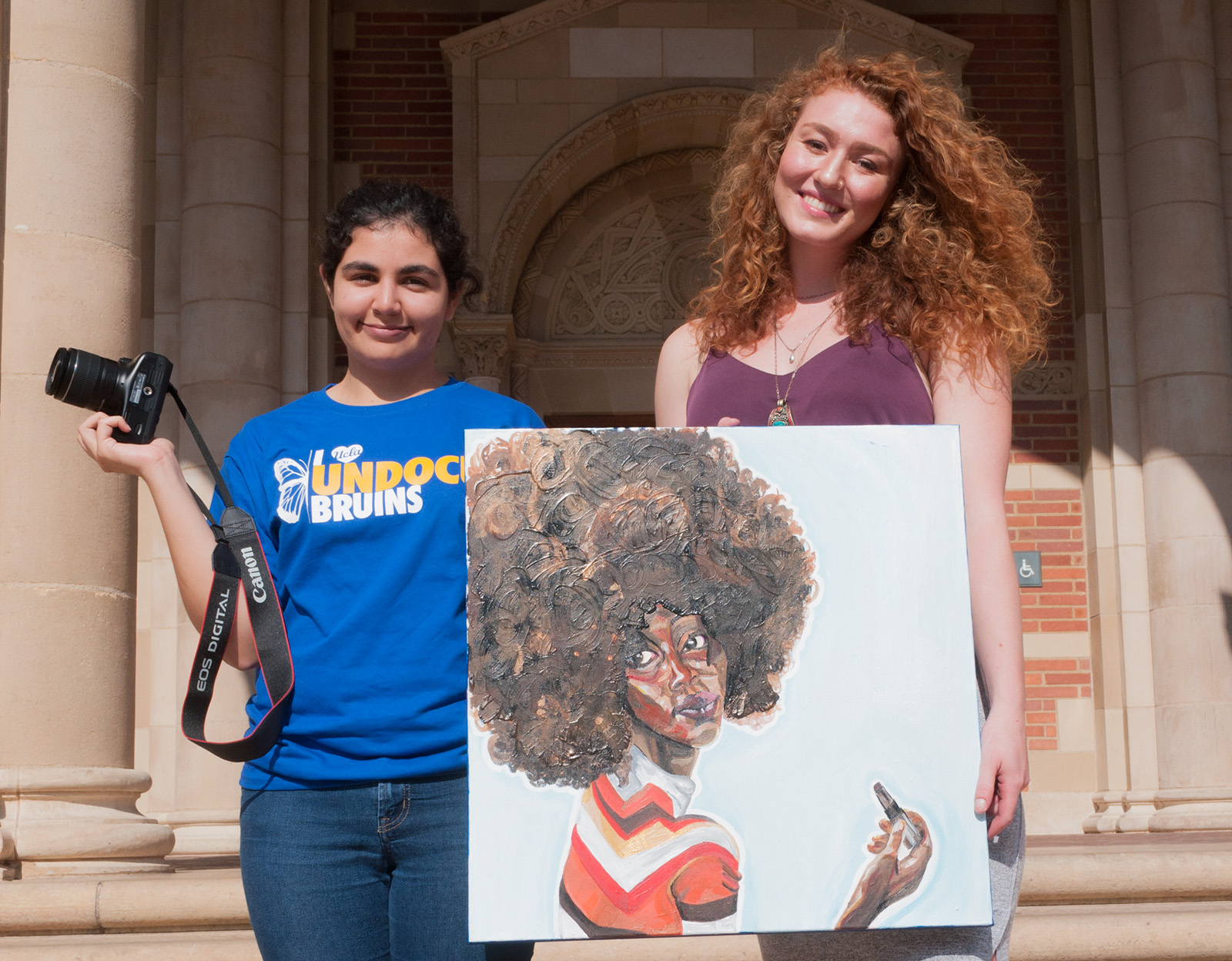 "Sanctuary Art Show" will feature works of art from students that tackle what "sanctuary" means to them, including a photograph by second-year political science student Nicole Corona Diaz (left) and a painting by fourth-year sociology student Sierra Bronkhorst (right). (Eda Gokcebay/Daily Bruin)
Nicole Corona Diaz and Nelson Chavez photographed hands painted as monarch butterflies for their latest art piece.
Their photograph will be displayed in "Sanctuary Art Show," which will open Friday in the Academic Affairs Commission office and display student artwork focusing on the theme of sanctuary on campus. Corona Diaz said the term "sanctuary" primarily describes a refuge for undocumented individuals, and students will demonstrate what sanctuary means to them through their personal artistic interpretations.
Event coordinator Audrie Francis, a fourth-year environmental science student, helped organize the Sanctuary Art Show because they found art to be a solace in today's political climate. Francis said they felt an art show might help students who are looking for comfort or catharsis after last year's presidential election.
"I hope that by having the show we can get people to look at the pieces and understand that feeling of safety," Francis said.
Corona Diaz, a second-year political science student and one of the artists in the show, said she uses art as a means to spread awareness about the undocumented community at UCLA, which she tried to do with her butterfly piece.
"(Sanctuary) is really important because it just shows that there's someone there in support of us," Corona Diaz said. "Once you have something like an art show, it may be able to impact another group of people that (isn't) necessarily that in tune with sanctuary through legislation."
An undocumented student herself, Corona Diaz said she used the monarch butterfly as a symbol in her photograph because the species is a common emblem of undocumented individuals in the United States. The butterflies also migrate from Canada to Mexico, paralleling many immigrants' journeys. Chavez, a fourth-year communications student, shot the photos after Corona Diaz came up with the idea and directed the shot.
Chavez said each person painted their own hand with a different design, representing the diversity that each individual brings to a community. Chavez said a sanctuary allows for people to be proud of their identities and family histories.
"Butterflies symbolize the world without borders," Chavez said. "They help with making communities grow, kind of like how we do."
Another artist, Sierra Bronkhorst, a fourth-year sociology student, will have four paintings in the exhibit. While her art does not pertain directly to the undocumented community, she said painting is therapeutic and the process creates a temporary sanctuary for her.
Bronkhorst's acrylic painting titled "Open Your Eyes" features a solitary female figure with an original, indistinct poem in the background. Bronkhorst said she intended to make the poem difficult to read to emphasize the idea that there is more to a person than the front they put up. Everyone going through their own individual struggles has the right to feel safe on campus, she said.
"I believe that (being in a) sanctuary (means) feeling safe on your campus, feeling you can go anywhere and feel completely okay with being there," Bronkhorst said. "You don't need to avoid anyone and you can just be you."
Another acrylic painting of Bronkhorst's, titled "Star Girl," features a red-and-orange figure on a starry, blue background. Bronkhorst said the contrast between the background and foreground is meant to direct the viewer's attention immediately to the painted figure and its vibrant colors. She said the red in the figure is meant to represent self-love as a part of female empowerment, which she tries to emphasize in her art.
"You deserve to have a great experience at UCLA regardless of who you are, your identity, where you come from, documented or undocumented," Bronkhorst said. "I think art is a great way to raise awareness of what you deserve."
Francis said they hope the exhibit will educate the UCLA community about the issues surrounding the concept of sanctuary. Art can embody the sense of safety that the movements to create sanctuaries strive to establish, in addition to elaborating on the complexity of the issue that cannot be addressed through words, they said.
"People who are tired of all the stuff that happens, who are weary, who just want a break from the difficulties of living in this scary time (should come to the exhibit)," Francis said. "I hope that those people can come and feel something positive afterward."