Maxime Cressy reflects on collegiate tennis journey, mental growth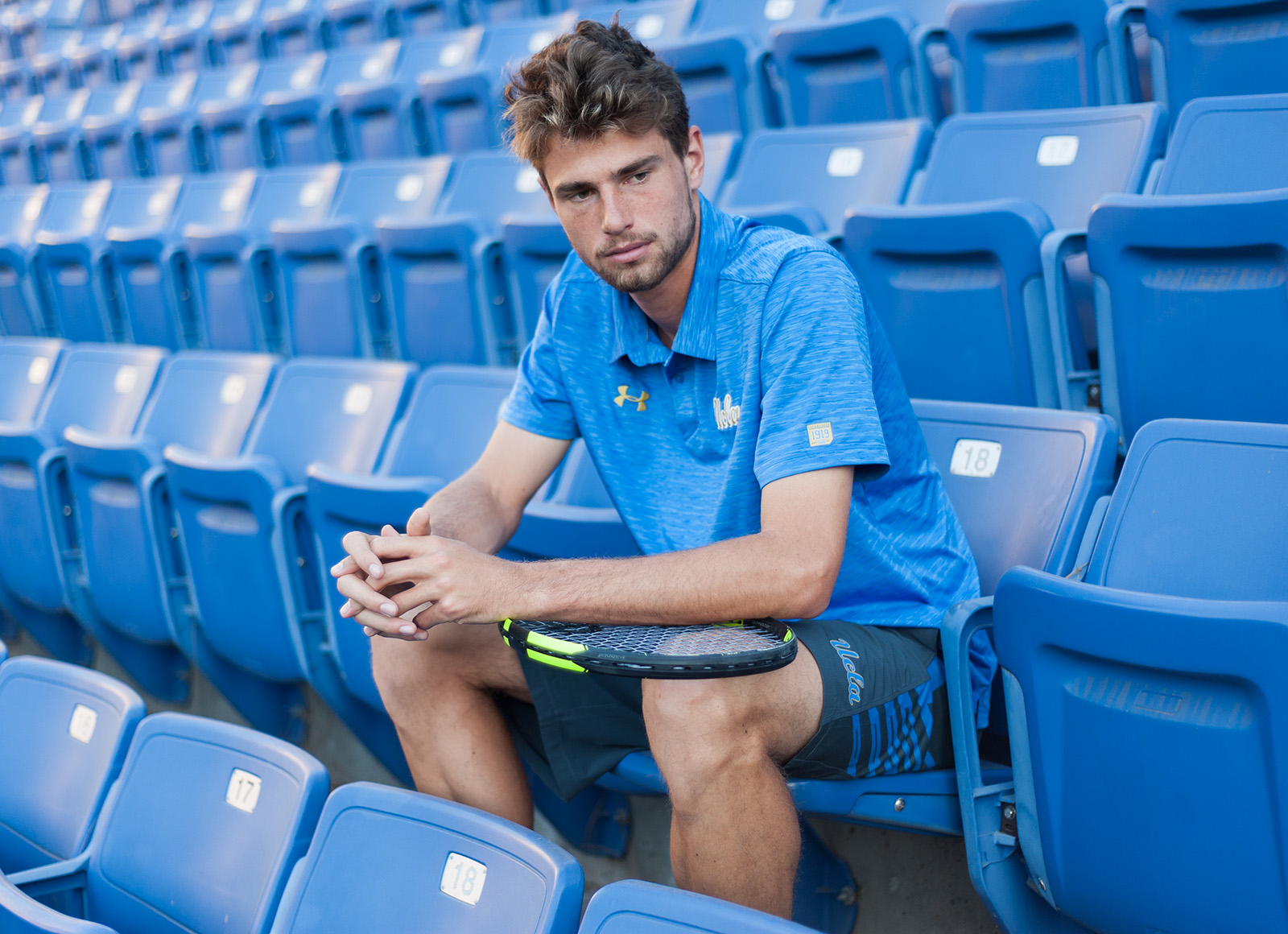 Junior Maxime Cressy was born in Paris, but decided to move to the United States toward the end of high school in order to attract college scouts. (Hannah Burnett/Assistant Photo editor)
His name is Maxime Cressy, but his brother calls him "Maximus."
"It was a direct reference to (Maxime Cressy's) pursuit of greatness," said his brother, Jonathan Cressy.
Jonathan Cressy said his brother Maxime Cressy, now a junior on the UCLA men's tennis team, dedicated himself to rising through the ranks of tennis at a young age.
Born in Paris, Maxime Cressy started playing tennis at age 4, when he would hit tennis balls against a wall with his racket because he grew bored watching his brother's tennis tournaments.
Idly hitting balls off the wall blossomed into practice sessions with his brother, which eventually turned into a youth tennis career in France strong enough to net a 9-year-old Maxime Cressy sponsorship deals with Wilson Sporting Goods.
The siblings spent those years playing tennis in North Carolina's sweltering heat. Jonathan Cressy said he quickly became exhausted and dehydrated, but kept playing because his brother remained dedicated to practicing.
"I was so impressed with his love for the game, determination and athleticism," Jonathan Cressy said.
Maxime Cressy soon became one of the top youth players in his home country. His 6-foot-7-inch height – Cressy has generally been a foot taller than his opponents – along with his powerful serve secured him a spot at CREPS de Boulouris, one of France's top tennis training centers.
In his last year of high school, Cressy decided to move to Ojai, California, to attract college scouts.
He got the attention he was looking for.
He was ranked a five-star recruit and was named the 22nd-best high school player in the 2015 class by the Tennis Recruiting Network. Schools like USC and the University of Michigan offered him spots on their teams.
Cressy's mother played volleyball at USC, and he originally thought he would follow in his mother's and brother's footsteps and become a Trojan.
After visiting UCLA, however, he spurned both Michigan and USC to come to Westwood.
"I really fell in love with the staff and the players. I really loved the stadium and the facilities are unbelievable," the mathematics/economics student said. "I thought Billy Martin was a great coach, and he really showed me that he believed in me."
Adjusting to collegiate tennis didn't come easily, however.
Cressy mostly played doubles his freshman year, where he logged a 1-4 record. He struggled with the challenges that came with his entry into collegiate tennis, including handling new pressures to win matches and not comparing his results to those of his teammates.
After the ups and downs of his debut season, Cressy dedicated himself to getting stronger, nimbler and mentally tougher.
Through practicing constantly during the offseason, improving his diet and doing extra stretches to prevent injury, he proved he deserved a spot in the singles lineup.
"I've been more mature since freshman year," Cressy said. "I've been complaining less and taking responsibility for my actions. I've worked much harder."
The Bruin said he also credits teammate Gage Brymer for helping his mental growth. Brymer, the top singles player in 2016, graduated with a 78-33 record in singles and a 31-23 record in doubles.
"(Brymer) set a big example for me," Cressy said. "I admired his calmness and patience on the court."
Cressy improved to earn a 20-11 singles and 19-17 doubles record his sophomore season. He was also ranked the 87th-best player in the nation.
"He is much more in control of his mind," Martin said. "His game has been very solid, but mentally is where he made his biggest improvement."
One of his most impressive wins came in the NCAA quarterfinals where Cressy and his partner, freshman Ben Goldberg, clinched five doubles points to notch a 6-4 victory against the 12th-seeded Georgia.
Cressy spent the summer playing professional tennis, and although he won his first professional tournament playing doubles in Belarus with fellow countryman Ugo Humbert, the experience made him realize that he still had much to improve.
"My mentality completely shifted when seeing how professionals were living day by day," Cressy said. "I realized I wasn't doing enough freshman year."
With two seasons left at UCLA, Cressy said he hopes to compete in a national championship and become a top-50 player in collegiate tennis before he graduates. After college, he hopes to continue playing professionally.
Cressy's high school coach, Mohamed Badran, said he thinks Cressy could become one of the best doubles players in the world because of his powerful serve and his volleys.
Badran also said Cressy was a good role model and example for the team's younger players.
"(Cressy) was very organized and well-prepared every day in practice," Badran said. "That helped us to set up examples for everyone else."
This has now also become true for the less-experienced players on UCLA's courts. One of only four upperclassmen, Cressy said he hopes to use what he has learned to guide and mentor newer players who might experience the same struggles.
And for the eight members of the Bruin roster with fewer than two full collegiate seasons of experience, Cressy's role will be more important than ever.
"I believe that I'm the one that should influence others," he said. "My mentality has shifted from being inspired by others to me providing inspiration to others."
Chang joined the Bruin as a freshman in 2017 and contributed until 2018. He spent time on the men's tennis beat.
Chang joined the Bruin as a freshman in 2017 and contributed until 2018. He spent time on the men's tennis beat.