The Quad: Some playlist ideas for Bruins looking for good stories, discussion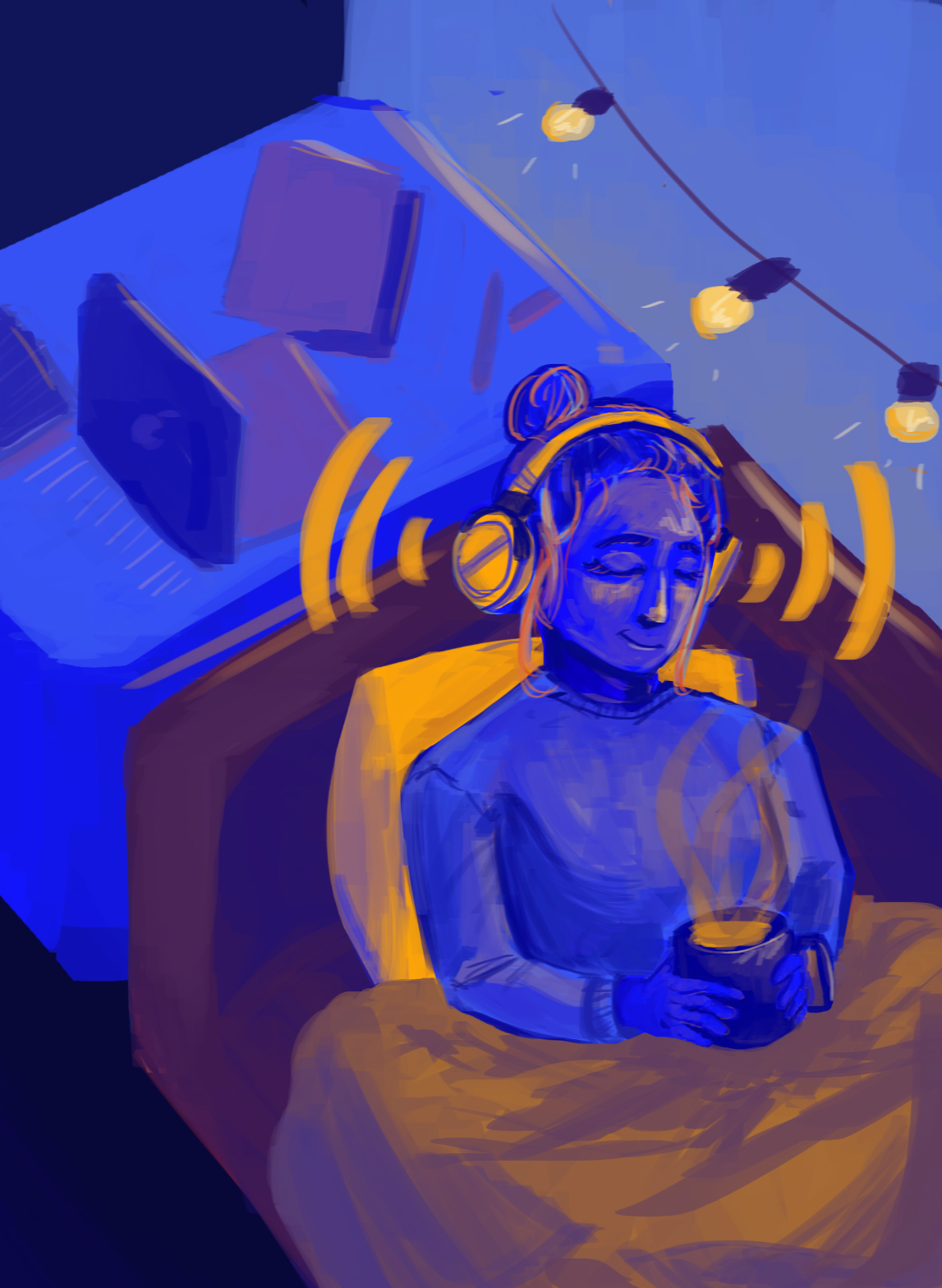 (Thomas Tran/Daily Bruin)
While we might all spend time carefully crafting the perfect music playlists, the wondrous world of podcasts is not to be overlooked. Whether you're looking to de-stress after midterms or want something new to listen to while studying, there's a podcast for everyone.
Pop Culture Breakdown
"Talking TV With Ryan and Ryan"
If you're like me and are current on almost every popular TV show, "Talking TV with Ryan and Ryan" is for you. Co-hosts Ryan McGee and Maureen Ryan delve into all types of TV shows, from the most popular to the most underrated, and discuss whether or not they are worth the time.
If you're looking for analysis, theories and interesting details you may have missed, Talking TV has you covered. McGee and Ryan are spoiler-friendly and have probably seen everything you have, plus all the shows that have been weighing down your must-watch list.
Length: 1 hour
Listen to "Talking TV with Ryan and Ryan."
"Why Oh Why"
In a world dominated by social media, meeting people can be hard and no one understands that better than Andrea Silenzi. In her documentary- and memoir-style podcast, Silenzi attempts to navigate the modern and fickle dating scene of the millennial generation.
Using Tinder, Bumble and other dating apps as her guides, Silenzi has in-depth and sometimes intrusive conversations with friends, dates and experts on what romance means in the digital age. For those of you looking for dating stories or for tips on how to use technology to your advantage in relationships, "Why Oh Why" is perfect.
Length: 20-40 minutes
Listen on Spotify.
Riveting Narratives
"S-Town"
Murder, intrigue and the Southern Gothic subgenre all come together in "S-Town." If Mark Twain were to come back to life and decide to do a podcast, this would be it. Told from the perspective of a journalist through a series of interviews, "S-Town" unravels the mystery behind a seemingly innocent, little town in rural Alabama.
Created by the same people who did "Serial" and "This American Life," "S-Town" embodies everything that makes narrative podcasts great. It's full of sardonic wit and captivating turns – perfect for anyone who's craving a Southern mystery. Whether you need something entertaining to listen to while you're doing homework or need something exciting during your walk to class, "S-Town" is great for any occasion.
Length: 7 episodes, 1 hour each
Listen to "S-Town."
"Making Oprah"
Just in time for Oprah's Favorite Things 2017, you can get the in-depth story of how Oprah became the media icon she is today. The three-part series told by Oprah herself chronicles her rise to fame in a story of resilience and determination.
The podcast is worth a listen, even if it might seem like an unusual choice. If you're looking for a hearty, feel-good story, this is it. At the end of the day, it's about a woman who has captured the ears of a generation and who might just be our president one day. If anyone's story deserves to be told like this, it's hers.
Length: 3 episodes, 1 hour each, plus 3 bonus episodes
Listen at NPR.
"Homecoming"
"Homecoming" might as well be a novel or TV show; it's the kind of podcast that demands that type of attention. With a star-studded cast featuring Oscar Isaac, Catherine Keener and David Schwimmer, "Homecoming" becomes more and more deceptive as you listen.
Season One focuses on a caseworker (Keener) and her struggles with her boss (Schwimmer), as she works with a new patient, a former military operative (Isaac). As the fly-on-a-wall listener, you learn about this mysterious facility mostly through phone calls and voice recordings. With no definite narrator, it's up to the listener to put the pieces together, and once the puzzle is solved, there's no going back.
Length: Season One – 6 episodes, 30 minutes each; Season Two – 6 episodes, 30-40 min each
Listen on Spotify or at Gimlet.
Getting Your True Crime Fix
"Serial"
"Serial" might be the most famous podcast out right now, and there's a reason for it. It seems to be the perfect podcast: Captivating and suspenseful, it will keep you at the edge of your seat.
Season One focuses on high school senior Hae Min Lee, who was allegedly murdered by her ex-boyfriend Adnan Syed in 1999. However, more than a decade after the trial, host Sarah Koenig digs deeper and slowly uncovers the complex story behind the murder and the trial itself. Primarily told through voice recordings and confessionals, "Serial" will keep you hooked from the beginning. You'll be dying to binge-listen.
Length: Season One – 12 episodes, 1 hour each; Season Two – 11 episodes, 1 hour each
Listen to "Serial."
"Up and Vanished"
Similar to "Serial," "Up and Vanished" focuses on an unsolved crime from several years ago. While "Serial" is already on its second season, "Up and Vanished" is a fairly new podcast about the 2005 disappearance of a high school teacher in Georgia.
Host Payne Lindsey explores the documents from the biggest case file in Georgia's history to try and solve the complex case. It's a long and convoluted journey, but it's definitely worth a listen.
Length: 20 episodes, 30 minutes-1 hour each
Listen to "Up and Vanished."
"Crimetown"
While "Serial" and "Up and Vanished" focus on individual crimes, "Crimetown" delves into organized crime and mafias in towns across the United States.
In its first season, co-hosts Marc Smerling and Zac Stuart-Pontier tell the story of crime lord Buddy Cianci and his political career in Providence, Rhode Island. The story is revelatory, shocking and, most of all, enveloping. Get ready for a detailed look at crime like you've never seen before.
Length: 18 episodes, 30-40 minutes each
Listen on Spotify or at Gimlet.
Political Podcasts
"Pod Save America"
"Pod Save America" is my go-to podcast when it comes to gaining valuable and necessary insight into the state of our union. Jon Favreau, Tommy Vietor, Jon Lovett and Dan Pfeiffer – all previously aides to former-President Barack Obama – co-host this informative yet comical podcast focusing on President Donald Trump's administration and its effects on the American people.
The reason "Pod Saves America" works is not because of its use of guest politicians, comedians and activists. Lots of podcasts do that. What really makes "Pod Save America" special is the ability of its co-hosts to give their viewers a unique perspective into the differences between the Obama and the Trump White Houses. Since they all have a firsthand account of what a successful White House looks like, they are the people to answer the question: "Can he really do that?"
Length: 1-2 hours
Listen on Spotify or at Pod Save America.
"Call Your Girlfriend"
If you're into uncensored, liberal feminism on steroids, "Call Your Girlfriend" is perfect for you. I first started listening to "Call Your Girlfriend" when a female friend recommended it to me. And while it might be uncomfortable for a cisgender, heterosexual male at first, there is only so much time before your lack of perspective catches up to you.
Co-hosts Aminatou Sow and Ann Friedman talk about everything socially conscious best friends do – from the 2017 elections in Virginia and New Jersey to important TV shows worth a watch.
They're funny, unfettered and, most importantly, effective. You should be listening.
Length: 30 minutes-1 hour
Listen on iTunes or at Call Your Girlfriend.
"The Daily"
The New York Times has your back if you don't have time to read a newspaper to get your daily dose of news. Instead of reading 10 different articles, you can listen to this one podcast in which Michael Barbaro interviews experts to give you a concise yet thorough rundown of what is going on in our country.
This podcast might seem dense to those who are new to political journalism, but what it lacks in humor and entertainment, it makes up for in candor. Whether you want to stay updated on your own accord or need to stay current for your political science class, "The Daily" gives you a hard and fast way to stay informed.
Length: 20-30 minutes
Listen to "The Daily."
Happy listening!