Transborder conference discusses minimum wage implications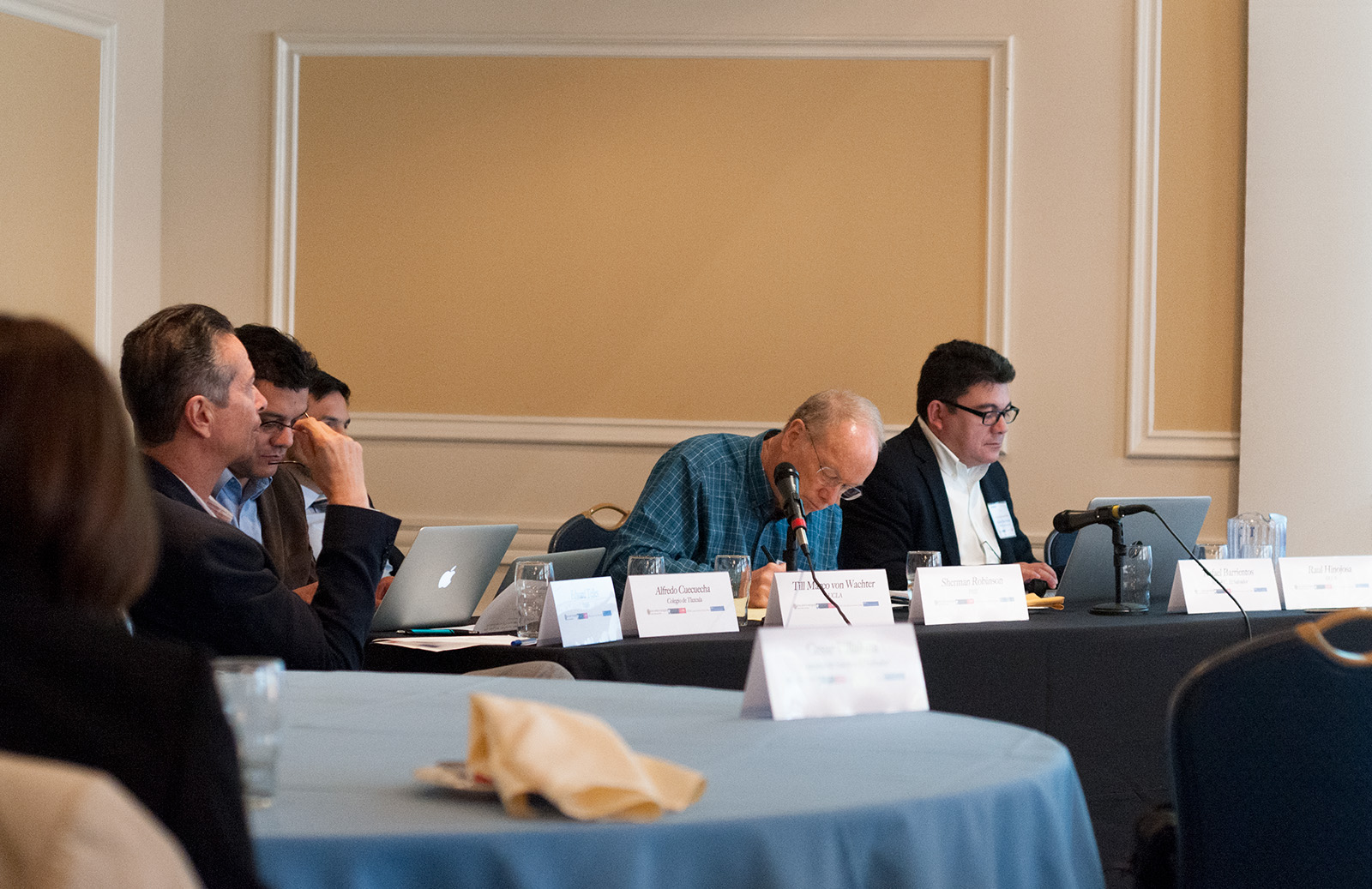 Speakers at the Raising Wages Across Border Conference, held at the UCLA Faculty Center, talked about the effect of minimum wage increases on different communities and the positive impact of immigration on the economy. (Sharon Zhen/Daily Bruin senior staff)
Policymakers and academics from North and Central America said at an event Monday they think raising the minimum wage will benefit people, including small business owners, over time.
Several organizations including the UCLA Luskin School of Public Affairs and UCLA Institute for Research on Labor and Employment, held the Raising Wages Across Borders Conference at the UCLA Faculty Center. The event is part of a collaboration among the University of California campuses and Mexican universities, said Raúl Hinojosa-Ojeda, a UCLA associate professor of Chicana/o studies and one of the organizers of the event.
Hinojosa-Ojeda said policymaking nowadays focuses a lot on national interests, so bringing academics and policymakers from different countries together helps deal with the transnational aspects of it.
Policy leaders from the U.S. and abroad spoke about the impacts of raising the minimum wage on different communities.
Hilda Solis, former secretary of labor and current Los Angeles County supervisor, said unincorporated areas, or areas not governed by local municipal corporations, such as East Los Angeles, are worried about implementing minimum wage increases because there are many small businesses in the area.
East LA is phasing in the minimum wage requirement gradually so that businesses can acclimate to the change, Solis added. Many small businesses in East LA have fewer than six employees, and raising the minimum wage would increase their operation costs, Solis said.
Till von Wachter, an associate economics professor at UCLA, said California's eventual minimum wage of $15 an hour would benefit a projected 40 percent of the workforce in Los Angeles. He added minimum wage increases usually do not have any effect on employment and typically only negatively affect young workers because businesses may cut back on hiring workers.
Union representatives and researchers also talked about the positive impact of immigration on the economy.
Maria Elena Durazo, general vice president for Immigration, Civil Rights and Diversity at the union UNITE HERE, said at the event she faced economic struggles growing up in a migrant worker family. She added her two older sisters had to drop out of school to work and help support everyone else in the family.
"We did not have toilets in the fields, no clean drinking water. The airplanes were flying over us while we were working and spraying pesticides," she said.
Durazo said she thinks immigrants should not be discriminated against for wanting a better life for their families and should be able to earn a liveable wage.
"(Immigrants) carried their children on their backs, went without food, walked throughout the nights, joined unions, became leaders and finally citizens whose vote was a part of a changing California," she said.
Sherman Robinson, a senior research fellow at the International Food Policy Research Institute, said undocumented workers in the United States represent 5 percent of the workforce and deporting them would affect the economy negatively, especially in sectors that employ many undocumented workers, such as agriculture.
Robinson added if the U.S. deports large numbers of immigrants, they will not be able to send remittances to family members in their home countries. He added he believes legalizing undocumented individuals will help them become more productive by giving them wage incentives.
''When we legalize them, we get rid of the wage difference," he said.
Zhen is an assistant news editor for the national and higher education beat. She was previously a contributor for the campus politics beat and an online contributor.
Zhen is an assistant news editor for the national and higher education beat. She was previously a contributor for the campus politics beat and an online contributor.