Biochemistry student uses Tumblr to share advice, UCLA experiences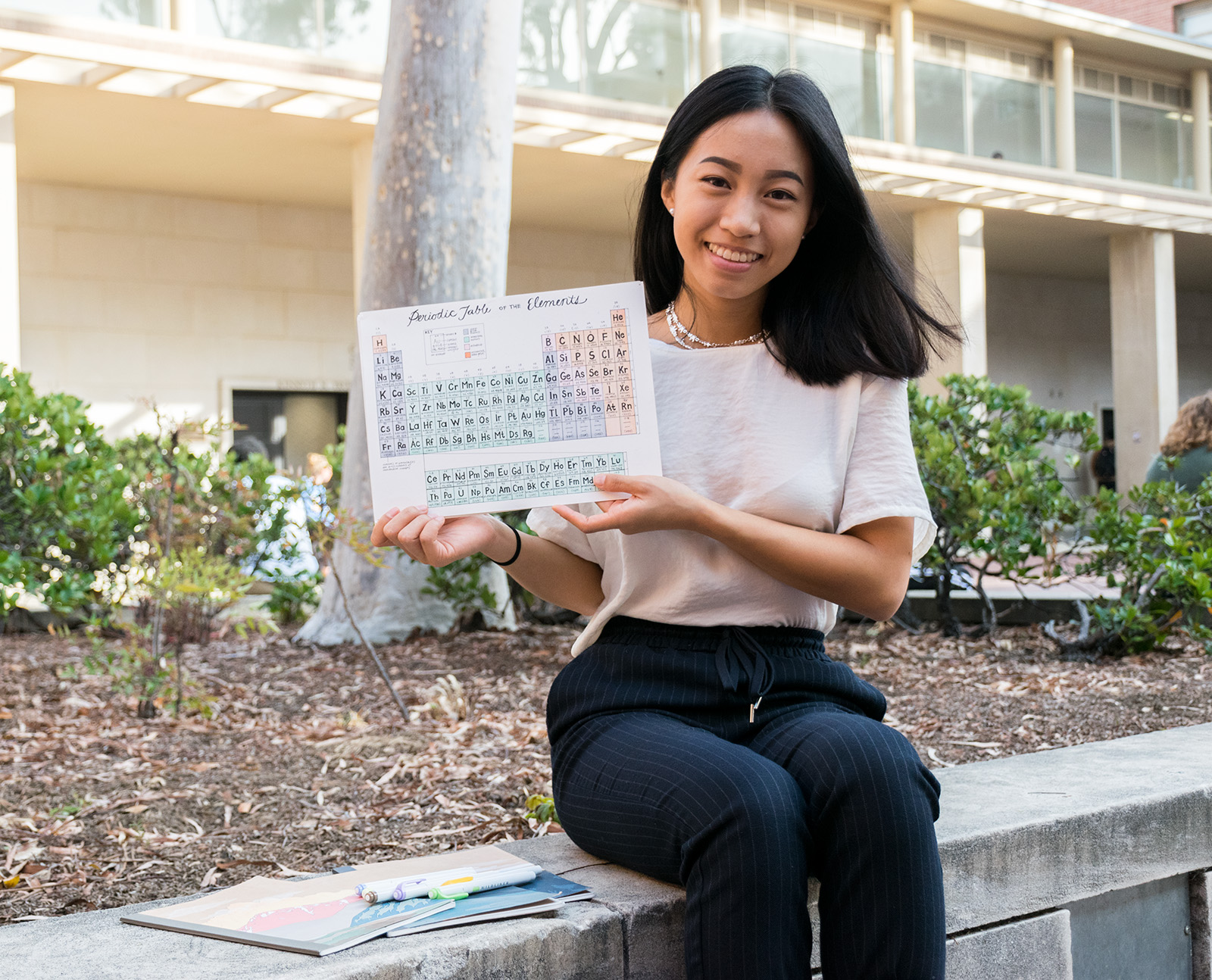 Second-year biochemistry student Ellee Vikram tries to spend one hour a day on her study Tumblr, or "studyblr," where she answers school-related questions from her followers and posts photos of her notes, including a color-coded periodic table. (Farida Saleh/Daily Bruin)
Social media is usually a distraction, but Ellee Vikram has turned it into a study tool for students.
The second-year biochemistry student addresses school-related questions through a study Tumblr, or "studyblr," which she created her senior year of high school. Vikram said she did not have much to post about in high school, but after attending her UCLA orientation, she began actively sharing her experience on Tumblr. She said her blog "Ellee at UCLA" has accumulated thousands of followers.
"I really like to share what I know because I really wish I knew what I know now back then," Vikram said.
The top of Vikram's blog features an open book with an inspirational message before delving into calligraphic, handwritten notes she posts along with advice for studying and making the most of college life at UCLA. Vikram said she works on her blog during her free time in between classes and her shifts as a lab assistant.
"When I'm not feeling motivated to study, I'll go on there and remind myself why I even have the blog – because I go (to UCLA)," Vikram said. "It's not a demanding platform … it's a de-stresser."
When the 2021 UCLA admission decisions came out in spring, Vikram posted on her blog that she was an attending student and could answer any questions prospective students had. She also posted about her studyblr in the Class of 2021 Facebook page.
First-year biochemistry student Kai Huang reached out to Vikram to ask about switching his major from biology to biochemistry last summer. He said Vikram answered major-related questions while also helping him pick out classes for the upcoming quarter.
Like Huang, Vikram said most of her viewers are freshmen, but she has also received questions from transfer students, first-year graduate students and high school students.
Common questions on her blog ask about study strategies for specific classes, the best activities to get involved with on and off campus and personal questions for Vikram herself. High school students also tend to ask for advice about the college application progress.
Kianna Shore, a graduate screenwriting student, said student life at UCLA is not seen as an integral part of the graduate experience, so she learned about specific UCLA school traditions and other student life activities from Vikram's studyblr.
"(Vikram) helped me learn a lot about UCLA's culture and life in LA before I even stepped foot on campus," Shore said.
Herlyn Mcintosch, a first-year biology student, began following Vikram's blog over the summer after searching through studyblrs and seeing that Vikram attended UCLA. Mcintosch said Vikram's studyblr has a nice theme as well as great tips for how to approach studying for different classes.
"(The studyblr) definitely has made me feel like there are other people that understand and are struggling … so I'm not the only one that's confused," Mcintosch said.
Vikram said she chose to use Tumblr for her blog because of its customization options. Vikram chose a white, minimal theme, accented with blue for UCLA, which she said shows off photos and makes text-only posts easy to read.
Vikram said another aspect of Tumblr that appealed to her was the anonymity of her blog. She can share advice without having the pressure of presenting live, while readers do not have to worry about asking a dumb question in front of others. However, sometimes not knowing who is asking a question can create a problem. If a student does not actually go to UCLA, she might respond with an answer that is only specific to the school, she said.
Vikram tries to spend an hour on the blog each day posting and answering questions, and has also been working on redesigning the layout of the website to keep the theme fresh. However, Vikram added while she is able to give students advice, she hopes they also learn from their own experiences.
"I could definitely tell people about all the things I've been through, so they know what to expect … but what helps you score well on midterms may not be what helps me score well on midterms," Vikram said. "So although I can offer my opinions and guidance through certain things, I do hope that students take it all (with) a grain of salt and aren't afraid to try their own thing."