UCLA alumnus portrays US-Mexico border through contemporary art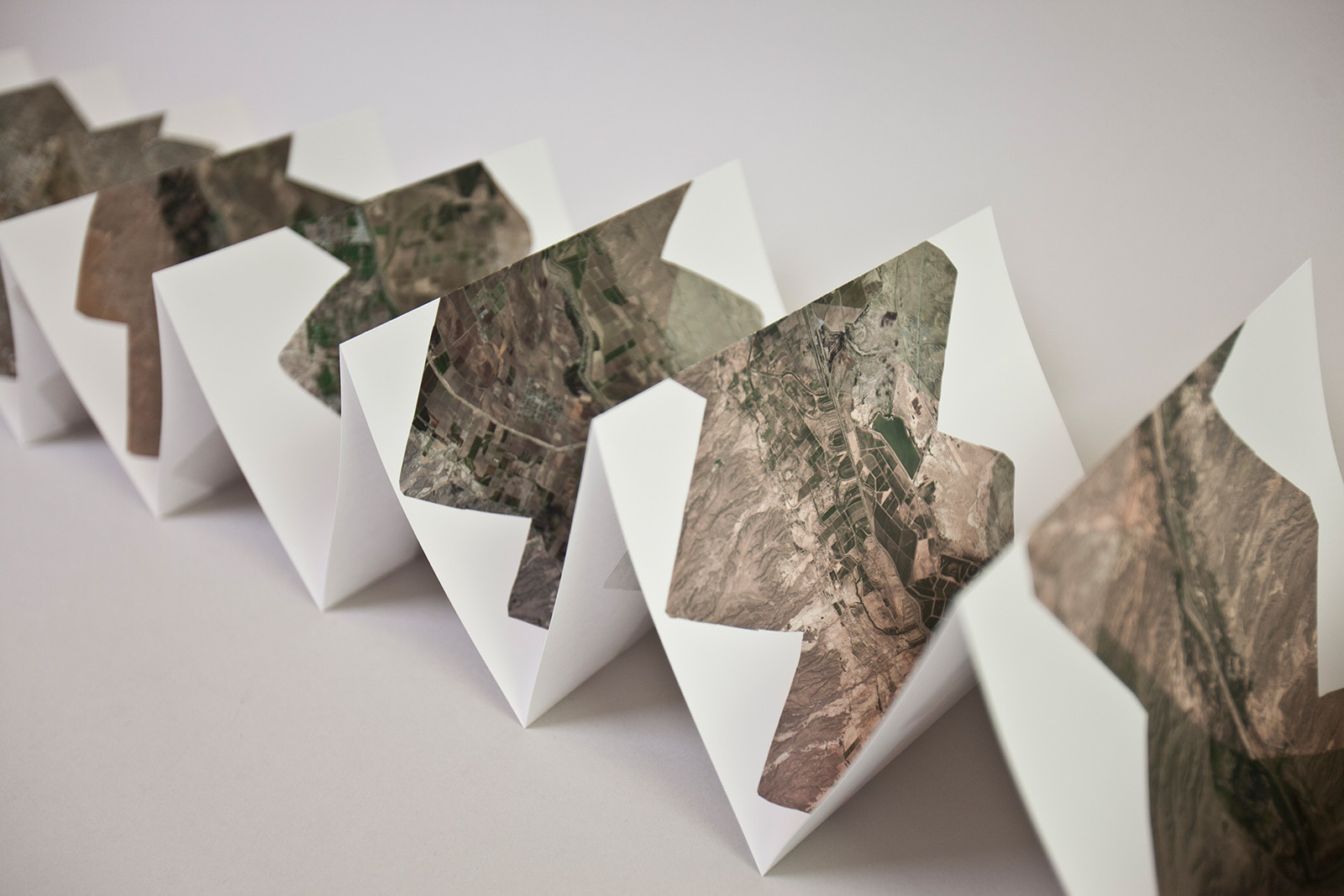 UCLA alumnus Daniel Schwarz' parallel accordion photo books depict 2,000 miles of land between the United States and Mexico. The artwork is running at the "Frontera" exhibit at Canadian Photography Institute in the National Gallery of Canada until April 2. (Courtesy of Daniel Schwarz)
This post was updated Nov. 9 at 11:29 a.m.
Daniel Schwarz compressed the entire 1,954 miles of the U.S.-Mexico border into two parallel accordion photo books.
One book starts at the Pacific end of the border while the other starts at the Mexican Gulf end of the border.
"For me, the interest is really using the border as an example of what goes on in public lives in general and where we have a lens or can direct our gaze to look at … systemic violence," Schwarz said.
The UCLA alumnus' art piece is featured at "Frontera," an exhibit at the Canadian Photography Institute in the National Gallery of Canada, which will run until April 2. The exhibit, also featuring works from six other artists from around the world, aims to question the concept of a border, said Luce Lebart, the curator of the exhibit and the director of CPI.
"For me, what is important is … how the works connect with each other and how it makes the question about what is a border – is it a boundary and a barrier or a passageway, or is it both?" Lebart said.
Schwarz began his art career studying computer science and media, but he slowly became more interested in visual art because of its innate versatility, he said.
"Computer science at that point constrained me, and I was very attracted to flexibility, (to) work on a very broad range of topics and engage with them in new ways that I wasn't able to beforehand," he added.
For his photo books, Schwarz drew from a mix of personal experiences and artistic focus. A German native, Schwarz said he was able to easily cross back and forth between the borders of Switzerland and Germany without waiting or being surveilled. But after coming to America and traveling to and from Mexico, seeing the U.S.-Mexico border was an eye-opening experience, he said.
"It's a very one-directional border where Mexico does not control the border at all; it's purely on the U.S. side," he said. "Having this imbalance makes it a highly problematic site."
Schwarz began making his photo books by acquiring satellite images. He screenshotted each mile of the U.S. and Mexico border on Google Earth and then connected the pieces through Photoshop. The aerial images are stitched together, with the border at the center of each book lengthwise.
Lebart said she was drawn in by the photo book format. When fully elongated, each pair of pages props up like a mountain, acting as both a physical and figurative border, Lebart added.
"I find it amazing, this idea of having in one book … a representation of the whole border," Lebart said. "A representation that is impossible in fact — it's never possible to get it as a whole."
Other featured artists at the exhibit, like independent photojournalist Kirsten Luce, took a somewhat different approach to the analysis of borders. Luce took photographs using a Canon Mark III camera while flying over the Rio Grande Valley in border patrol helicopters. One of her photographs, depicting a supposed smuggler swimming across the Rio Grande back to Mexico, will be on display at "Frontera."
Luce said she saw a surge in crossings at the Rio Grande in 2014, which compelled her to document both the landscape and the increased spending on U.S. border patrols, an occurrence that had never historically happened before.
"My primary goal is to create images that are timely and relevant and help convey a larger idea," added Luce. "For me, it seemed very timely to photograph this mixture of landscape and to show exactly what apprehensions looked like down there and what we're spending money on as taxpayers."
Recognizing the inherently political nature of her work, Luce said she wanted to make sure her photographs portrayed the events and situation at the border honestly and accurately without intentionally making a political statement.
"I know that it's timely and relevant, but I tried to be very careful to not to show any bias in my photographs," said Luce. "The main thing I want to show is the scope and intensity of what it actually means, on a daily basis, to enforce immigration laws and to 'attempt to secure a border.'"
However, Schwarz said he wanted his project to make a statement on the problematic nature of borders.
"Borders and the other-ing of people have been part of human experience throughout all of history," he said. "If we move to more global issues … some of these complexities and issues and human rights violations at the U.S.-Mexico border can easily be transferred to other borders around the world."