Men's tennis takes home two victories in final weekend of fall season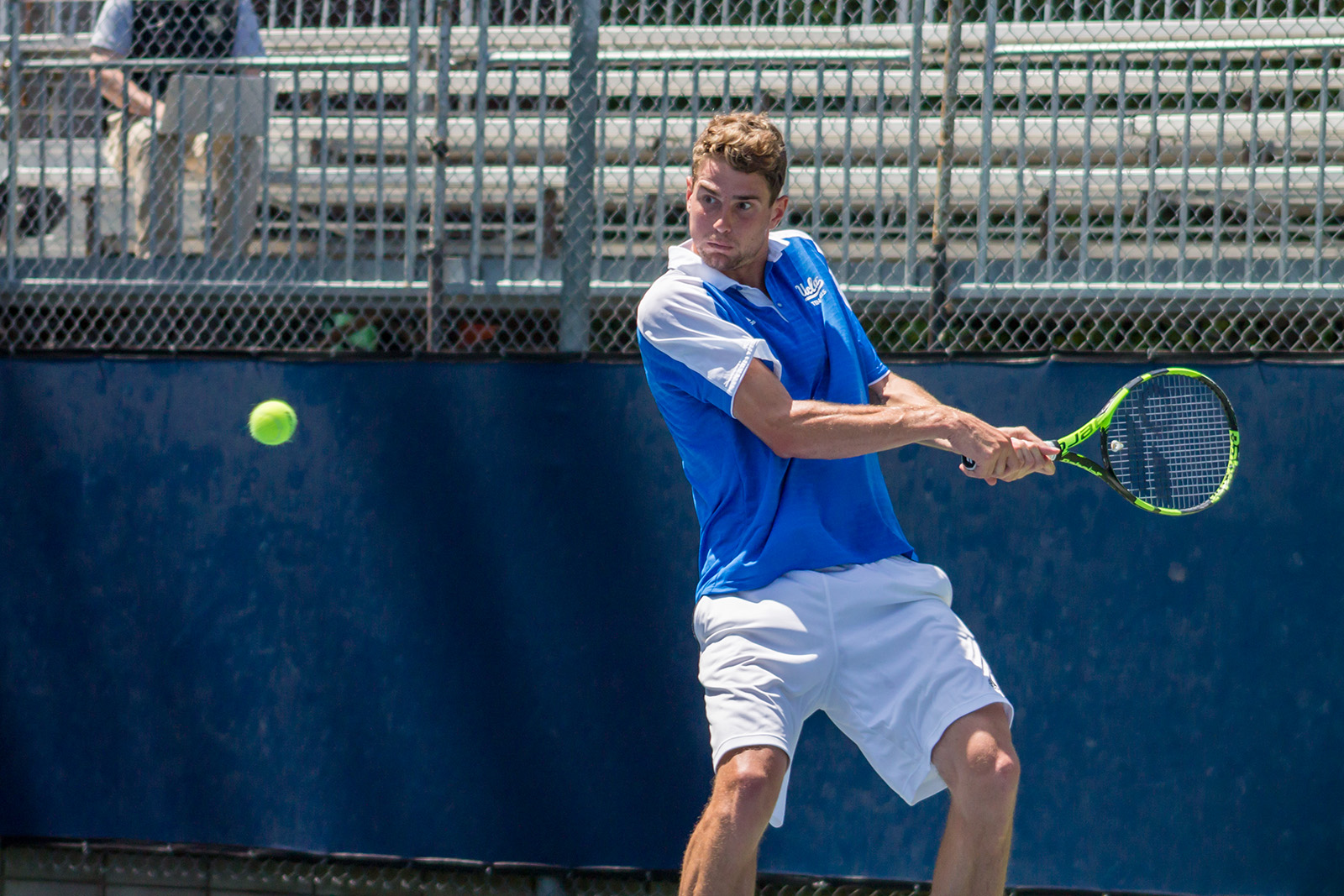 Junior Maxime Cressy won in the Larry Easley Memorial Classic held in Las Vegas. Cressy was one of two Bruins to take home a victory this weekend with the other being freshman Keegan Smith. (Emma Skinner/Daily Bruin)
Three tournaments, two victories.
The UCLA men's tennis team took home honors in two of the three tournaments it participated in this weekend.
Senior Martin Redlicki lost in the semifinals of the Oracle Intercollegiate Tennis Association National Fall Championships, but junior Maxime Cressy won in the Larry Easley Memorial Classic, and freshman Keegan Smith took the title in the Jack Kramer Fall Invitational.
Smith beat Tom Fawcett of Stanford – the No. 8 player in the nation – in a back-and-forth 6-3, 3-6, 6-4 win. This win marks his first tournament championship in the college circuit. As a freshman, Smith said he realizes he still has much to work on before winter season rolls around.
"I had to focus and come back to basics," Smith said. "I got my first serves in and got that heavy forehand ball. I believed in myself and trusted my shots. Once we start practicing again, I'm going to work on my volleys and work on my serve but beating a guy like Fawcett boosted my confidence and was a great way to cap off the fall."
Coach Billy Martin said he was impressed by Smith's growth this season, as he turned his season around with the win after getting beat in the past few tournaments.
"I'm really happy for (Smith) when he turned around and won this tournament this week," Martin said. "It's a good thing for a young freshman to do."
In Las Vegas, Cressy beat San Diego State's Arnaud Restifo soundly, 6-1, 6-0.
"It was really windy," said Cressy. "However, it was an advantage with me with respect to my opponents to my game and height. Overall it was very positive and I was solid at the net, my returns were better and my groundstrokes were better."
In the ITA National Fall Championships, Redlicki lost 6-2, 6-4 in the semifinals to No. 1-seed Nuno Borges of Mississippi State. Senior Logan Staggs was knocked out in the second round 6-3, 6-1 against JJ Wolf of Ohio State.
"I'm really proud of (Redlicki) playing against the stiffest competition in the county and making it to the semifinals," said Martin. "He proved that he was one of the top guys in the tournaments."
With the conclusion of these tournaments, the Bruins end their fall season with success in singles but are still honing out their doubles pairs with players such as sophomore Ben Goldberg and Smith.
"(We've) got to get in better shape," said Martin. "Doubles didn't go well, but we are still mixing and matching our doubles lineups."
Chang joined the Bruin as a freshman in 2017 and contributed until 2018. He spent time on the men's tennis beat.
Chang joined the Bruin as a freshman in 2017 and contributed until 2018. He spent time on the men's tennis beat.