Cubing Club at UCLA puzzles over Rubik's Cubes, builds cuber community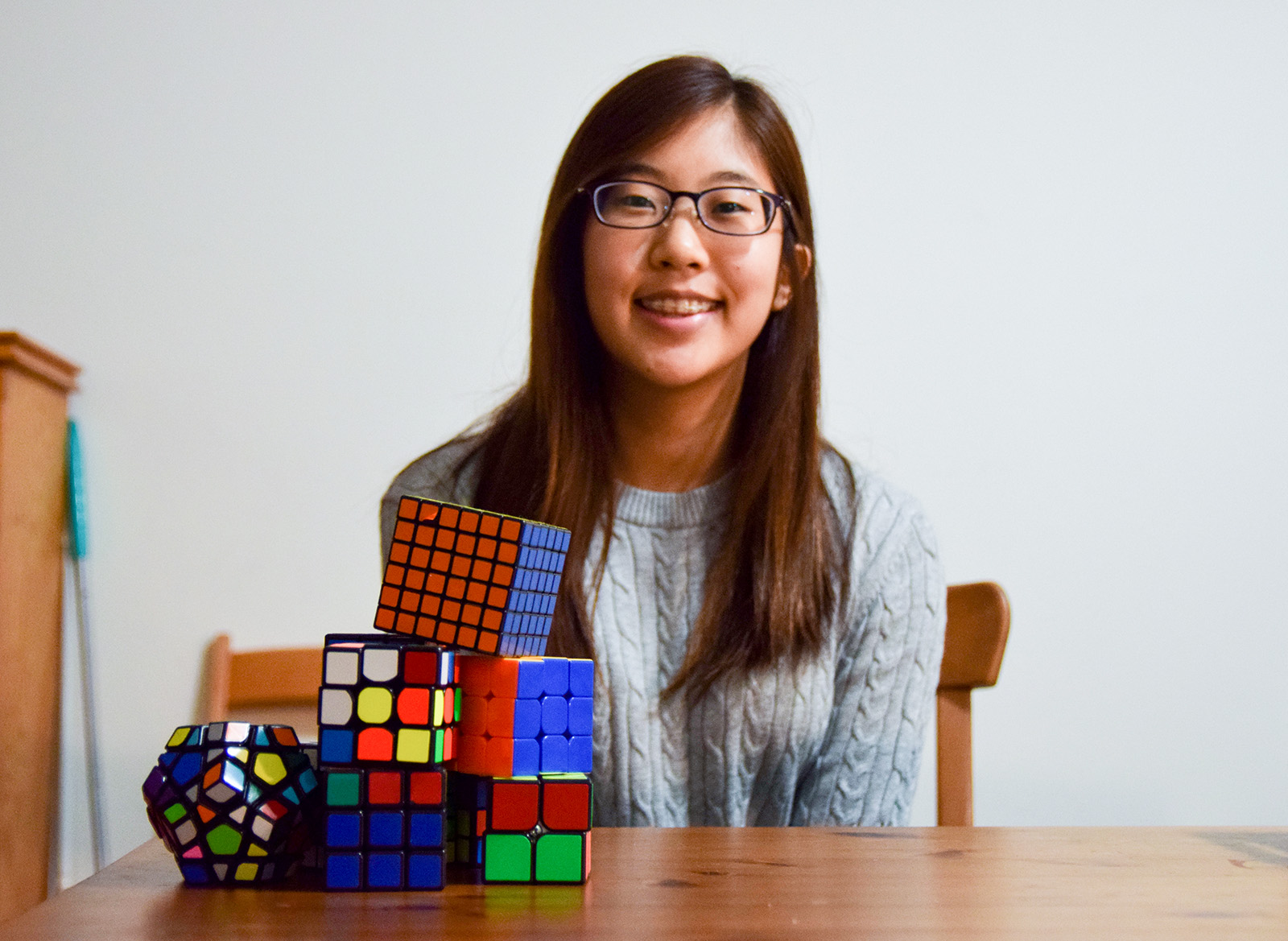 Third-year psychobiology student Allison Yoon co-founded the Cubing Club at UCLA which meets to solve different types of Rubik's cubes as quickly as possible and under challenging conditions such as being blindfolded. Yoon said it was important for her to establish a UCLA club for other fellow cubing enthusiasts, which has around 10 to 20 members. (Michael Zshornack/Photo editor)
Allison Yoon picked up her Rubik's Cube whenever her hands were free during her winter break of her second year.
But by the end of her break, Yoon, a third-year psychobiology student and co-founder of the Cubing Club at UCLA, said she had become obsessed with setting new personal records on her 3-by-3 Rubik's Cube – spending all of her free time trying new techniques and watching videos from other avid cubers online.
Cubing involves solving different types of Rubik's Cubes as quickly as possible and under challenging conditions such as being blindfolded. Because there are multiple ways of approaching the activity, Yoon said it was important for her to establish a UCLA club for other fellow cubing enthusiasts, which has around 10 to 20 members.
"When I first found out about cubing, I really wanted to find a cubing club," Yoon said. "I like to do things with other people and talk about it with others (who have) common interests."
Karthik Ramesh, a third-year computer science student and co-founder of the Cubing Club, said he would talk to Yoon about different techniques and methods when they lived on the same floor in Canyon Point during their second year.
Because Ramesh had established a cubing club in his high school, he said he encouraged Yoon to start another one here at UCLA, which the two of them created winter quarter last year.
"When I found out so many people had this common interest that we would talk about, we wanted to start a club because UCLA is such a big place and I was sure we would find others to join," Ramesh said.
As the club grew in membership, members expanded their cubing techniques to include alternative methods to the classic 3-by-3 Rubik's Cube. Along with working on getting faster times, new members also diversify the tricks they use, like one-armed cubing or solving larger cubes, Yoon said.
One of the newer members, first-year applied mathematics student Thomas Valles, became an avid cuber in middle school and began going to cubing competitions the summer before entering high school.
Competitions usually occur every few months and are held by the delegates of the World Cube Association. During the last competition held at Newport Beach, California, club members met up with each other in between events and competed individually in their chosen categories, which include cubing with different sizes and styles of Rubik's cubes, like the 4-by-4.
Although most people focus on improving their times on the standard 3-by-3 Rubik's Cube, Valles said he began exploring Square-1 – an alternative Rubik's Cube with triangular shapes on the top and kite shapes on the corners.
"Before my first event, I stuck to just improving my 3-by-3 time," Valles said. "But after the first competition, I saw that I could find a new event that less people were into and really excel at it."
Valles met one of the Cubing Club members at a competition while he was still in high school and said he was excited to become a part of the club after he decided to attend UCLA.
Although there are several online cubing communities, the Cubing Club at UCLA provides a set group of students on campus to practice with.
Ramesh said having a group of friends to motivate each other is helpful when approaching new puzzles and techniques, so it is important to find a supportive group that will challenge other cubing enthusiasts.
"Everyone has seen a Rubik's Cube and has wanted to learn how to do it," Ramesh said. "We want people to not be scared of (cubing) and encourage people to grow."