UCLA Theater chair directs multigenerational one-woman show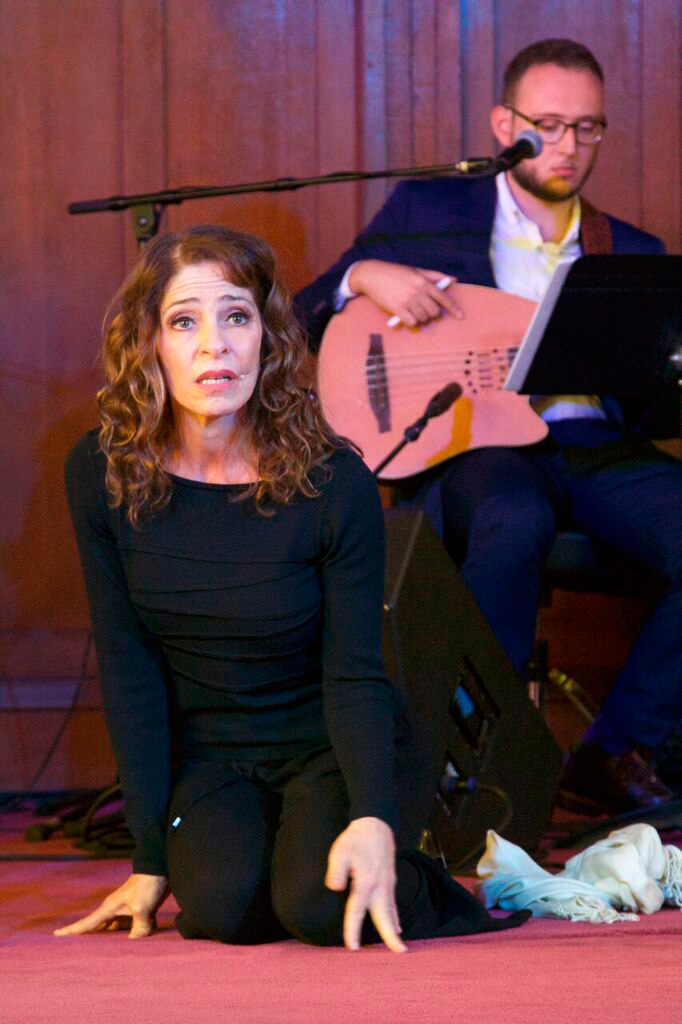 Michelle Azar plays four characters including herself in her latest one-woman show, "From Baghdad to Brooklyn." The show, which is directed by Brian Kite, the chair of UCLA's theater department, features Azar's family's stories, which she acts out with musical accompaniment. (Courtesy of Majorie Salvaterra)
"Baghdad to Brooklyn"
Nov. 4–
United Soho Festival, New York
Ticket prices vary
Michelle Azar plays her own mother, father and grandfather in her latest one-woman show.
"From Baghdad to Brooklyn" will make its New York debut Saturday at the United Solo Festival and follow Azar's family heritage from mid-20th century Iraq to present-day New York and Los Angeles. While Azar wrote, acts and sings in the play, Brian Kite, chair of the UCLA theater department, directed the production and helped add excitement to the show's solo format, she said.
Kite and Azar grew up in the same Chicago neighborhood and worked together in their high school production of "A Chorus Line," dancing side by side to jazzy tunes. As they grew older, Kite met Azar's parents multiple times and heard her family stories.
"I knew after my first full run of the show that I needed an outside eye, so I asked (Kite)," Azar said. "I trust (Kite) as a collaborator as well as a storyteller and his ability to draw from his own experiences with my family."
"From Baghdad to Brooklyn" follows Azar's personal family stories, such as her grandmother's immigration to the United States and how her father and mother met. Azar plays four characters, including herself.
Azar began writing "From Baghdad to Brooklyn" in August 2016. She has since performed multiple versions of the show, each one different from the last. Her first edition included pre-recorded songs and sound effects to set the scene for the audience, and her current show includes a live pianist who plays the music.
However, Azar said the production process was terrifying and unfulfilling at first because she didn't have someone to give her narrative directions and insight.
"I didn't know what to cut and why to cut after my first time performing the show, because I had personal connections with every single part in the play," Azar said. "It's such a delicate process to cut those things out, but (Kite) is very sensitive to my history but also knows how to keep me on track."
"From Baghdad to Brooklyn" is the first solo show Kite has ever directed, following his work on full ensemble musicals like "Les Misérables" and "American Idiot."
"I'm able to take it slow, give each scene and detail my fullest attention," he said. "It's great to do that with (Azar) because we've grown up together, but also she's so passionate about her story that she'll do everything to improve how she shares it."
After working with Kite, Azar cut 20 minutes of unnecessary content and unclear scenes, such as a scene portraying her grandmother reading a journal, that diverted from the main plot of her protagonists' background. Keeping the show concise and emphasizing key conflicts and plot points help keep the one-person show entertaining, Kite said.
"When I hear 'one-person show,' my initial reaction is 'ugh, that sounds boring,'" he said. "We can't be boring, so we make the audience empathize with the different characters (Azar) plays."
Kite said one way Azar evokes emotion in the show is by connecting to darker parts of her family history. In one scene Azar plays her father, who remains unemotional after losing a close relative. She plays both herself and her father at the funeral, alternating between two characters in an effort to understand why her father seemed so stoic in the somber moment, Azar said.
The show also includes lighter moments, such as a joke from Kite about a Craigslist ad for rabbis and a "Fiddler on the Roof" medley.
Elizabeth Yaron, pianist and UCLA alumna, plays the "Fiddler on the Roof" medley and accompanies Azar throughout the rest of the play. She said the combination of Azar's acting talents and Kite's directional eye help audience members distinguish the different characters on stage from one another.
"(Kite) helps (Azar) pinpoint the aspects of each character that make them uniquely them, whether it's a scarf as a head wrap to show her grandmother, or if it's jumping around like a kid to show her dad's younger days," she said. "Sometimes you forget that she's playing all these different characters, and you're not bored."
She added the audience's reactions make working on the show rewarding. Yaron, who grew up with Azar, said she has seen Azar's mother cry in the audience after recognizing the stories and characters her daughter portrays.
Kite also said helping his childhood friend tell her family's story has been fulfilling.
"It's really moving for me since I can relate with (Azar's) upbringing," he said. "(The show) urges a need to comprehend and overcome the fear of the unknown, especially within your own family."
Del Rosario is the 2018-2019 prime content editor. She was previously an A&E staff reporter.
Del Rosario is the 2018-2019 prime content editor. She was previously an A&E staff reporter.