UCLA alumna whips up banana-based frozen treats, launches dessert line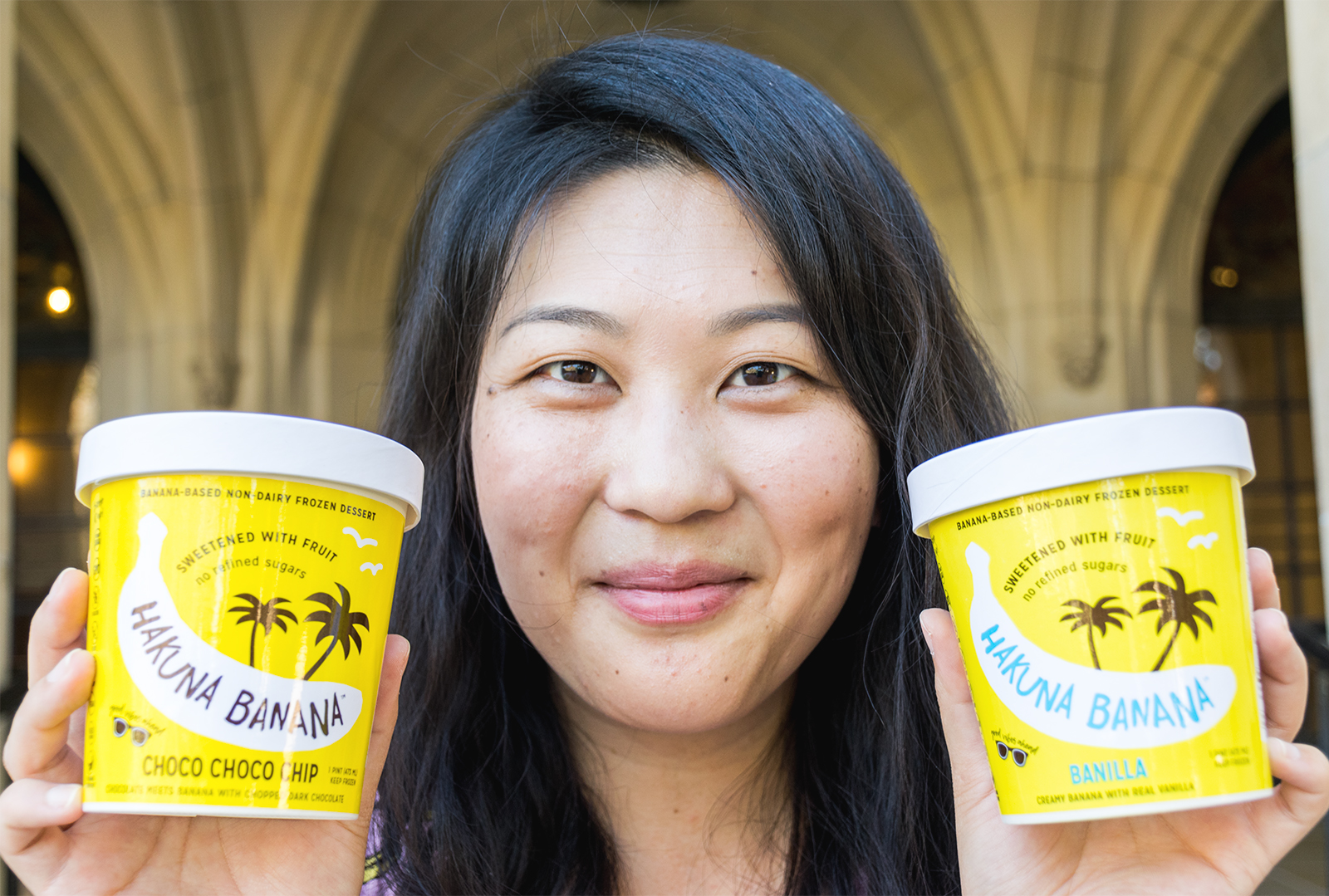 Alumna Hannah Hong co-founded Hakuna Banana, a nondairy frozen dessert company that is sold in grocery stores across Southern California. Some of the flavors include Choco Choco Chip, Banana Spice and Cashew Cookie Dough. (Farida Saleh/Daily Bruin)
Hannah Hong had to eat a lot of bananas – and banana bread – before finding the perfect recipe for her frozen dessert brand, Hakuna Banana.
The banana-based, nondairy frozen dessert company co-founded by Hong, an Anderson School of Management alumna, offers a naturally sweetened alternative to traditional ice cream.
Hong and her partner Mollie Cha founded Hakuna Banana in October 2016. The plant-based product is sold in approximately 35 grocery stores across Southern California and comes in six flavors including Choco Choco Chip, Banana Spice and Cashew Cookie Dough. Hong and Cha, who celebrated the company's one-year anniversary in October, tested dozens of recipes before crafting the finished product.
Hong and Cha are both lactose intolerant and frequently reverted to making homemade batches of a banana-based, vegan frozen dessert to satisfy their cravings for sweets. In 2016 Hong said she noticed one popular recipe spreading across the internet – frozen bananas blended in a food processor to create a creamy, fruit-based dessert without any of the dairy or processed sugars found in normal ice cream.
"It's a whole fruit, plant-based, frozen desert that you don't have to feel any guilt about eating it and it's delicious," Hong said. "So for me that was like lightning striking."
The product already had a following, someone simply needed to figure out a way to package it, Hong said. However, the pair quickly found that turning the banana blend into a product proved to be a difficult task, Cha said.
In the first iteration of the frozen dessert, Hong and Cha followed the simplistic recipe they had eaten themselves – pureed frozen bananas with a splash of almond milk. But when frozen, the mixture turned into a rock hard, icy block, Cha said.
A far cry from the creamy, scoopable texture the duo was looking for, the recipe underwent a series of changes in which Hong and Cha experimented with different types of plant-based milks, like almond and coconut milk, and the amount of each ingredient used.
"I think what we saw the potential for and why we think it's been successful so far is that it's not just limited to vegans or people with limited diets," Cha said. "I think it's great for someone who's trying to avoid processed sugar."
Cha added the company started in their own kitchens with freezers filled with different variations of the recipe. Cha and Mollie would store up to 10 versions of the recipe, some edible and others terrible, in labeled Tupperware containers for their husbands to taste, Hong said.
She added it took the pair several months to finalize the recipe, which primarily consists of bananas blended with a mixture of coconut milk for a soft texture and dates for added sweetness.
"We're not food scientists, so it probably took longer than it should have, but it was a labor of love and something that we'll look back on fondly," Cha said.
Hakuna Banana reaches consumers through in-store demonstrations where shoppers can learn about the product and try a sample. Hong said that her favorite interactions have been with children who cannot eat creamy desserts because of dietary restrictions.
"The delight that I see in their faces, that's definitely one of the highlights of creating a product like this," Hong said.
Joyce Shang, a third-year business economics student and Hakuna Banana intern, assisted during the samplings over the summer. Shang said she often tells customers that there are hints of banana in every flavor, as each pint contains at least two whole bananas.
"Most people like it and are pleasantly surprised that they like something made of mostly banana," Shang said.
In July 2017, the product entered into select Whole Foods Market locations, a major milestone for the company. Cha said that in the years ahead, Hakuna Banana is looking to experiment with new flavors and garner more passionate consumers.
"Making something that's my own and putting it out in the world for other people to enjoy is something that is fulfilling on a different level," Hong said.